Aric Almirola: Can the King's No. 43 Finally Win Again in the Coca-Cola 600?
May 25, 2012

Streeter Lecka/Getty Images
Aric Almirola didn't just win the pole for the Coca-Cola 600 on Thursday night at Charlotte Motor Speedway.
He blew the field away.
The driver of Richard Petty's famed No. 43 car stunned the field with a blistering lap of 27.988 seconds, two-tenths of a second faster than the rest of the NASCAR Sprint Cup Series field.
It was Almirola's first Sprint Cup pole and it comes in his first race at the 1.5-mile track in Concord, N.C.
The Tampa, Fla., native was understandably pumped up after his qualifying run.
"To get a pole in any race, that's saying something, because none of these guys lay down," Almirola said in the RPM post-qualifying report. "But to get it by two-tenths (of a second), that's like 'Wow.'  I'm really proud of our team."
Almirola, who will share the front row with teammate Marcos Ambrose on Sunday, also stated his crew chief Mike Ford and the No. 43 team brought a "really fast" car to the track for Sunday's race.
But will it be fast enough to get the No. 43 back into Victory Lane for the first time since 1999?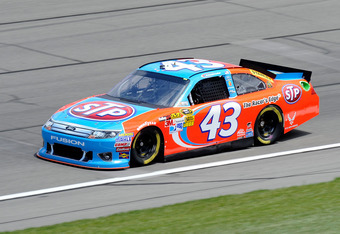 John Harrelson/Getty Images
If Almirola's career stats on intermediate tracks are any indication, the answer is most certainly "no."
For his career, Almirola has an average finish on such tracks of 27.1, including finishes of 24th, 25th, 22nd and 23rd, respectively, on tracks of 1.5 to 2 miles in length in 2012.
Furthermore, in his four starts on such tracks this season, Almirola has yet to even score a lead-lap finish.
Then again, those results all came before the arrival of Almirola's current crew chief, Mike Ford.
Ford was the crew chief for Joe Gibbs Racing driver Denny Hamlin from 2006-2011, scoring 17 Sprint Cup wins, 66 top-fives, six Chase berths and a runner-up points finish during that span.
Ford also knows what it takes to break winless streaks, helping Bill Elliott reach Victory Lane for the first time in seven years back in 2001 with a team called Evernham Motorsports.
That team has since warped into...Richard Petty Motorsports.
Since Ford and Almirola joined forces two races ago at Talladega, the No. 43's results have not gotten substantially better, though the two races in which the pair has competed came at Talladega and Darlington.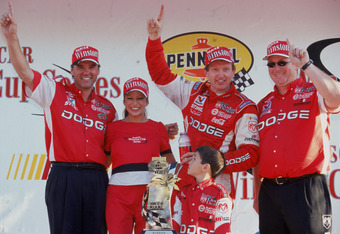 Jonathan Ferrey/Getty Images
One of which is a crapshoot, with the other being...well...Darlington.
Almirola and Ford also have one race at Charlotte under their belt, albeit a 40-lap dash that didn't result in points being gained or lost.
The duo teamed up for the Sprint Showdown a week ago, where Almirola finished seventh after running in the top-five most of the night.
Now Almirola is on Pole for the Coca-Cola 600 at a track where he's never competed in a Sprint Cup points-paying race. However, his No. 43 car has, along with Ambrose.
In fact, just last year, Ambrose and former RPM driver A.J. Allmendinger finished in the top 10 in both races at Charlotte Motor Speedway, indicating that the speed shown by Almirola's No. 43 car in qualifying is no fluke.
One thing that Ford knows must be done this weekend, however, is survive to the finish.
"[T]he most important thing is to be there in the end," the crew chief said in this week's RPM race preview. "You don't want to suit up for 600 miles and get knocked out early, so you have to race smart and take care of your equipment."
That's something Almirola has done very well this season, with only a crash in the waning laps of the season-opening Daytona 500 separating him from finishing all 11 races so far this season.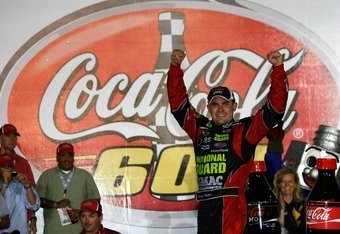 Jason Smith/Getty Images
If Almirola is to get his first career Sprint Cup win this Sunday, he wouldn't be the first to do so in the circuit's longest race. Jeff Gordon, Bobby Labonte and Matt Kenseth have all accomplished it, while Casey Mears stunned the field in 2007 with the National Guard on his car.
That's another thing that has Almirola excited for Sunday's race.
With the annual Memorial Day Weekend race comes lots of military sponsorship, something Almirola has this weekend with the U.S. Air Force jumping on board his No. 43 car.
The son of an airman and born on Eglin Air Force Base in Fort Walton Beach, Fla., Almirola's Air Force connection goes back a long way.
So whether it's the prestige of racing for The King himself, having a veteran crew chief and a car with blazing speed, or simply the desire to win a race for his dad and for his country, Aric Almirola has a lot to race for and race with in this Sunday's Coca-Cola 600.
Heck, he may just stun the field again and race right into Charlotte Motor Speedway's Victory Lane.