St Louis Rams: Friday's Rams News and Notes at Noon
May 25, 2012

Welcome to Friday's St. Louis Rams "News and Notes at Noon", the one-stop destination for all major Rams related headlines and other items of interest to the passionate people of Rams Nation.  I would like to briefly thank Steven Gerwel for pinch hitting to produce yesterday's noon column. 
Brian Quick Is Mike Sando's Early Favorite for Top NFC West Rookie Wide Receiver
According to this piece from Mike Sando of ESPN, Sando expects Rams rookie Brian Quick to make a bigger impact this year than any other rookie receiver in the NFC West, including Arizona Cardinals first round rookie Michael Floyd. 
In the above-linked piece, Sando shares his reasoning for the high expectations of Quick in the coming campaign. Rams fans would love this to come to fruition.  
Thus far, many reviews of Quick have been exemplary, including this one via quarterback Sam Bradford.
Joe Long Looks To Make His Mark in the NFL
According to an article from Nick Wagoner of stlouisrams.com, Joe Long is looking to make his own mark in the NFL. Long is following in the big footsteps of elder brother Jake, the four-time Pro Bowl left tackle of the Miami Dolphins. 
Joe was an undrafted rookie free agent addition for St. Louis this year.  He is anxious to make his mark for the Rams: 
I knew coming from a Division II school it's kind of hard to get drafted. That's fine. I just wanted to have a shot somewhere. When the Rams called me up, I was really excited and I really wanted to be a part of this organization. Just to be out here with the team working out and practicing, that's all I wanted so I'm happy with it.
Long, 6'5" and 304 pounds, plays tackle and will be fighting for a backup spot. If he does make the final roster and finds himself on the field at some point, look for him to fit right into an offense that is expected to emphasize the running game: 
"I love run blocking, anytime I can get off the line and put someone on the ground and keep shoving them down, that's what I like to do," Long said. "Double team, anything where I can just pummel somebody."
Sam Bradford Adapting to Brian Schottenheimer's Offense
Former NFL executive Tony Softli shared this fantastic submission for 101sports.com regarding Rams third-year quarterback Sam Bradford and asserts that Bradford could be the best QB in the NFC West.
In the above-linked article, Softli looks at Bradford's career to date, among other things, and Bradford himself shares various thoughts, including these regarding the return to a full offseason: 
It's just nice to have an offseason to be able to come out here and make mistakes. You learn from your mistakes. Coaches have been great about that. They're not pressing. They're not screaming. As long as we learn from it, I think we're doing the right thing. It's just good to be out here going through those things.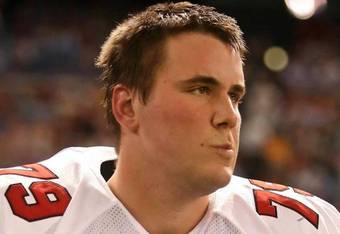 St. Louis Rams Dream and Nightmare Scenarios 
In a series of blog posts predicting dream and nightmare scenarios for every NFC West team in regard to the 2012 season, Mike Sando of ESPN shows himself to be less dreamy and more nightmarish in regard to the Rams than any of their NFC West opponents. 
Sando has every NFC west squad besides the Rams in the playoffs under his dream scenario.  
I could be wrong, but I believe the ceiling for St. Louis is higher in the coming campaign than that of the Seattle Seahawks or the Arizona Cardinals. 
Steven Jackson Offers Insight Into the Rams' New Offense, Leadership and More 
Steven Jackson is liking what he sees at Rams Park thus far under head coach Jeff Fisher and offensive coordinator Brian Schottenheimer, as reported in this article by Kathleen Nelson for the St. Louis Post-Dispatch. 
According to the aforementioned article, Jackson feels the new offense of Brian Schottenheimer is similar to that of former St. Louis offensive coordinator Pat Shurmur:
"This offense is very similar, not identical (to Shurmur's.) The learning curve has not been too harsh on myself. Sam (Bradford) is looking good, our receivers, we have a deep group that is very competitive that's going to not only help us, but is also going to bring the best out of each individual guy. All in all, as an offense we're looking good. And especially Coach (Paul T.) Boudreau up front, what he's doing with the offensive line is very impressive as well.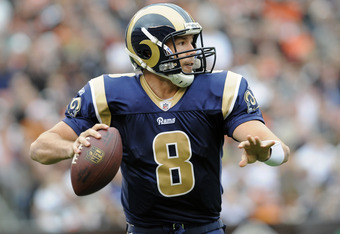 Jason Miller/Getty Images
Please check the above-linked piece for Jackson's thoughts regarding his rookie counterparts in the backfield, Jeff Fisher, leadership and more. 
Plethora of Updates Via Ron Clements of CBS Sports
Throughout the week, Ron Clements of CBS Sports has offered some outstanding reports regarding a plethora of Rams related topics including the ongoing team OTAs, as you can read here.
Clements offers quotes from the likes of Sam Bradford, Steven Jackson, Brian Quick and head coach Jeff Fisher, who says the following regarding the instillation of the offense: 
We did a lot of two-minute (Wednesday) and we're going to do more two-minute on Friday and just adding more and more to the package.
Crowded Competition in the Making at Tight End
Kathleen Nelson details the battles at hand at the tight end position in the Gateway City in this piece for stltoday.com. 
Nelson quotes Jeff Fisher in regard to the current situation regarding the Rams tight ends: 
We've got all shapes and sizes. You need flexibility, and they need to be able to be interchanged, sometimes at the fullback position, sometimes you spread them open. We're pleased so far.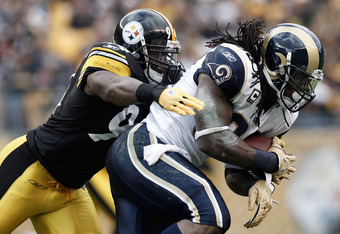 Jared Wickerham/Getty Images
With nine players competing for roster spots, it would be expected that every shape and size would indeed be represented from among such a large group of players.  
With a maximum of four tight ends expected to land on the active roster this fall, the competition should be fierce for those highly coveted spots. 
Early Expectations for NFC West Standings 
ESPN's Mike Sando offers yet another submission of interest to Rams Nation in making his early win-loss predictions for each NFC West team. 
Sando uses Las Vegas' over-under as a basis for his picks, but, once again, the Rams come up short in Sando's eyes. 
Sando could be right, and I could be wrong, however, I will be surprised if St. Louis finishes last in the division this year. 
Time and time alone will be able to prove who was correct in this regard.
Have a great day as always, STL Rams Nation.
Shane Gray covers the St. Louis Rams daily as a Featured Columnist for Bleacher Report. You are encouraged to check out the rest of his work here. Gray also owns and operates stlramscentral.com.