Euro 2012: England Can Shock the Continent by Mirroring Chelsea Tactics
May 25, 2012

Scott Heavey/Getty Images
Roy Hodgson's 23-man roster for Euro 2012 will get its first action tomorrow night as they visit  Norway in the first of their two friendlies leading up to the summer tournament. These warm-ups are crucial in establishing not only chemistry, but  figuring out the best way to meld the 23 distinct personalities from 23 different backgrounds of football, which include nine different styles of play with their professional clubs.
Thus far, the always scavenging English media have not been too keen on the approach he has taken, lapping on training-ground directions like, "Five passes across the back—max—and then get it forward," and "You don't have to use short passes. Not if you want to use your big man up front."
Like pouring acid into their ears, you can hear the brains of the pundits sizzle by the wincing in their faces. The kind of expression that serves the dual understanding of being constipated both on and off the field as well as a simultaneous realization that this is not going to be a fun game to watch.
But in the result-based industry of sports, the aesthetic is always superseded by the outcome, and the game of hindsight has a much bigger audience than the one played out on the field.
So, though in fact Hodgson may be gearing up a side to perform one of the most epically boring friendlies in the history of football, he is also preparing them to have their best chance of taking home silverware in Poland/Ukraine.
Even the most rabid English supporter has a hard time with the word "optimistic," but for some reason any hope of winning this summer seems even more distant than in any tournament past. Hodgson and his boys have already been written off for not possessing the talent or technical skills necessary to even give the naive hope of an upset.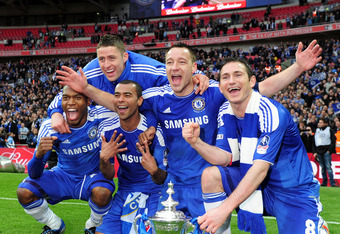 Shaun Botterill/Getty Images
But this would not be the first time this calendar year an English team has gone into a major tournament as the supreme underdogs, as Chelsea entered the knockout rounds of Champions with as little hope of progressing.
But we all know how that story ended, with the Blues displaying some of the most impressive performances the tournament has ever seen down the stretch, to upset Bayern Munich at the Allianz Arena to take their first European title.
That was an unbelievable result that few predicted. So why can the same not happen for England, and if it were to, what would be the best way to go about it?
To be the best, mimic the best.
As long and English football managers, pundits and fans continue to try and recreate what is going on in Spain, Germany, Netherlands, etc., they will continue to fall short of their goals. The English players are not born and bred with that kind of technical capability, and the spacing out in geography and philosophical differences between footballing schools make it too difficult to play that singular-unit style that those teams play.
Chelsea manager Roberto Di Matteo realized this to some degree and did not try to impress an artificial concept that would be foreign to his players. He simply made do with what he had and put those players in a position to best optimize their talents.
Hodgson should do the same and follow the same tactics Di Matteo used.
Chelsea may not have been the most fun team to watch, but the tactics they utilized were undeniably successful. Some will point to luck as a primary contributor to their success, but "luck" is nothing more than a scapegoat for the shortcomings of a team or player. It was all carefully calculated and gave the Blues the best chance they had at winning their matches.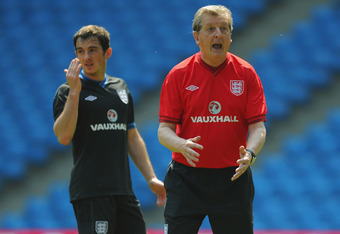 Michael Regan/Getty Images
Hodgson's roster does not allude to any one particular style of play. He has dynamic wing-backs, bullying center-backs, passers in the middle, streaking wingers, and a combination of physical and skillful forwards. Getting all these individuals to homogenize in this short time frame is near impossible, so why not allow them to each play their own styles the way Di Matteo did for Chelsea?
The 4-2-3-1 Chelsea used in their matches and the park-the-bus to counter tactic would also be an ideal setup for England and work to the same or better effect than it did for the Blues.
Let's start on the back line: It is conceivable that three of the four defenders who could start for England are Chelsea players—John Terry, Gary Cahill and Ashley Cole. The only position where there would not be a Chelsea player would be at right-back, as either Glen Johnson or Phil Jones will be there.
Given the fact that Chelsea's defense was most weak on the right, either Johnson or Jones would be a vast improvement over Jose Bosingwa. The three Chelsea players already share the kind of chemistry to play such a unified line and even if the right-back struggles to keep on that page, it would be no different than if Bosingwa were out there anyway.
The two holding roles just in front of the defense is what's crucial to the success of this style.
Frank Lampard reinvented himself in this role for Chelsea, becoming the most influential player on the pitch for them in their results over Barcelona and Bayern. The kind of pivot role he has taken on, defending when he must and advancing the ball when he can, was crucial in the success of the counter.
His opposite would be Scott Parker, who would be an improved John Obi Mikel. Both are excellent tacklers and excel at man marking. They are physical, strong and most importantly, are rarely coaxed out of position for opponents to find passing lanes.
However, Parker is a much better passer than Mikel, a skill that would again help get the ball down field for the counter.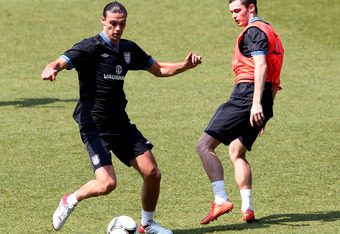 Scott Heavey/Getty Images
Chelsea's biggest trouble all season was who to play on the wing.
Ramires became the preferred wide player in this style, but for no more reason than he is fast with the ball. Here, England has a huge advantage over the Blues in terms of talent. The first choice would be a duo of Ashley Young on the left and Theo Walcott on the right. Both would be in their natural positions and feel right at home in such a role. Walcott would benefit especially well, given the space that parking-the-bus allows on the counter. Jermain Defoe could also fill in if necessary.
Where it can begin to become unraveled is through the middle attack. Without a big, dominating forward like Didier Drogba, England does not have the extreme example of a center forward. However, they have much more variety and possible combinations that could work in their favor.
Steven Gerrard is most comfortable in that role just behind the forward. He can play some central pitch defense and then distribute out wide or on the break as needed. This also keeps the injury prone captain out of the hard midfield battles on defense.
At striker, the circumstances and options can make for a few moves. First, Rooney will be the one to start and should be once he returns from his suspension. He may not be as big as Drogba, but he is better with the ball at his feet and is a better passer opening up the options on the counter.
But until then, a decision will have to be made, likely between Andy Carroll and Danny Welbeck, and it is one that should be made on for more than anything. Carroll is stronger in the air and probably the better option as a pure striker simply for his size. But he has done more than vanish over the past season-and-a-half. Welbeck is a fast and crafty forward, but you have to wonder whether, if alone, he can put up with the punishment.
Up top, it really does not matter what happens, as the story will be the same—survive until Rooney returns.
For me, I see little fault in how this mirroring of Chelsea's tactics does not at least deserve a nod from Hodgson and his coaches. England is not favorites to win it all, but neither were the Blues. Playing this kind of defense-minded game with space for your wingers to get out in transition is the best way to upset the giants. It worked against Bayern and Barca, two clubs that hold half of the German and Spanish national teams, respectively, and in all likelihood, are the teams England will have to go through anyway to reach the late stages of the tournament.
It won't be pretty and it won't be the most fun thing to watch, but neither is witnessing the 46th straight year without the Three Lions winning a major trophy. Sometimes you have to give a little to get something back.
For all my articles, follow me on Twitter: @thecriterionman