Didier Drogba Leaves Chelsea: Saying Thank You and Goodbye to a Legend
May 24, 2012

Mike Hewitt/Getty Images
Didier Drogba is leaving Chelsea.
Five words we all knew were coming, but none of us actually wanted to acknowledge. I don't know what makes it more difficult to stomach: the fact that the greatest striker this club has ever known is making his exit or that it is the beginning of the end of a first golden era in Chelsea footballing history.
Drogba is the first in a line of many legends who will soon be making their departure, but this is not about them. Though their stories will have many of the same plot points, it is in the details that make Didier one of a kind.
There have been hundreds of eulogistic-style prose pieces written over the past few days about the departure of Drogba. They more or less all follow a formulaic pattern of discussing the virtuous good he did both on and off the field—that no matter how great he was at football, he was he was an even greater human being.
But what I find to be the downfall of so many of these pieces is the way they seem to separate the two, athlete/humanitarian, goals scorer/hospital builder, Drogba/Didier. The consequences of what he did for Stamford Bridge and what he did for his native continent of Africa may differ greatly in impact and importance, but the motivation behind both are intuitively connected.
The same frame of mind that has him risking his face for a diving header is the one that decided to donate the entirety of the £3 million he received from Pepsi to become the face of the soft drink. The same methodology behind how he bullies his way to goals is the one that pressured the factions of his war-torn Ivory Coast to a ceasefire.  And the same nerves of steel that had him score nine goals in nine cup finals are the ones that had him unwaveringly lead the cause to play an African Cup of Nations qualifier in the rebel stronghold of Bouake.
It is all selflessness, the one trait that defines No. 11.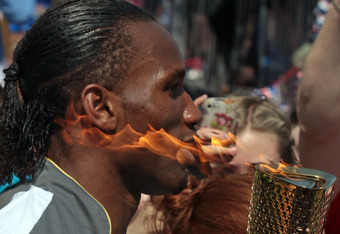 Matt Cardy/Getty Images
Please make no mistake in confusing the metaphor for the literal. I in no way think anything that he has done in Blue uniform is more meaningful than any of his humanitarian efforts he has made across the globe. But it is how he has utilized the perks that blue uniform has gotten him that makes him a special individual.
Think I am making some bold romantic gesture to lionize my favorite player? Sports Illustrated's Grant Wahl seems to have a similar impression as he writes, "In 15 years as a journalist I have never had an interview with an athlete that felt more like a two-way conversation."
Same goes for The Telegraph's Alex Hayes, who observed:
I had been totally unaware of Didier's incredible feat (of helping bring about a ceasefire) until I began talking to people in Abidjan. At no point had he mentioned, let alone boasted, about his political involvement. I wondered why he had not spoken about this before, especially when the British press had been on his back?

"I don't feel I need to say anything to anybody about who I am in Africa," Drogba replied. "I know what I stand for and that is all that matters."
But nothing is more revealing of this character than perhaps his last public address to the fans, a one-minute, 38-second video produced by the club that can be found here.
It is the final 40 seconds that become, void of any self reference, humanizing himself and his feats as acts done never for his own gain but always the fans. For Drogba, it was not he who made the sensational success in Bayern come true, but rather "all the people working at the club." It will not be something that stays with him, but rather stays with "us." Blue will not always be in his blood and heart, but rather "our" blood and heart.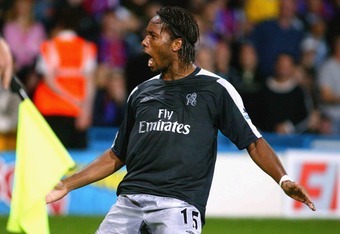 Jo Caird/Getty Images
The idea of the collective and no individual above the other.
This is what will be most missed about Drogba. The very identity that shaped this club was nothing more than just his nature at work.
I do not know what the future holds for Drogba or where he will land. There are rumors swirling all about from him making a big-money move to China or an even slightly less lucrative deal in the U.S. Heck, he could even surprise us all and act on some rather weighty speculation of staying at the top level with Barcelona or reuniting with his old boss Jose Mourinho for Real Madrid.
Wherever he lands, you can be certain that the selflessness that has made him great will follow, and any team would benefit greatly from it.
So farewell, Drogba, you will be a missed man but never forgotten. And forever will the halls of Stamford Bridge echo the legend that was the great Didier Drogba.
For all my articles, follow me on Twitter: @thecriterionman