The Crowne Plaza Invitational at Colonial PGA Tour Fantasy Golf Preview
May 23, 2012

Sam Greenwood/Getty Images
This week we are in Fort Worth, Texas at Colonial Country Club for the Crowne Plaza Invitational. David Toms is the defending champion. The winner will take home $1.116 million and 500 FedEx Cup points.
Colonial is one of the tighter tracks on the PGA Tour. We are looking for golfers who hit a ton of fairways and greens while putting well. A low GIR (Greens In Regulation percentage) can be overlooked for a golfer who is an excellent scrambler. Consistency is more important than "upside" or potential here.
Given the nature of Colonial, it makes sense to go with golfers who have a history of success here. That's not to say that you should avoid golfers who have been playing well recently, even if they haven't exactly lit it up at Colonial. Or if they just don't have much experience.
But in a tie-breaking situation, I would go with the golfer who has done well here before.
Golf Yahoo! Weekly Lineup Game
Group A
Zach Johnson (Starting)
Johnson hasn't exactly lit it up so far in 2012, with only three top-10 finishes. Thankfully, two of those finishes were in his last three events, and they were a second-place finish and a T2 (tied for second place) finish. He ranks eighth on the PGA Tour in Driving Accuracy, 10th in Scrambling and 22nd in Putting (Strokes Gained). His last three finishes at Colonial? Fourth, first and T9.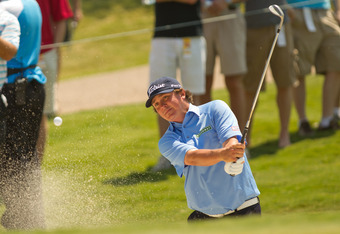 Darren Carroll/Getty Images
Matt Kuchar (Bench)
Kuchar has been playing brilliantly in his past three events, with three top-15 finishes including a win two weeks ago at the Players Championship. He remains one of the most accurate golfers on Tour, ranking 31st in Driving Accuracy and 15th in GIR to go along with a tidy 19th in Scrambling. Kuchar was successful here last year, finishing T16.
Also worth using: Jim Furyk
Group B
Rickie Fowler (Starting)
If Matt Kuchar has been "hot" recently, Rickie Fowler has been "white-hot". Fowler has finished in the top ten in his last three appearances: T10, first and T2. While he does have quite a bit of distance off the tee (39th on Tour), Fowler has also been very accurate this season. He ranks 36th in Driving Accuracy and 17th in GIR. He was also good at Colonial last season, finishing T16.
David Toms (Starting)
Toms has been playing very well recently, finishing T10 and T15 in his last two events. He has been very accurate in 2012, ranking second in Driving Accuracy and 34th in GIR. He has also been excellent at Scrambling, ranking 12th on Tour. Not to mention that Toms is the defending champion here. He also finished T13 at Colonial in 2010.
Hunter Mahan (Bench)
Mahan hasn't exactly been stellar in his past two starts (missed cut and T53), but he was excellent in his two starts prior to that: T12 and first. It's his accuracy that makes Mahan so attractive here. He ranks seventh on Tour in Driving Accuracy and fifth in GIR. He played well here in 2011, finishing T10.
Bill Haas (Bench)
Haas started out the year well before going through a rough stretch. His last start was at the Players Championship, and he finished T25. Haas is generally an accurate golfer, ranking 50th in Driving Accuracy and 41st in GIR. His success here in his past two appearances (T8 and T13) are what make Haas attractive here.
Also worth using: Bo Van Pelt
Group C
Jason Dufner (Starting)
There is a reason that the expression "don't mess with a good thing" exists. Right now, Dufner has been better than good. He won last week, and he won two weeks before that. That is two victories in his last three events for those amongst us who like to avoid math. Dufner has been about as accurate as a golfer can be in 2012, ranking sixth on Tour in Driving Accuracy and 13th in GIR. He also ranks 24th in Scrambling.
Ben Crane (Bench)
Crane has been up and down this season, but he has three top-30 finishes in his last five events. His history here helps him, as he finished T3 at Colonial back in 2010. Crane ranks in the top 65 on Tour in both Driving Accuracy and GIR, but his real strength is his putting, where he ranks 15th on Tour.
Also worth using: Carl Pettersson, Bud Cauley and Louis Oosthuizen
Picks for The Golf Channel Fantasy Challenge
BMW PGA Championship
Group One: Rory McIlroy
Group Two: Edoardo Molinari
Group Three: Marcel Siem
Group Four: David Drysdale
Crowne Plaza Invitational at Colonial

Group One: Zach Johnson
Group Two: David Toms
Group Three: Dicky Pride
Group Four: Davis Love III
Who to choose in your Weekly Survivor/Eliminator/Earnings League
There's not a ton of golfers that I really like this week. My best options are Matt Kuchar, Rickie Fowler, Zach Johnson, David Toms and Bo Van Pelt.
I'm going to save Kuchar, and I'm not that confident in Van Pelt, so I'm throwing them out.
That leaves Zach Johnson, David Toms and Rickie Fowler. All have their merits here. Fowler has been playing the best golf, but he doesn't nearly have the track record here that Johnson and Toms have. So he's out.
Toms is the defending champion, and his overall accuracy would make him a good selection. But I am going to go with Zach Johnson. He has the overall better track record at Colonial, he's been accurate this season, and most importantly, he's been putting much better than Toms.
So I am going with Zach Johnson at Colonial this week.
Already Used
Bryce Molder, Steve Marino, Bill Haas, D.A. Points, Martin Laird, Hunter Mahan, K.J. Choi, Rory McIlroy, Jarrod Lyle, Lee Westwood, Henrik Stenson, Charl Schwartzel, John Senden, Bubba Watson, Graeme McDowell, Luke Donald, Bo Van Pelt, Fredrik Jacobson, Charles Howell III, Jim Furyk, Justin Rose and Jason Dufner.
Note: Pay attention to your league rules/format. For instance, I am in an Earnings League that has two seasons. One is from the beginning of the year until the U.S. Open, and the other is everything after the Open until the end of the season. In such a format, there are only four events left in season one, so if this applies to you, now is the time to use your best golfers.
Good luck to all this week. If you have any comments or questions, please use the comments feature or reach out to me on Twitter.
Follow John on Twitter
Find more from John at SportsSomething