Buffalo Bills: Moving Mario Williams to Left Defensive End Is a Huge Mistake
May 23, 2012

Doug Benc/Getty Images
Earlier this offseason, Pittsburgh Steelers quarterback Ben Roethlisberger publicly spoke out about his disappointment that his offensive coordinator Bruce Arians was not retained. Roethlisberger and Arians had a great personal relationship so Roethlisberger described his loss like losing a family member.
What Roethlisberger didn't, and probably still doesn't, realize is that Arians was hurting the Steelers offense more than he was helping it.
You see the old adage that players understand the game because they played it simply isn't true. It's like when a person is in a bad relationship. Everyone on the outside looking in can see it's not good for the person involved, but that person generally is too close to actually understand that it is bad.
This is the reason why former players generally don't make very good analysts or coaches. The best coaches in the NFL right now never made it as big-time NFL stars, Bill Belichick and Andy Reid spent their lives learning to be coaches rather than players. Even in the network studios, look at guys like Jamie Dukes and Warren Sapp's knowledge of the game compared to a Mike Mayock or Michael Lombardi.
Mario Williams' recent request to switch from right defensive end to left defensive end is a perfect example of a player not understanding what is best for him and his team.
Williams obviously carries a lot of weight in Buffalo right now as the team's recently signed superstar. According to a report in the National Football Post, the Buffalo Bills have succumbed to Williams' request to switch back to the left-hand side of the line.
The thought process behind this is that Williams played left end in college and feels more comfortable there. One could interpret this as Williams being greedy and thinking that he can get more individual success against the weaker right tackles in the NFL.
Whether that is the case or not, this move is a misguided one.
Williams may be more comfortable on that side of the line, but his impact on the Bills defense as a whole will be lessened while it will be more difficult for him to get to the quarterback.
Most important is the team's success. The former Houston Texans first overall pick was given a contract which guarantees him $50 million over the next six seasons, with the possibility to make $100 million.
That investment was made for Williams to be the cornerstone of the defense and, in particular, be the team's leading pass rusher.
It is no coincidence that the best leading pass rushers in the NFL predominantly line up on the right-hand side of the defense. Last year, five of the top six* sack leaders predominantly lined up on the right-hand side of defenses. Jared Allen, DeMarcus Ware, Jason Pierre-Paul, Aldon Smith and Terrell Suggs all had phenomenal seasons.
The simple logic that would allow you to interpret this move as a greedy one on Williams' part is that left tackles are better than right tackles, therefore it will be easier to get sacks against right tackles.
It is true, left tackles are generally much better pass protectors than right tackles because of the nature of the position. Being a good blindside protector is much more valuable than being an open-side protector because the blindside, as the name hints, is the side which the quarterback cannot see (presuming that he is right-handed).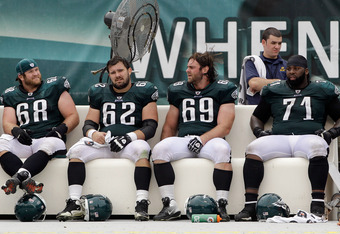 Rob Carr/Getty Images
Most right tackles have the benefit of playing within their quarterback's line of vision. Therefore, those tackles do not need to excel as much in pass protection. It is no coincidence that Jason Peters had one of his best-ever seasons at left tackle for the Philadelphia Eagles last year.
Peters was essentially playing as a right tackle because Michael Vick is left-handed. Therefore, Vick's blindside is to his right, not his left.
Blindside protectors are paid handsomely to protect the quarterback, but the same is true of blindside rushers. Ware, Allen, Suggs, Pierre-Paul and Smith were all so valuable last season because they were able to beat left tackles one-on-one.
The thing about that is, teams will generally trust their left tackle in one-on-one situations and ask him to control those rushers. With a quality left tackle, they can give the right tackle help if he needs it. This is where the logic of moving Williams to the left-hand side is shortsighted.
If Williams is playing left defensive end more often than not, then teams can double-team him and trust their quality left tackles to handle Mark Anderson and/or Shawne Merriman. By moving to left tackle, the competition at right tackle is immediately in the offense's favor. Very few left tackles will be scared or intimidated by Anderson or Merriman, while all of them will face a challenge with Williams.
By moving Williams to the left, the Bills are putting their primary pass rusher in the quarterback's line of vision while also making it easier for team's to chip him or double-team him at the line of scrimmage.
If Williams is playing right end and you feel the need to chip/double-team him, then Anderson or Merriman will have a one-on-one opportunity against a lesser right tackle, opposed to being swallowed up by a pass-blocking monster at left tackle.
Obviously, it is good for a difference-maker like Williams to be moved around the line of scrimmage because it makes it more difficult for the offense to track him, but his primary position should definitely be as a right defensive end.
Putting him on the left may appear like the shortest route to success, but in reality it's not.
Williams will be a force in the AFC East, but he won't have the desired effect on the defense playing left defensive end.
Tweeting @Cianaf
*Six players were tied for the top five positions, therefore five-of-six was used instead of four-of-five. Statistics courtesy of NFL.com.