Euro 2012: David Villa Is out for Spain for Euro 2012
May 22, 2012

FC Barcelona and Spanish National Team striker David Villa will not play at Euro 2012.
The news came late Tuesday evening in Spain. David Villa made the decision to call manager Vicente Del Bosque and tell him that he will not be fully recovered from his leg injury by Euro 2012. But according to my sources in Spain as well as later reports out of Barcelona, the medical teams of both FC Barcelona and the Spanish National Team suggested to the Real Federación Española de Fútbol (RFEF) that it would be best for David Villa's rehabilitation to not play in Euro 2012.
David Villa broke his tibia during Barcelona's 4-0 victory over Al-Sadd at the 2011 FIFA Club World Cup on December 15. There was a hope that El Guaje could come back for the Copa Del Rey Final this Friday against Athletic Bilbao.
Earlier on Tuesday, prior to the news of Villa being out, Gerard Pique said he is hopeful Villa will play in Friday's Copa Final.
"I see that he's doing well. He has had a major injury, but is eager and every day is like a final for him. I can see him making the Copa final."
But after medical examinations, the physicians of La Roja and Barça came to the same conclusion that for full recovery, El Guaje needs to stay off the pitch.
It was only a few days ago that RFEF president Angel Maria Villar told Marca (Spain) he wanted Villa on the squad.
"I want David Villa to go to Poland and Ukraine. I do not know if he will be able to attend, but hopefully he will be with the team at the Euros."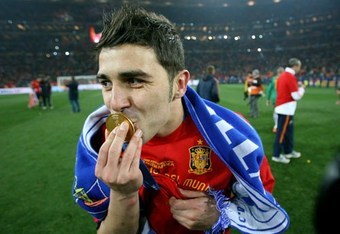 On Monday, Juan Mata said he thinks Del Bosque should give Villa every chance to prove he is healthy.
"'If there's a player that our national team should wait for to recover, that is David Villa,' the winger told reporters on Monday."
Well, that's all gone now.
Spain will be without two regular national team starters in David Villa and Carles Puyol, who underwent knee surgery a few weeks ago.
Vicente del Bosque will make his 23-man squad public on Sunday, May 27.
There was no question David Villa was not going to be the starting striker for Spain at Euro 2012. However, many people in Spain hoped that Villa would come in and give the team the spark it may need in the latter stages of the tournament, and perhaps even start a quarterfinal or semifinal game.
I had that same hope myself.
But this is for David Villa's best interest. The sad part in all of this for El Guaje is that Euro 2012 may have been the last major international tournament Villa would have participated in for Spain. David will turn 31 in December and it is very unlikely he will be selected for striker duty for Spain for the 2014 FIFA World Cup in Brazil.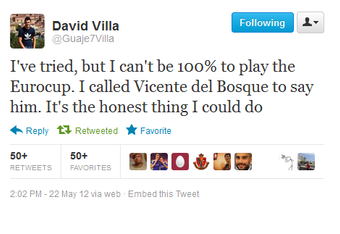 There's always the FIFA Confederations Cup next year for David Villa to represent La Roja, not to mention FIFA World Cup Qualifiers.
So who are the strikers Del Bosque will take with him for the Spanish National Team?
Michael Cerna, The Voice of La Liga on Bleacher Report, breaks it down for you in his article "David Villa out of Euro 2012 Squad: Alternative Options for Spain." Click on here to check it out.
David Villa posted this message on his twitter:
"I've tried, but I can't be 100% to play the Eurocup. I called Vicente del Bosque to say him. It's the honest thing I could"
On behalf of all supporters of La Roja, Gracias Guaje! Thank you for trying to make it back for Euro 2012. We'll see you at the Camp Nou very soon.
Vamos Roja!
Xoel, The Voice of FC Barcelona on Bleacher Report and Featured Columnist for Spain for Euro 2012.
Follow me on Twitter:@XoelCardenas
Don't forget to check out my other columns:
The New FC Barcelona 2012-13 Jerseys Are Here! 

FC Barcelona Transfer News: Tracking the Latest Rumors, News and Updates 

Euro 2012: 3 Candidates to Replace Carles Puyol in Spain's Starting XI