Pacquiao vs. Bradley: Why Experience Will Give Pac-Man the Edge
June 5, 2012

Ethan Miller/Getty Images
Manny Pacquiao is only five years Timothy Bradley's senior, but the pound-for-pound king has won nearly twice the amount of fights in his professional career.
Pac-Man boasts a 54-3-2 record and hasn't lost a fight since March 2005. Bradley has never lost at 28-0 (with one no contest) but didn't make his professional debut until Pacquiao already had 39 wins to his name.
Since that time, the Filipino has lost just one fight, which was also his last loss, and has battled with the likes of Erik Morales (twice), Marco Antonio Barrera, Juan Manuel Marquez (twice), Oscar De La Hoya, Ricky Hatton, Miguel Cotto, Joshua Clottey, Antonio Margarito and Shane Mosley.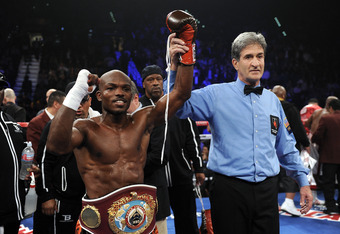 Harry How/Getty Images
Bradley hasn't stepped into the ring with a single one of those big names, and he was actually an undercard fight on Pacquiao's last bout with Marquez—Bradley defeated a listless 40-year-old Joel Casamayor that night.
The American refused to fight Amir Khan this past year, which would've been the biggest fight of his career to date, and was subsequently stripped of his then-WBC title belt. He was fortunate enough to land this fight when Pacquiao and Floyd Mayweather Jr. couldn't agree to terms.
But he could've used the experience of fighting someone like Kahn as he gets set to step into the ring with a guy who has seen and fought them all—except for Mayweather, of course.
The one thing Bradley has going for him, something the Cathedral City boxer has in spades, is confidence, and he believes he'll actually defeat Pacquiao on June 9th.
While he's right in telling the LA Times that Pac-Man hasn't seen a fighter like him in his recent bouts, he needs to know that he's never seen a fighter like Pac-Man.
The longer this fight goes, the more it favors the 33-year-old Filipino congressman. Bradley has speed and stamina, but he lacks power and hasn't seen power like Pacquiao possesses. Even if Bradley fights perfectly early on, you can be sure that Pac will make him pay for it.
Don't get me wrong, this is no easy fight for the pound-for-pound king—it is probably the toughest fight he could've signed on for outside of Mayweather—but in-ring experience is going to be a huge factor in this bout.
Expect Bradley to come out and show Pacquiao he's no pushover, but expect Pacquiao to take this fight when it matters most.