Wali Lundy, Former Houston Texan, Explores Life Outside of the NFL
May 22, 2012

Everyone's life is plagued by hardships, bumps in the road that can hinder one from achieving his/her own life's dreams, but it is what the person does with those hardships that defines his/her path in life.
This cannot be more true for Wali Lundy, a former running back for the Houston Texans, who has dealt with the harsh reality of life from a very young age. 
In the early stages of his childhood, both of his parents passed away—his father when he was just 4 years old and his mother when he was 9. His grandmother, however, stepped in and ensured Lundy and his six other brothers would not be denied their life's dreams.
"My grandma was always there for me and she was always a big part of our lives," he reminisced to Bleacher Report.
His grandmother, along with his mother's sisters, taught Lundy and his brothers to be "real spiritual people and to be good citizens and to love everybody."
While Lundy had always had a love for football and athletics, due to playing outside constantly with his older brothers, it was when he was 10 years old that he began to discover his love for writing and creating music.
After his mother passed, he began to spend more time at his aunt's house, who encouraged him to write and practice his penmanship in poetry books. What started as a logical way to improve his handwriting, however, became something that would change his life completely. 
Lundy found that he enjoyed creating rhymes and poetry, and due to his infatuation with the hip-hop culture, it did not take long for him to connect the dots and start writing his own lyrics.
Music, though, was not only a pastime for Lundy—it was a way to express his pent-up emotions from a childhood filled with heartache. 
"After my mother passed [music] gave me something to express myself with because when I was a kid, I didn't like to talk about my situation," he said. "[Music] has always been a part of me."
Although music and rap would always remain a dream of his, football began to take prevalence. Lundy was a star running back for the Florence and Holy Cross football teams in New Jersey.  When he was offered a full-ride scholarship from the University of Virginia to play football, his dream of making it to the NFL finally seemed tangible.
Lundy's name is commonplace in the Cavalier's record book, and he owns the impressive record of scoring the most touchdowns in Virginia history. And despite turning head's at Virginia with his football talent, Lundy's other passion of hip-hop remained within him.
"[Music] was always a dream of mine," Lundy said in a Sports Illustrated interview.
Making it into the NFL, however, was still the major goal he wanted to achieve in life. And in the sixth round of the 2006 NFL draft, that dream was finally fulfilled.
"It was a relief to be drafted, I felt like all the hard-work had paid off. It's really hard to get into the NFL. Those guys go through a lot, a lot of training," he said.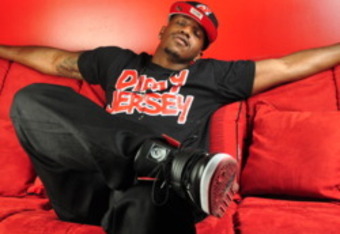 The Texans selected Lundy to bolster their depth at the running back position, but due to a lingering knee injury to starter Domanick Davis, Lundy received the opportunity to start the first game of the season.
Lundy started eight games his rookie season, totaling 476 yards and four touchdowns. He hoped to build off that solid rookie year in the following season, but that goal was cut short. A nagging ankle injury hampered his ability to perform on the field, and Lundy was cut by the Texans in 2007.
The fact that he would never be able to compete in the NFL again deeply affected Lundy, and it still does to this very day.
"I don't know if I'm fully recovered from it now, man," he said. "[Football] was a part of me."
Lundy, however, realized he could not forever mourn over his lost opportunities, but, rather, he would have the chance to pursue another dream: music. He recognized that he was not "over it," but he also felt like he had "another drive" in him.  
Lundy helped co-found the social and artistic movement called Fresh Fuzion, which is dedicated to be a platform for all types of innovative art, including paintings, poems, music, fashion and film. Through Fresh Fuzion and his own music, Lundy wants to "change and inspire people the same way he was changed and inspired by it."
Lundy hopes his music can help bring an end to the close-mindedness that plagues so many people in our world, therefore effectively ending the hatred and racism that exists everywhere. Lundy uses his own hardships that he faced throughout his entire life—growing up without both of his parents for the majority of his childhood and missing out on the opportunity of a lifetime to be a star in the NFL—as fuel for the lyrics that he hopes will inspire people to make a change in their lives. 
As he says in his song, "Fast Lane," he hopes people can make a change like a "butterfly from caterpillar, spreading my wings for flight."