Doron Lamb: Highlights, Analysis and Pro Projections
June 13, 2012

Ronald Martinez/Getty Images
Doron Lamb is the 2012 NBA draft's best pure shooter. The Kentucky shooting guard helped lead the Wildcats to a national championship this past season.
Lamb hails from the legendary Oak Hill Academy high school, which has produced more NBA players than any other school.
He averaged 13.7 points, and he was often the go-to man for the Wildcats down the stretch. He made himself eligible for the draft on April 18. 
Lamb has a place in the NBA as a shooter, if nothing else, but he has some other skills that are of note as well. He isn't the perfect shooting guard prospect, but he has some value.
ESPN's Chad Ford has Lamb listed as the sixth-best shooting guard in the draft. That is hard to argue with, but he could make a nice impact with the right team.
Here is a scouting report on Lamb highlighting his strengths and weaknesses.
(Height, weight and stats per statsheet.com.)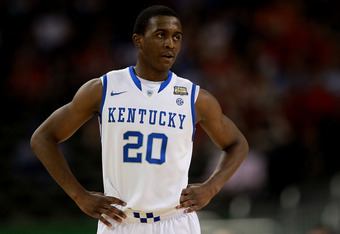 Ronald Martinez/Getty Images
Profile
Height: 6'4"
Weight: 210 pounds 
School: Kentucky
Date of Birth: November 6, 1991
Best NBA Position: Shooting Guard
College Stats: 13.7 PPG, 31.2 MPG, 47.4 FG%, 46.6 3FG%, 82.6 FT%, 1.5 APG, 2.7 RPG, 0.1 BPG, 0.5 SPG
Skill Grades
Athleticism - B
Size - B
Intangibles - A
Rebounding - C
Ball-Handling - A
Defense - A
Shooting - A+
Passing - A
Post Game - C
Basketball IQ - A
Upside - B+
Strengths
Lamb is a lights-out shooter, but he is also very smart. He handles the ball well, has good vision and he makes solid decisions.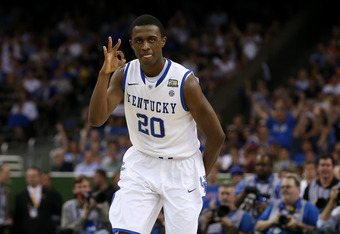 Jeff Gross/Getty Images
Despite his lack of height, he understands team defense, plays his role well and gives good effort. Lamb knocks down over 80 percent of his foul shots.
The 47 percent he shot from the field last season is exceptional for a guard. His shot selection and nice dribble-drive moves makes him a solid scoring threat. 
Check out the sharpshooter in this highlight reel:
Weaknesses
Lamb is not a freakish athlete, and he's a short for the shooting guard position at 6'4". He will have problems finishing at the rim in the NBA.
These factors will likely turn Lamb into a spot-up shooter primarily. He does have some moves off the dribble, but they'll only be effective against a handful of NBA defenders.
Despite his good effort on defense, the size limitation will put him at a disadvantage against bigger guards. Lamb will be a role player in the NBA, but his role as a secondary scorer could be invaluable to the right team.
NBA Player Comparison: Better-penetrating Kirk Hinrich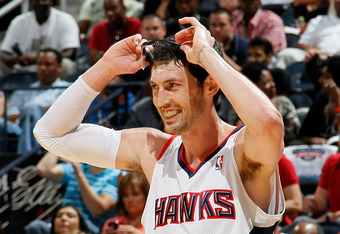 Kevin C. Cox/Getty Images
Kirk Hinrich has always been a solid combo guard in the NBA. He can play either guard spot, and he plays hard at all times.
In his nine-year career, he's averaged 12.5 points and 5.4 assists per game. He made All-Defensive second team in 2006-2007. He shoots a high percentage from three (38 percent) and from the line (81 percent). Hinrich is 6'3'', 190 pounds—almost the exact same size as Lamb.
Lamb may never make an All-Defensive team, but he is solid in that area, and he can shoot the rock. He can play either guard position, and they both have athletic limitations that they offset with a high basketball IQ.
Lamb is a little better at creating his own shot, but he projects as a player similar to Hinrich.
Draft Projection: Late first round
Follow Brian Mazique and Franchiseplay.net for reactions, analysis and news from the world of sports and sports video games