Lakers and Celtics Need to Be Combined into One Superteam Via Andrew Bynum Trade
June 12, 2012

Ronald Martinez/Getty Images
Lakers, Celtics, combined? Yes!
The Los Angeles Lakers and Boston Celtics are the two most storied franchises in NBA history. Both proud franchises consider any season that fails to end in raising another championship banner a failure.
However, both also realize that the championship window for their respective teams as currently constructed may have started to slowly close at the end of their historic 2010 NBA Finals matchup and slammed shut for good this past postseason.
In order for both the Lakers and Celtics to become legitimate NBA title contenders again, they may in fact need to trade with each other.
I'm proposing two historic enemies making one mega-trade that would give the Lakers quite possibly the most experienced and star-studded roster in the history of basketball, capable of making a strong push for a title for the next three to four years. This trade would also give the Celtics a dynamic young duo to lead them back to glory and a roster stocked with youthful talent to help them contend for a title for the next decade.
The trade I am proposing is as follows.
Los Angeles Lakers Trade
Andrew Bynum, Josh McRoberts, Steve Blake and an extended Andrew Goudelock
Boston Celtics Trade
Paul Pierce and a re-signed Ray Allen and Kevin Garnett (the duo could sign contracts with a combined starting salary of up to approximately $13.77 million in the first season)
Celtics Advantages
The above trade really could be considered a no-brainer for both teams as well as all players involved.
The Celtics would receive the best player in the deal in the 24 years young and dominant Andrew Bynum, who just happens to be the best offensive center on the planet and would relish being the first option in Beantown.
Boston would also receive a capable backup veteran point guard in Steve Blake, a solid backup big in the young and inexpensive Josh McRoberts and a knock-down shooter on an insanely cheap contract in Andrew Goudelock.
Lakers Advantages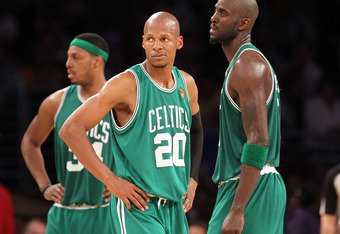 Ronald Martinez/Getty Images
The Los Angeles Lakers may in fact be losing the best player in the above trade as well as taking on a massive amount of salary, but landing three future first-ballot Hall of Famers to surround Kobe Bryant with the greatest supporting cast he has ever had makes it all worth it.
As for Kevin Garnett and Ray Allen, they would each get to sign relatively lucrative contract extensions (I would envision Allen signing for a starting salary of around $6 million per season and Garnett for around $7.5 million per season) during the twilight of their careers while getting to know they will be playing for a true veteran-laden, star-studded team with championship-or-bust aspirations until they ride off into the sunset of their respective retirements.
Celtics Roster
If the Boston Celtics re-sign bigs Brandon Bass and Greg Stiemsma and trade their No. 21 and No. 22 selections in the upcoming draft to move up and select coach Doc Rivers' son Austin, a dynamic shooting guard from Duke university with star potential, they would still have around $15 million in cap space.
That space could be used to add a group of quality small forwards such as Michael Beasley and former Celtic Jeff Green as well as a cheap veteran stretch four such as Antawn Jamison.
If the above moves were made the Celtics 2012-13 roster would look as follows.
Point Guards:       Rajon Rondo / Steve Blake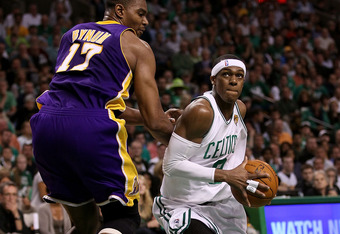 Elsa/Getty Images
Shooting Guards: Avery Bradley / Austin Rivers / Andrew Goudelock 
Small Forwards:   Michael Beasley / Jeff Green
Power Forwards:  Antawn Jamison / Brandon Bass / Josh McRoberts
Centers:                Andrew Bynum / Greg Stiemsma / JuJuan Johnson
The above roster is magnificently stacked with young and talented players on extremely reasonable contracts, which is most definitely a recipe for long-term success.
Lakers Roster
As for the Lakers, they could re-sign Devin Ebanks, Matt Barnes and Troy Murphy on the cheap, extend Jordan Hill and bring back former Lakers sixth man Lamar Odom or even Elton Brand (who I believe will be an amnesty cut) on a veteran minimum contract.
They could also sign a wily old free-agent point guard such as Jason Kidd (if for no other reason than that he should retire as a Laker and would provide a steadying locker-room presence). If all of this were done, the team's 2012-13 roster would look as follows.
Point Guards:        Jason Kidd / Ramon Sessions / Derek Fisher
Shooting Guards:  Kobe Bryant / Ray Allen /  Devin Ebanks / Christian Eyenga
Small Forwards:    Paul Pierce / Metta World Peace / Matt Barnes
Power Forwards:   Pau Gasol / Lamar Odom (or Elton Brand)
Centers:                 Kevin Garnett / Jordan Hill / Troy Murphy
The above Lakers roster is championship-worthy, no doubt about it. It is a lineup that Kobe Bryant, Lakers brass and all Lakers fans should be thrilled to have.
I could personally see Sessions, Garnett, Allen, Kidd and Fisher all signing two-year deals, with Kidd and Fisher retiring together after the 2013-14 season. At that time, the contracts of Kobe, Gasol and Pierce would also end, and the Lakers would have zero—that's right, absolutely no one—under contract for the 2014-15 season.
Instead, the team would have the ability to possibly re-sign Gasol, Odom, Pierce, Garnett and Allen on the cheap. They could also sign Kobe to a fair but reduced salary and re-sign the still-young Sessions to a market value contract.
After all of the above is completed, the Lakers could still have enough cap space in 2014 to sign two max-level free agents to add to the great core already in place.
If the Lakers play their cards right, there is no reason they cannot win a minimum of two more NBA titles before Kobe Bryant rides off into the sunset.