Chicago Blackhawks: Jeremy Roenick Says Relationships Make a Good Assistant
May 18, 2012
J.D. Cuban/Getty Images
The Chicago Blackhawks are on the hunt for an assistant coach. What kind of guy is right for the job?
Consider the players, Joel Quenneville.
The 'Hawks head coach is likely going to name his assistant after firing Mike Haviland early in the offseason. Haviland was a holdover from the Denis Savard regime and had been in the organization for several years before that. It's apparent that Quenneville wants his man with him on the bench.
He can have that man, but Quenneville needs to find a man with specific qualities. Haviland was a coach the players liked, trusted and confided in.
I spoke to retired NHL stars Jeremy Roenick and Mike Modano recently for an article I did on playoff beards. In the course of our conversation, I got a chance to ask them about what they thought about what makes an effective assistant coach.
Both guys agreed that while an assistant needs to know his X's and O's, dealing with players is a huge part of the job.
"It's a bridge between the head coach and the players," Modano said. "It's someone who needs to be a good communicator, a good teacher, a guy that could keep things light and loose. He's just kind of that buffer guy that brings some fun to the game."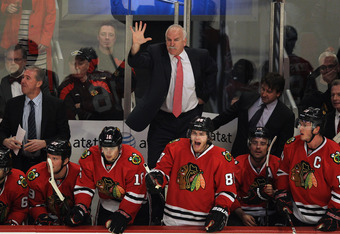 Jonathan Daniel/Getty Images
Both former players cited the importance of relationships between players and coaches as a key role of the assistant.
"That's where I think some of the guys' best relationships are, with the assistant coaches, the ones that I had," Modano started. "For me, personally, I think that's important."
"That was the one thing I was going to say, the relationship of the player and the coaches," added Roenick, who started his long NHL career with the Blackhawks. "The head coach has got to stay pretty neutral. He's got to be the guy who's the disciplinarian; he's the one who's calling the shots. The assistant coach is the guy who understands how to motivate and, like Mike said, how to teach, and it's also about relationships."
It seems apparent that Haviland was adept in cultivating those relationships with the players. Roenick stressed that it wasn't necessary for an assistant to cater completely to the players. It's a tightrope an assistant walks between his boss and his players.
"Being able to put his arm around your shoulder and try to get your confidence going or, you know, maybe even just to give you a little kick in the ass when you need it," Roenick explains. "I think an assistant coach's job is kind of a tricky job because you have to stay very loyal to both sides."
"I think the coach needs to have little details and directions and some responsibility in that sense, but the assistants…they're teachers and mentors, but they need to bring some enthusiasm and fun for the game," Modano said.
A guy who can serve as a buffer, who can keep things loose and make things fun. Sounds a little like Roenick, no?
Forget it. J.R. is happy doing what he's currently doing.
"It would take way too much time off the golf course for me," Roenick said with a laugh.
Quenneville can rule out adding Roenick's name to his list of candidates. I would imagine that he's had time to put his list together and has a pretty good idea in which direction he wants to proceed. His new assistant will hopefully be able to provide that bridge between talent and management.