Way Too Early Award Predictions for the Minnesota Vikings
May 18, 2012

This week, we've toured the NFC North, handing out made up awards—I mean using my broken Time Warner Crystal Ball to see into the future to see what awards every team will have.
Finally we reach the Purple People Eaters themselves, the Minnesota Vikings.
I tried to get Adrian Peterson to introduce these awards but his publicist emailed me back that he had to decline. Something about "you're not serious," "rehabbing" and "wasting time."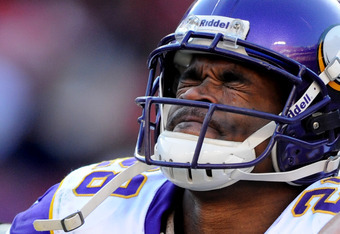 Patrick Smith/Getty Images
MVP: Adrian Peterson
Much like Peyton Manning in Indianapolis, I don't think Minnesota knew how much they needed Peterson until he was gone. They didn't fall apart like the Colts—Peterson is critical but not THAT critical—but losing him certainly made life harder.
While I am cautious about my optimism regarding his comeback from his injury, I expect him to be 100 percent this year and running pretty close to the full "All-Day" we know and love.
He won't carry this team to a Super Bowl, but he will make a huge difference every time he puts the cleats on, giving Christian Ponder some room to breathe.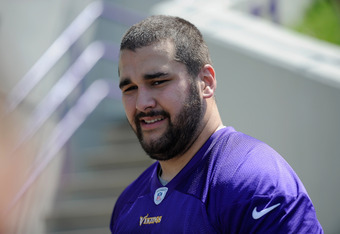 Hannah Foslien/Getty Images
Rookie of the Year: Matt Kalil
It's hard to go another direction here because Kalil is terribly important to the offense this year. You don't take a left tackle early and develop him. You take him, throw him in the deep end and—hopefully—watch him swim.
Kalil is an exceptional athlete and he'll need every ounce of ability in a tough NFC North. He'll rise to the challenge—he's that kind of player and, frankly, he needs to. Ponder needs him to cut down on the quarterback hits and give him the time to find Percy Harvin and the other wide receivers.
If Kalil isn't the rookie of the year for the Vikings, either someone else had a great season or something went horribly wrong.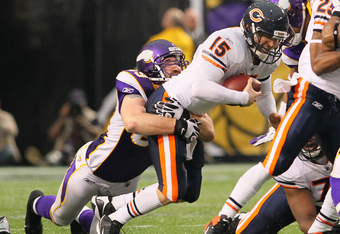 Adam Bettcher/Getty Images
Defensive MVP: Jared Allen

Allen was a monster last year, compiling 22 sacks and wreaking havoc on offenses all year long. They'll need him to keep it up in 2012.
It's not that he's the only player any good on the defense—he's just the most effective on an aging front seven.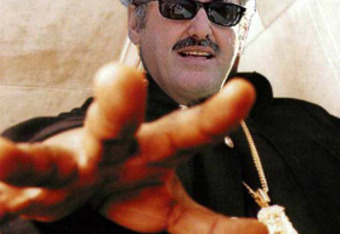 He's got a few more years in the tank, and while I don't expect 22 sacks, I do expect a lot of hits, tackles and general mayhem caused by everybody's favorite mullet-wearing nutjob.
Every team in the NFC North gets their own awards to go with the standard ones.
You know I love Colts owner Jim Isray's "Zygi the Biggie" nickname for Wilf, and I never pass up a chance to trot out my photoshop of it.
So here we are: the very first Zygi The Biggie Awards.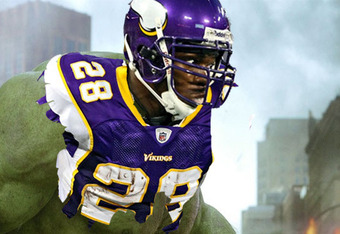 Terminator Come Back Award: Adrian Peterson
Once upon a time I tore my shoulder up. Like, really wrecked it. I had surgery, was told I was two to three months away from having a useful left shoulder and sent to rehab.
I was back to 100 percent in six weeks.
I only bring this up to say the human body can do incredible things when motivated. I was in better shape post-college, but not like Peterson.
Yet, even I'm shocked at how good he looks so far. Like I said—our bodies can do crazy stuff when we will it.
Not only will Peterson be back, but I think he'll be back at pretty darn near 100 percent pre-injury Peterson. Long term, this injury will catch up to him and slow him down probably quicker than if it had never happened.
That's down the road, though. Now, he'll be Hulking out through defensive lines like they're made of Swiss cheese.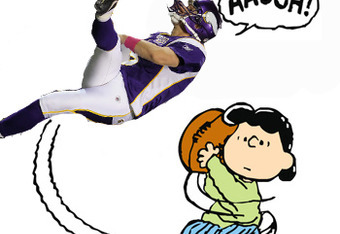 Don't Know What Ya Got, Til It's Gone Award: Ryan Longwell
Sponsored by '80s Hair Metal Band Cinderella
Don't know what you got till it's gone
Don't know what it is I did so wrong
Now I know what I got
It's just this song
And it ain't easy to get back
Takes so long
Ah, Cinderella, you know the truth.
I understand the concept of getting younger, but was Longwell making that much money? One day soon, when you could win a game but don't because your kicker is inexperienced, you'll look his number up and give him a call.
Or bring him on board at a lower price.
Point is, if you nickel and dime a kicker, you sometimes regret what you pay for.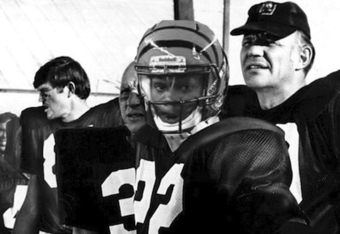 Longest Yard Award: Jerome Simpson
A few years ago, this might have been the "Love Boat Award," but instead we honor the guy who did the crime, did the time and then showed up to have an impact the rest of the season.
I named Simpson as one of my "Wild Cards," and while I believe he could faceplant when he hits the lineup, I have a feeling post-suspension Simpson will be focused and ready to go.
Fellow B/R writer Sigmund Bloom calls it a "career-near death experience," and it's saved careers before. Guys screw up, realize that they only get a short window of opportunity and either (a) fold or (b) man up, focus and play better than ever.
Simpson is one of the column "B" guys and come the end of the 2012, he'll be a great example of pulling it together and saving his career.