Manchester United: The Time Has Arrived for a New No. 7
May 17, 2012

Certain shirt numbers at some of Europe's biggest clubs hold something of a legendary status. No player will ever again wear Franco Baresi's No. 6 AC Milan shirt, and only one of Paolo Maldini's sons will be allowed to don his No. 3. At Ajax, much to Johan Cruyff's bafflement, the No. 14 shirt was retired in honour of the great man's 60th birthday.
Likewise, at clubs as diverse as Real Madrid and Newcastle United, the No. 9 shirt holds a revered status because of the great forwards who once wore it. The shadows of Alfredo di Stéfano and Alan Shearer (amongst others) loom large over every new man to wear the fabled shirt.
At Manchester United, one shirt number in particular holds a legendary status above all others. In almost every great era of dominance for the club, you only have to look at the player wearing the shirt to see why the club's fans revere it so much.
Between them, George Best, Eric Cantona, David Beckham and Cristiano Ronaldo amassed 13 English titles, four FA Cups, three European Cups/Champions League titles and two Ballon d'Or trophies. However, it was not just the honours they achieved that defined these players as club legends; their play would often transcend the team and the game itself, with players such as Best, Cantona and Ronaldo often featuring highly in polls for United's greatest ever player.
However, the Guardian reports that Michael Owen, the current occupant of the No. 7, is to be released from the club this summer. The time has arrived for a new hero to rise at Old Trafford.
Owen is not a bad player. Not only is he a model professional and gentleman, but Owen has scored some quite sensational goals in his career. However, Owen never came close to entering the pantheon of great No. 7s.
What United need now, especially with the rise of the Blue Moon across the city, is a player to take up the mantle left by those legends of the past and become an era-defining leader for Sir Alex Ferguson's final team. The new hero needs to come to the club, ease the burden on United's sole talisman Wayne Rooney and drive the club forward against what is surely the biggest threat to United's dominance in recent memory.
Some fans would claim that there are potential heirs in amongst the United ranks. Nani, often playing in the shadow of his Portuguese compatriot, is certainly one candidate. You also have the talents of Ashley Young and reigning Sir Matt Busby Player of the Year Antonio Valencia as two credible contenders.
However, I would argue that none of these look likely to dominate the game in the coming years. None of these players look likely to dethrone Lionel Messi as Ballon d'Or winner any time soon. For all they bring to the team, United need to find that mercurial talent who can usher in a new era at Old Trafford.
But does such a talent exist? And better yet, do United have the financial clout to compete with their rivals to bring these talents to the club? Jamie Jackson of the Guardian reported Thursday that debt has risen £26 million and income has dropped by 26 percent this quarter. It is certainly a time for belt-tightening at Old Trafford. A big money signing this summer looks very unlikely.
This almost surely places United out of the race of Eden Hazard. Mark Doyle of Goal.com reports that "Manchester" is Hazard's destination this summer, cheekily refusing to specify whether that meant Old Trafford or the Etihad Stadium. Yet the cost for this once-in-a-generation, two-time winner of the Ligue 1 Player of the Year award will surely price United out of the race.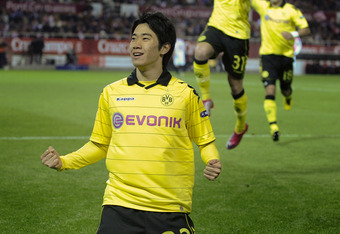 David Ramos/Getty Images
United fans must come to the realisation that the club will never compete financially with City for a player while the club are trying to reduce their debt. And rightly so.
A firm believer that there is no smoke without fire, I would argue that either one or both of Nicolás Gaitán and Shinji Kagawa are on their way to Old Trafford this summer. Both have made it known that they would like a move to the Premier League and have won two league titles in Portugal and Germany, respectively. Two players of proven quality who would immediately improve United's attack.
Players worthy of wearing the No. 7 shirt? Absolutely. Players who would usher in a new era? Time will tell. The pair are proven winners and will only get better at a club like Manchester United.
In any case, the time has arrived for a new Old Trafford hero, and I for one am relishing the prospect of a new star rising at Manchester United.