Jacksonville Jaguars: Blaine Gabbert Will Get Gene Smith and Mike Mularkey Fired
May 16, 2012
Al Messerschmidt/Getty Images
Right now, the Jacksonville Jaguars are a teetering house of cards just waiting for the weakest link to collapse, bringing the rest of the franchise tumbling down around him.
All signs point to that weak link being Blaine Gabbert.
The Jacksonville Jaguars have doubled down on Gabbert as their franchise quarterback, and that will doom the positions of Gene Smith and Mike Mularkey in Jacksonville.
Really, this is a situation created by Smith, who deserves the lion's share (or is it Jaguar's share?) of the blame here. The scouting community was mostly split on Gabbert as a franchise-caliber quarterback, but Smith chose to gamble, if only to inject life into a franchise that was dying on the vine with David Garrard under center.
Personally, I had a fringe starter grade on Gabbert coming out of college, but understood that he would be overdrafted with regard to his physical tools. The poor decision-making and average production (for that Missouri offense) did not point to NFL success, and Gabbert needed time to acclimate to the speed of the NFL game.
That was time he did not get.
Blame Garrard. Blame Smith. Blame Jack Del Rio, Wayne Weaver or Luke McCown—a host of mishaps, poor decision-making and subpar play combined to create a scenario in which Gabbert was forced into starting, and he responded by being (clearly) the worst starting quarterback in the entire league in 2011.
Yes, Jacksonville fans, even worse than Tim Tebow.
Of course, Gabbert didn't get the best shot in 2011 considering both his shortened preparation time (due to both the lockout and the mishandled quarterback carousel) and the lack of talent around him, but to what extent do you make excuses for your franchise cornerstone?
Even as a rookie, shouldn't a franchise quarterback be expected to make others around him better? Recent rookies like Matthew Stafford, Matt Ryan, Joe Flacco and Sam Bradford clearly elevated the play of players around them and left little question as to who the alpha dog was.
There are plenty of excuses to be made for Gabbert, and apparently the Jaguars organization has made them all. This all for a player who was never really worthy of his elevated draft status in the first place.
So, in walk Shahid Khan and Mularkey.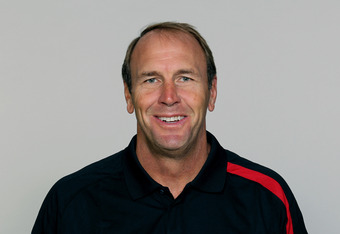 Handout/Getty Images
Financially, Khan has done what is predictable. With so much committed to Gabbert already and having kept the general manager who drafted him, Khan would not jettison his quarterback after one year.
In fact, Khan backed Gabbert before even hiring a head coach, asking coaches what role they could play in developing the young quarterback. This has led many (including myself) to speculate that Mularkey was hired less as a coach for the Jaguars and more as a coach for Gabbert.
This isn't the first time an NFL team has gone this route.
When the Detroit Lions drafted Joey Harrington, Marty Mornhinweg (now, ironically, considered a great quarterback mentor) wasn't considered the best coach for the young passer. Steve Mariucci was brought in as an offensive guru. Eventually, Mariucci and Harrington were both jettisoned, and Millen was inexplicably kept around for one last chance.
Let's be honest. Mularkey probably wasn't the best man for the job. But, he was the best man who was willing to be sidled with Gabbert as his quarterback.
In previous stops, it's hard to call his time at Buffalo a success, and many thought he would have been on the outs in Atlanta as the offense stalled and sputtered in his time there.
After years of less-than-stellar team building, Smith should've been on his last opportunity a while ago, but Weaver clearly had a personal connection with Smith, and Khan didn't seem too interested in rebuilding his first year as owner.
Khan seems as comfortable with Smith as he seems comfortable in potentially overruling him.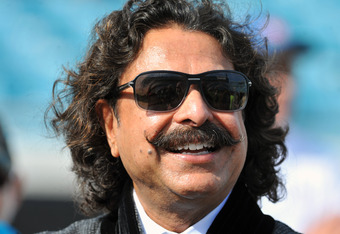 Al Messerschmidt/Getty Images
Khan himself isn't exactly a model of stability and consistency. Before he was even approved as owner, tax issues emerged as hurdles to completing the process. Around the draft, details were released about Khan's own little reenactment of Erin Brockovich, as employees of Flex-N-Gate picketed Radio City Music Hall to raise awareness of the hexavalent chromium released into Highland Park, Mich.
Individually, each of these situations is troubling. Together, this pattern should frighten Jacksonville fans, as it predicts more futility and, subsequently, more rebuilding years down the road.
It may not be this year, but at some point in the very near future, Gabbert's play will be the death knell for both his coach and general manager.
Michael Schottey is an NFL Associate Editor for Bleacher Report and an award-winning member of the Pro Football Writers of America. He has professionally covered both the Minnesota Vikings and the Detroit Lions, as well as NFL events like the scouting combine and the Senior Bowl.