Matt Miller Mailbag: Looking Ahead to the 2013 NFL Draft
May 16, 2012

Doug Pensinger/Getty Images
Looking ahead to the 2013 NFL Draft and taking one more look at the quarterback position, the Miller Mailbag for May 16 is here.
Each week during the offseason, I'll be taking questions from Twitter (#MillerMailbag) and answering them in a weekly mailbag column here. Special thanks to those who asked questions and allowed them to be featured here.
On to the mailbag...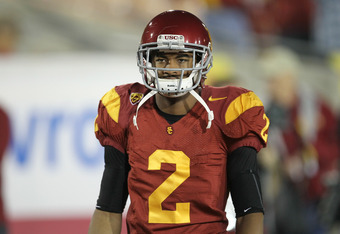 Stephen Dunn/Getty Images
#millermailbagHow would you rank Robert Woods compared to Blackmon, AJ Green, J. Jones and Dez Bryant?

— Tobias Bundgaard (@TobiasBundgaard) May 15, 2012
USC wide receiver Robert Woods is an interesting prospect. He doesn't have the size that made A.J. Green, Julio Jones or Dez Bryant stand out from the crowd, but his route-running is on par with any of the four receivers you mentioned here.
At 6'1" and 190 lbs., Woods is closer to Justin Blackmon in terms of size, but he's faster on the field and has better consistency when extending to catch the ball going across the field. Woods' route-running technique trumps Blackmon's. In ranking the five, Woods would come in at No. 4 for me at this time, followed by Green, Jones, Bryant, Woods and then Blackmon.
#Do you think Nick Perry will make the transition to linebacker in time for the season opener? #millermailbag

— Grant Ritchie (@GrantJRitchie) May 15, 2012
The Green Bay Packers definitely think so. Nick Perry was their first-round pick due to his amazing athletic ability as a pass-rusher off the edge for USC. Perry isn't quite ready to be a good run-stopper or coverage linebacker, but in the Packers' scheme, he doesn't have to be.
More than any other team, Green Bay will unleash their outside rushers to go get the quarterback this year. Perry's size and speed will make the transition to standing up full time much easier. It's also worth noting that he did stand up in a two-point stance at USC in certain packages.
#millermailbag What do you expect from Prince Amukamura if he stays healthy?

— RJ King (@RJKing56) May 15, 2012
I was a big fan of Prince Amukamara coming out of Nebraska in the 2011 NFL Draft. He's a physical cornerback with good—not great—change-of-direction skills in coverage. If healthy, and he should be, Amukamara has the tools to be the best cover man on the Giants' roster. He has rare size and body control, allowing him to keep pace with bigger receivers and stay in the hip pocket of faster players going deep. My expectations are high for Amukamara this season.
#MillerMailbag accd'g to Cincy, Marvin Jones looks like Robin to A.J.'s Batman. What is Sanu looking like?

— FluentInSarcasm (@mikeinfante75) May 13, 2012
Would this make Mohamed Sanu a Commissioner Gordon candidate? That analogy may be for humor, but it's also fitting. Sanu's job, if he's lining up in the slot, will be to draw attention from the edges with quick routes over the middle and in the flat.
Sanu and Jordan Shipley will be asked to occupy the thoughts of safeties and nickel cornerbacks, which will free up A.J. Green and Marvin Jones to find one-on-one coverage down the field. It's a scary proposition for AFC North defenses.
@nfldraftscout which teams do you think will be looking to upgrade at quarterback next offseason? #Vikings? #Jaguars? others. #MillerMailbag

— Justin Wall (@jwalluww) May 13, 2012
It's very early to say this, but Jacksonville will definitely be in the mix if Blaine Gabbert struggles this season. I expect him to be on a very short leash with Chad Henne there to take his spot. Don't rule out teams with older quarterbacks and no clear-cut successor in place—like New Orleans.
Depending on what happens with Drew Brees' contract, the Saints are a team that could be a dark horse looking for a young quarterback in 2013.
To be safe, let's throw the New York Jets and Dallas Cowboys in here, too.
@nfldraftscout Does Colt McCoy have what it takes to be an NFL starter, or was the Weeden pick the final nail in his coffin? #MillerMailbag

— Erik Frenz (@ErikFrenz) May 13, 2012
Great question. Based on his mechanics and traits, Colt McCoy has the makeup to play quarterback for a long time in the NFL. The issue is his performance on the field.
McCoy has started to look gun-shy at times, failing to step up in the pocket to deliver strikes and otherwise fading back from the pocket when pressured. My biggest concern right now is how McCoy will respond when he's hit again. The talent is there, but the ability to stand in the pocket under fire and deliver may not be anymore.
We'll learn a lot about McCoy this year in watching him battle with Brandon Weeden for the starting job. He is a tough kid, but he's not had to battle for a starting job in a long time.
Thanks for the questions this week. Next week, I am on vacation, so the mailbag will return May 30. In the meantime, feel free to follow on Twitter.