Breaking Down How the Miami Heat Match Up Against Western Conference Favorites
May 16, 2012

Marc Serota/Getty Images
With or without Chris Bosh, who is out indefinitely with an abdominal strain, the Miami Heat are the favorites to get out of the Eastern Conference and appear in their second consecutive NBA Finals.
The Heat are rightly favorites over the offensively challenged Indiana Pacers, Boston Celtics and Philadelphia 76ers, all of whom are making beautiful basketball a thing of the past.
Across in the Western Conference, things are much less clear as to who is going to make it to the Finals.
The San Antonio Spurs, Oklahoma City Thunder and the Los Angeles Lakers and Clippers remain and all have legitimate shots at representing the West.
The Heat's coaching team should already be game-planning for an eventual Finals matchup with one of these four.
Vs. San Antonio Spurs
Mario Chalmers vs. Tony Parker
Two point guards with vastly different styles of play. The Miami Heat currently deploy Mario Chalmers at point guard to run the offense. While that's what a point guard should be doing, Chalmers spends more time off the ball than on, being used as a spot-up shooter as either LeBron James or Dwyane Wade runs the offense.
Chalmers provides a credible threat from three-point range and is a competent point guard.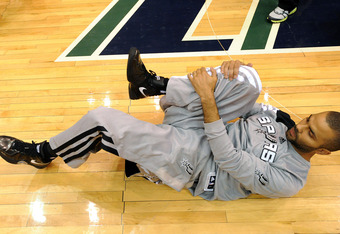 Steve Dykes/Getty Images
In Tony Parker, the Spurs have a probable Hall of Fame worthy court visionary. Parker is one of the top offense runners in the league behind Chris Paul. Few can see plays developing and anticipate movement like the French veteran.
Advantage: Spurs
Dwyane Wade vs. Danny Green
 One of the Heat's stars, Dwyane Wade, has had a decent season, though far from his best. Interrupted (slowed even?) by a rash of injuries, Wade has continually bounced back to be the leader of the team. He still possesses all of the skills and still knows how to get to the basket and score easily.
The Spurs currently field Danny Green at shooting guard, a nice player who gets most of his points from jump shots. With the elite defense from Dwyane Wade, Green will struggle to get many clean looks.
Advantage: Heat
LeBron James vs. Kawhi Leonard
 If Kawhi Leonard is not tested during these playoffs, he will be put into a pressure cooker if the Spurs and Heat meet. LeBron won his third Most Valuable Player award after steam-rolling the opposition through the Regular Season.
Leonard has had a great rookie season, but nobody in these playoffs is stopping LeBron except himself. 
 
Advantage: Heat
Joel Anthony vs. Tim Duncan
 One averages five points per game. The other is a sure-fire Hall of Famer and three-time NBA Finals MVP. There's only one way this matchup can go for Miami. Badly.
Advantage: Spurs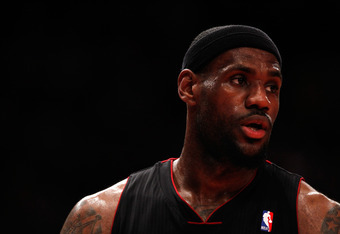 Jeff Zelevansky/Getty Images
Ronny Turiaf vs. Boris Diaw
 Turiaf would not be featuring heavily for the Heat if it were not for Bosh's injury. The fact that he will be on the court is a major boost for San Antonio as he is just not starting-grade material. Diaw has had a good year in San Antonio and will be a big part of their postseason plans.
Advantage: Spurs
Heat Bench vs. Spurs Bench
The Heat's bench has long been a target for Miami's critics and rightly so.
With very little in offensive weaponry to choose from (Mike Miller, Udonis Haslem, James Jones, Norris Cole, Shane Battier), Miami's bench players could take a pounding when lined up against San Antonio's formidable group.
Consider the above group playing against the likes of Manu Ginobilli, still a starting-caliber player, Thiago Splitter, a rejuvenated and interested Stephen Jackson, Matt Bonner and Gary Neal.
 
Advantage: Spurs
Erik Spoelstra vs. Gregg Popovich
One is under pressure to deliver a title to a demanding market. The other just won another Coach of the Year trophy after leading a battle-weary and tired group of veterans to yet another top seed in the conference.
Popovich has the smarts over Spoelstra here, especially when it comes to designing plays when the game is on the line. So far in the Big Three era in Miami, Spoelstra has yet to install a recognizable offense outside of isolation for his stars, which do not cut the mustard in the playoffs.
Advantage: Spurs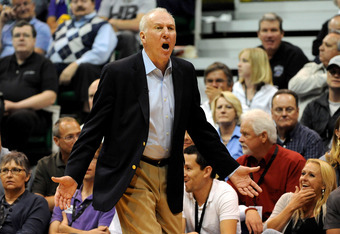 Steve Dykes/Getty Images
Series Prediction: Spurs in 6
Vs. Oklahoma City Thunder
Chalmers vs. Russell Westbrook
 Russell Westbrook has survived criticism of his playing style, his attitude and his on-court relationship with his teammates to cement his place as the Thunder's most important player behind Kevin Durant. Westbrook is the super-upgraded version of Heat rookie Norris Cole—able to get to the rim at will and knock down shots from all over the court.
Question marks remain over his shot selection as sometimes he shoots either early in the shot clock or after no passes in the half-court.
Still a better option than Chalmers.
Advantage: Thunder 
Wade vs. Thabo Sefolosha
 Thabo Sefolosha was fantastic while guarding Kobe Bryant through the regular season and in Game 1. Sefolosha is one of the top defensive guards, though has a limited offensive game.
Wade will have a tough time getting clean looks over Sefolosha, though on defense he'll be able to roam off him and help more on Durant and the Thunder bigs.
 
Advantage: Thunder 
LeBron vs. Kevin Durant
 The premier matchup of this series would be without a doubt LeBron James vs. Kevin Durant. The top two vote-getters in the MVP race, the league's new MVP and its leading scorer. The league's top two players in a battle for their first ring.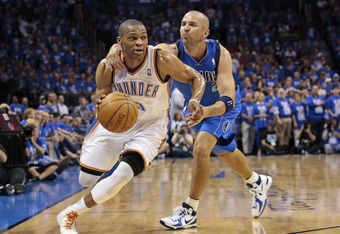 Brett Deering/Getty Images
It's just too tough to call.
Advantage: EVEN 
Anthony vs. Serge Ibaka
 The frontcourt is where the Thunder will have a field day. Serge Ibaka is a shot-blocking menace who will get more than his fair share of highlight plays during a series with these two teams.
 
Advantage: Thunder 
Turiaf vs. Kendrick Perkins

Another big advantage in size, ability and defense for the Thunder. Perkins and Ibaka provide the toughness on this Thunder team and have given it its identity this season. Perkins working on the block against Turiaf could be a great idea.
 
Advantage: Thunder 
Heat Bench vs. Thunder Bench

As it goes, the Thunder look to match up well with the Heat. Their bench boasts the league's Sixth Man of the Year James Harden, a borderline superstar in his own right.
The Heat bench has Shane Battier, Norris Cole and Mike Miller.
 
Advantage: Thunder 
Spoelstra vs. Scott Brooks

For a coach of a top team, very little is ever mentioned of Scott Brooks' tenure. Spoelstra is criticized after every Heat loss. Bulls' coach Tom Thibodeau is always praised for his defensive schemes. Brooks, on the other hand, lives relatively under the radar as his team performs efficiently on both ends of the court.
 
Advantage: EVEN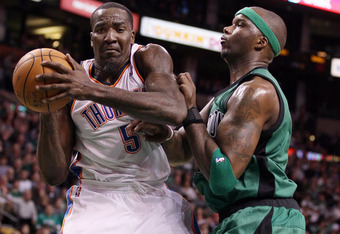 Elsa/Getty Images
Series prediction: Thunder in 7 (easily Heat in 6 or 7)
Vs. Los Angeles Lakers
Chalmers vs. Ramon Sessions

Ramon Sessions has transformed the Lakers' offense this season as they switched from the famed Tex Winter triangle offense to a standard NBA offense under Mike Brown.
Sessions has given the Lakers something Steve Blake and Derek Fisher did not have: a court visionary and someone who can make shots. Blake and Fisher could make there shots, but they couldn't run an offense as effectively as Sessions.
Chalmers would be able to handle him, and the Heat's defense encourages switching, so expect to see Sessions facing most of the Heat at some stage or another.
 
Advantage: EVEN 
Wade vs. Kobe Bryant

Another marquee matchup, Kobe and Wade matching up in the Finals would be perfect. Two defensive stalwarts, two players who possess the knowledge to get their points by any means.
 
Advantage: EVEN 
LeBron vs. Metta World Peace

World Peace would definitely slow LeBron some, but nobody stops LeBron from getting his points. Not anyone. Maybe Metta's elbow might change things? 
 
Advantage: Heat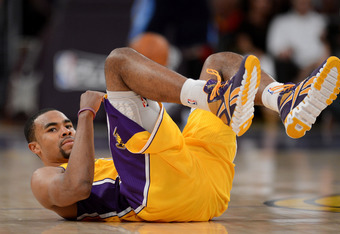 Harry How/Getty Images
Anthony vs. Pau Gasol

For once, the Heat can say they may be able to contain Gasol when the Lakers have the ball. Anthony is a better defender than given credit for and can block shots. Gasol tends to go up soft, opening the door for Anthony to make a difference.
 
Advantage: EVEN 
Turiaf vs. Andrew Bynum

Andrew Bynum, when interested, is the second-best center in the league. Maybe even the best depending on how you rate Howard this season. He'd eat Ronny Turiaf alive down in the low post. 
 
Advantage: Lakers 
Heat Bench vs. Laker Bench

Outside of Jordan Hill and the occasional Steve Blake explosion, the Laker bench is devoid of spark plugs able to change the momentum of a game. Norris Cole can do that with his speed, Battier with his defense. The Heat bench matches up better.
 
Advantage: Heat: 
Spoelstra vs. Mike Brown

LeBron's new coach against LeBron's old coach from Cleveland. Interesting. Brown has been given a baptism of fire in Los Angeles as he has had to implement his own offense and defense in a season with no team practices and around four games per week.
Tough one to call, but Brown has been to the Finals before now and although his team failed, that was more on his front office not getting the personal to get LeBron to a championship.
 
Advantage: Lakers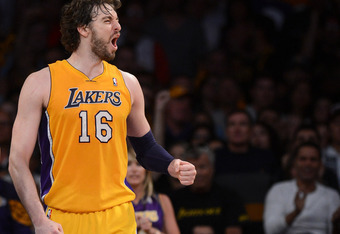 Harry How/Getty Images
Series prediction: DEAD HEAT. It's just too close to call. Variables like Bynum's attitude change too much. 
Chalmers vs. Chris Paul

Chris Paul, the top point guard in the league, against Mario Chalmers, a point guard who is used more like a shooting guard.
 
Advantage: Clippers 
Wade vs. Randy Foye

Randy Foye is decent, he'll make some shots as his jumper is quality, but he is never stopping Dwyane Wade. In fact, he's going to need help containing him, opening up clean looks for other players on the court.
 
Advantage: Heat 
LeBron vs. Caron Butler

Again, LeBron gets where he wants, scores as much as he wants and Caron Butler with a broken hand is not stopping LeBron.
Advantage: Heat 
Anthony vs. Blake Griffin

Joel Anthony will struggle in the post against Griffin's physicality, so expect to see Turiaf handle Griffin down there. LeBron may also defend Blake on some possessions as he has shown the ability and willingness to bang down in the post.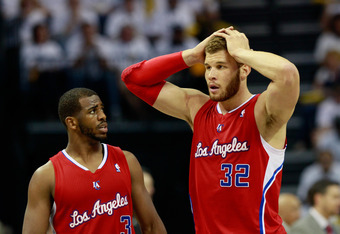 Kevin C. Cox/Getty Images
If Griffin starts settling on outside jumpers against the Heat, he's in trouble. His defense is suspect too.
 
Advantage: Heat 
Turiaf vs. DeAndre Jordan

Two offensive non-entities. Jordan can make the highlight dunks and is a great shot-blocker, though it would be tough to see either team getting much out of the center position in this series.
 
Advantage: EVEN 
Heat Bench vs. Clipper Bench

The Clipper bench is not the worst in the league, in fact it played a huge role in their Game 7 victory in Memphis. When these two bench units take to the court, there's not going to be much between them.
 
Advantage: EVEN 
Spoelstra vs. Vinny Del Negro

If the Heat's critics think that Spoelstra's isolation-heavy offense is frustrating, they should watch Vinny 'pick and roll' Del Negro run his team.
Although he has the perfect PnR combination in Paul and Griffin, the Heat have been fantastic at defending that action all season. Expect to see them push the ball handler as far from the basket as possible and allow Griffin to take his long jumper. At times they may choose to trap Chris Paul and force someone else to create offense.
 
Advantage: Heat
Series prediction: Heat in 5