WWE News: Brock Lesnar, Paul Heyman Lawsuits Revealed as Triple H Returns to Raw
May 15, 2012

Triple H made his return to WWE Raw on Monday night to call out Brock Lesnar and vent about what happened a couple weeks prior. He left the ring, however, with two lawsuits on his hands.
Triple H entered the ring and told the crowd that he was "embarrassed because he bought in to Lesnar" and called it the same hype that he bought into in Lesnar's first stint with the WWE.
Triple H went on to say, "I looked at that kid and I thought, you're going to be the next big thing, and I was right...when it wasn't so easy, Brock Lesnar quit and he went to the UFC...When it wasn't so easy (in the UFC), Brock Lesnar quit. And then he decided to come back here, to the WWE."
Triple H spoke about how Lesnar thought he could win a match with John Cena, but after he lost the match, "Lesnar came out here the next night, making ridiculous contractual demands...When he was told no and it wasn't easy anymore, Brock Lesnar did what Brock Lesnar always does. Brock Lesnar quit."
As soon as Triple H finished his sentence, Lesnar's music began to play and Paul Heyman made his way to the ring.
Heyman referred to Triple H's words as damage control and told Triple H that he lost his biggest star. He called it an "open and shut case."
Heyman told Triple H that he brought a fighter into an entertainment company and then did not like it when Lesnar actually showed up and fought.
Heyman then served Triple H paperwork to a lawsuit for the millions that the WWE owes Lesnar.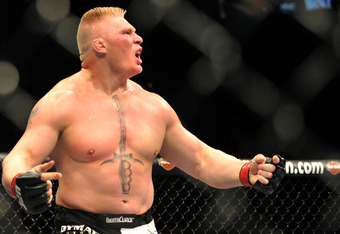 Jon Kopaloff/Getty Images
After Heyman told Triple H that he was glad Lesnar broke his arm, Triple H smacked the microphone from Heyman and grabbed his face. Triple H then turned away and told Heyman, "You tell Brock Lesnar, he's going to get everything he deserves."
As Triple H left the ring to applause from the arena, Heyman informed him that he was now also suing him, for assault and battery and that he would see him in court.
It is a twisted, confusing, brilliant angle from the WWE and it all sets up the inevitable: A match between Lesnar and Triple H, presumably at SummerSlam.
Bringing Heyman into the mess only makes it more intriguing and adds another element to the drama. The Heyman appearances also allow Lesnar to take some time off and limit his appearances early on in his contract.
This is turning out to be a great feud between the two and the ensuing weeks should add to the hype and anticipation for Lesnar's return.
One of these times when his music starts playing, it will be Lesnar and not Heyman who emerge from backstage.