Arsenal Beat West Brom 3-2 to Finish Third in the Premier League
May 14, 2012
Ross Kinnaird/Getty Images
Arsenal went into their final Premier League game of the season away to West Brom knowing a win would guarantee them third place. The reward for third place is a spot in the group stages of next season's Champions League, and it was a prize Arsenal dearly wanted. Any slip from Arsenal would more than likely have seen their local rivals Spurs overtake them to claim that coveted third place.
Arsene Wenger made three changes from the team, which drew 3-3 at home to Norwich last week. Carl Jenkinson was drafted in at right back for the injured Bacary Sagna, but the other two changes were a lot less expected. Andre Santos came in at left back for Kieran Gibbs, and Francis Coquelin replaced Aaron Ramsey in the heart of the midfield. 
There was a place on the bench for the returning Theo Walcott, who was held in reserve in case of emergency.
The game couldn't have gotten off to a better start for Arsenal with Yossi Benayoun putting them up 1-0 after less than four minutes. His goal was a simple tap into an empty net after a horrendous error from Albion keeper Marton Fulop. It was a gift that Arsenal were only too happy to accept, and it gave them the early advantage they craved. 
Before Arsenal had scored their goal, Spurs already had gone ahead of Fulham in their game, and it was vital that Arsenal kept their lead. However, that lead didn't last very long, as West Brom scored twice in the next 10 minutes to leave Arsenal's chances hanging by a thread. They needed to find something from somewhere, and shore up their leaky defence at the same time. 
West Brom's first goal came from Shane Long, and there was a lot more than a hint of offside about it. When Long was played through on Wojciech Szczesny in the Arsenal goal, he finished very well, but he was at least a yard offside. Only four minutes later, Graham Dorrans put Albion ahead after some very poor defending from Arsenal, and Thomas Vermaelen in particular. 
There were still 75 minutes to go, but Arsenal needed to get back into the game as soon as possible. Just short of the half-hour mark, Arsenal got their lifeline, and Fulop again had a part to play in it.
Alex Song won the ball 25 yards from goal, and played it to Santos, who let it fly with a very good left-footed shot. Fulop got down to the ball, but he couldn't keep it from going in at the near post. Arsenal had an hour left to save their season.
Walcott replaced Tomas Rosicky at halftime as Arsenal looked to get more bodies forward in search of a winning goal. It didn't take too long for them to regain their early advantage, and yet again Fulop had a large hand in the goal. 
Arsenal were awarded a corner when it probably should have been a goal kick to West Brom, and they took full advantage of their good fortune. Robin van Persie swung the ball onto the penalty area, but there seemed to be no threat from Arsenal as Fulop came to meet the ball. He could have caught the ball but he chose to punch it, and he got his punch horribly wrong.
The ball headed toward his own goal, and Laurent Koscielny was there to poke it home for Arsenal. They had the lead they wanted, and the Champions League spot was theirs to lose again. There were 30 minutes left, and Arsenal needed to defend as if their lives depended on it.
West Brom had a lot of corners, but real chances were few and far between really. There was one good save from Szczesny, but as the game entered the five added minutes, Arsenal were still holding out. There was still enough time for some late drama, and both teams had good chances to score again.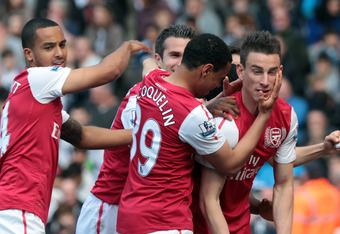 Ross Kinnaird/Getty Images
Van Persie was played through with only the keeper to beat, but his shot was off target and Arsenal missed their chance to seal the game. Within a minute, West Brom had the chance they wanted to break Arsenal's hearts, and it took some heroics to stop them from scoring.
Billy Jones was played in on the left, and as he drew his foot back to shoot, my heart sank more than a little. I was sure he was about to get the goal that I feared had been coming for the last half hour, but  Gibbs slid in to make a magnificent challenge. His timing was absolutely perfect, and the game ended not too long afterward with Arsenal sitting pretty in third place.
I could pick the bones out of the Arsenal performance, and give some of the players who underperformed a hard time. It doesn't really matter now, though, as the result was all that was important on the day. With a few huge slices of luck, Arsenal got that result and will now take part in the group stages on next season's Champions League yet again.
The best player on the day for me was Benayoun, but the last ditch challenge from Gibbs was absolutely fantastic, too. The players celebrated at the final whistle as they said their farewells to Pat Rice after 38 years (never mind Watford) at the club. 
I have bemoaned the apparent lack of fortune Arsenal have suffered from at times this season, but I cannot deny they were lucky to win. The performance of Fulop, was the single biggest factor in their victory, and the injury Ben Foster picked up last week was a real gift to Arsenal. 
Spurs will have to wait to see how the Champions League final finishes before they know if they will get to play in the Champions League next season. I actually think I want them to qualify, as it would mean Chelsea don't win the Champions League. I still want Arsenal to be the first London club to be champions of Europe.
An Arsenal season has rarely seen so many ups and downs as this one, but a third place finish is no mean achievement. Added to finishing third, Arsenal also got to celebrate St. Totteringham's Day yet again, and Wenger has never seen his Arsenal team finish below them. 
When you consider the money Liverpool and Chelsea have spent, Arsenal have done very well to leave them trailing in their wake. They are the third best team in the Premier League, and they have funds available to strengthen the squad. Lukasz Podolski has already agreed to join the club, and hopefully some other top quality players will follow.
The biggest signing of the summer will of course be if van Persie can be convinced to extend his contract. He has been the best player in the Premier League this season, and it would be a huge blow if he left. If he does decide to leave, the club will continue though, as it always does.
No player is bigger than any club, and Arsenal have recovered from selling better players in the past. I sincerely hope he stays, and Wenger gets to build a title winning team around him. It won't be an easy task to prise the title from Manchester City, but at their best Arsenal aren't too far away.
Unfortunately when they're not at their best anything can happen, and it did far too often this season. The signs for next season are positive with the addition of Podolski, and the return of Jack Wilshere will be a welcome boost too. Hopefully the transfer dealings will be over and done with long before preseason begins, and Arsenal can put the mistakes of last summer behind them. 
That's it for today.
Here's the highlights from Sunday's game.
See you tomorrow.