Alex Del Piero: A Look Back at Alex the Great's Time in Turin
May 14, 2012
Valerio Pennicino/Getty Images
Sunday was a day of celebration for Juventus.
The team won its first Scudetto since its return to Serie A after the Calciopoli Scandal. They went undefeated under new coach Antonio Conte, becoming the first team to do so since the league included 20 teams.
Despite this great accomplishment, it was still a sad day for the Juventus faithful, as it marked the last Serie A game that club captain Alessandro Del Piero would play for the team.
Del Piero joined Juventus in 1993, at the age of 18, after spending five years with Padova.
He scored his first league goal for Juventus in only his second appearance for the club, in a game against Reggiana. He would then score his first hat-trick in his first start for the team, against Parma. Del Piero finished his first year in Serie A making 11 appearances for the club and collecting 5 goals.
It wouldn't take long for Del Piero to find success with the club. The following season he went on to make 50 appearances in all competitions. Juventus would go on to win its first Scudetto in eight years, also winning the Coppa Italia.
The next few seasons would be extremely successful for Juventus both domestically and internationally.
In 1996 Del Piero helped lead the team to win the UEFA Champions League, the Intercontinental Cup and the Italian Super Cup.
Juventus would win the Scudetto each of the following two years, and reached the UEFA Champions League finals on both occasions.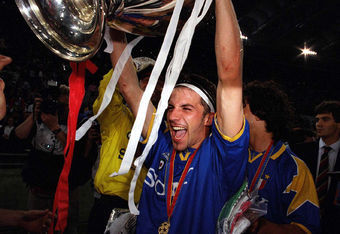 Del Piero had a major hand in these accomplishments. The height of his career statistically would be the 1997/1998 season, which he recorded a career-high 21 league goals in 32 appearances, and 10 goals in 10 games in the UEFA Champions League.
Del Piero's diminutive stature and creativity earned him the nickname "Il Pinturicchio", which means little painter, by club president Gianni Agnelli. He would continue to be a major part of the Juventus team going forward, taking over as team captain for Antonio Conte, now the Juventus coach.
Del Piero would remain captain at the club for over a decade.
As the 2000s came, Del Piero continued to lead the team to multiple Scudetti and domestic championships, scoring 104 goals from the 2000/2001 season to 2005/2006.
Del Piero was a professional on and off the field, and became a talisman for the club. In 2006 Juventus had two of its Scudetti revoked, and were relegated to Serie B.
When many star players decided to leave, Del Piero was one of the few who would not. He urged others to stay, saying, "The Agnelli family deserve this, as do the fans and the new directors." 
Del Piero led the team to finish first in Serie B, losing only four of its 42 games, allowing the team to be promoted back to Serie A. He also finished as the top scorer in Serie B with 20 goals.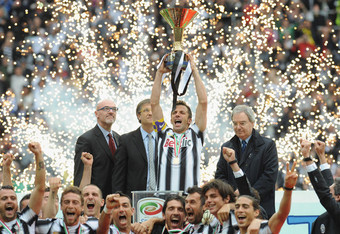 The following year, Juventus would finish third in Serie A and he would once again finish as the leading scorer, matching his 21 goal career high to win his first Capocannoniere prize in Serie A.
Del Piero would continue to stay with the club despite its struggles after its promotion back to Serie A.
Del Piero also had a great international career while with Juventus. His play with the club earned him his first senior call-up in 1995. He represented Italy in seven major international tournaments, which included being part of the 2006 World Cup-winning team, and finished by captaining the Italian national team in the 2008 European Championships.
Throughout his 13-year career with the national team, Del Piero would represent his country 91 times and score 27 goals, enough to tie him fourth in all-time goals with Roberto Baggio.
Earlier this year it was announced by club president Andrea Agnelli that the team would not be renewing Del Piero's contract, and that this would be his final season with Juventus.
Alessandro Del Piero enjoyed a career filled with accomplishments, winning 6 Scudetti and multiple other titles for the club. It seems only fitting that he would end his Juventus career as a champion. Later this month he will have a chance to add another title to his name, as Juventus faces Napoli in the Coppa Italia final.
Whether or not he is able to win another title, Del Piero won't be remembered solely based on his accolades with the club. He will be remembered above all else for his dedication and loyalty to Juventus—a player who was always willing to give his all for the club.
He will go down in history as the greatest player to ever wear the black and white. Regardless of where he finishes his career, Del Piero will forever be synonymous with Juventus.
As Agnelli put it, "he will always be our captain."