Why New York Yankees Must Acquire Philadelphia Phillies Hurler Cole Hamels
May 13, 2012

Mark Hirsch/Getty Images
In a recent article, I wrote why Philadelphia Phillies hurler Cole Hamels must not sign with the New York Yankees.
This lighthearted, post-Bryce Harper-beaning story postulated that Hamels should stay with the Phillies because his hissing fastball to Harper's rear may have sparked a rivalry between two great teams for years to come.
Comedy aside, Hamels would be an outstanding, if not game-changing fit for the Yankees organization.
After all, it is no surprise the Yankees could use a boost in talent at the starting rotation this season.
With a combined 9-1 record, CC Sabathia and Ivan Nova are the only two starting hurlers in the Yanks rotation that have proven to be consistent for the team.
The other three starters in the Yankees rotation have been mediocre at best.
Hiroki Kuroda has been up and down, posting a 3-4 record with a 3.56 ERA.
Phil Hughes has not been exactly stellar, either. He is 3-4 with a 5.50 ERA, though he did pitch an outstanding game Saturday against the Mariners.
David Phelps is a placeholder for veteran lefty Andy Pettitte, who makes his return from retirement Sunday vs. the Seattle Mariners.
Should Pettitte excel, he could bolster a Yankees rotation that needs to find a healthy running rhythm.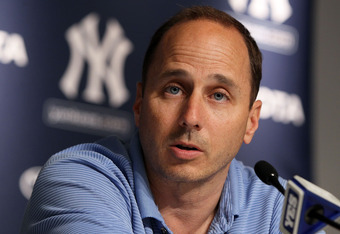 Jim McIsaac/Getty Images
But should Pettitte muddle along, and should the Phillies not recover from their early season tailspin, talks should begin earnestly to acquire Hamels.
Whether the Yankees getting Hamels comes before the trade deadline or after this season is anyone's guess.
Yankees GM Brian Cashman is just as unpredictable as Phillies GM Ruben Amaro Jr.
With that said, one thing is certain for the Yankees.
Hamels, who does not turn 29 years old until late December, will by no means come cheap if the team wants to acquire him via trade.
The Phillies will ask for some of the Yankees' best prospects for Hamels.
They may ask for a package that includes left-handed up-and-comer Manny Banuelos, catcher Gary Sanchez and outfielder Mason Williams.
Should Williams' name be off the table, hot-hitting outfield prospect Tyler Austin's name may bubble to the top. As could pitcher Delin Betances, catcher Austin Romine and third baseman Dante Bichette Jr.
Of course, who is to say a trade between the Yankees and Phillies even happens?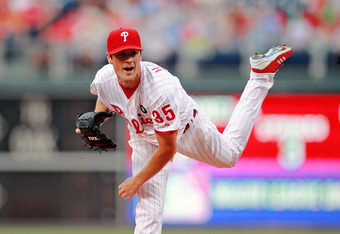 Len Redkoles/Getty Images
Chase Utley and Ryan Howard may return just in time to lift the Phillies from the cellar.
And the Phillies may end up re-signing Hamels for the remainder of his young adult life.
Or perhaps the Phillies trade Hamels anywhere but the Yankees so it does not come back to haunt them in a future World Series.
Speculation aside, it is indisputable the Yankees swooping in to acquire Hamels would give the team a huge lift in this year's black and blue AL East.
It would give the Yankees a nice seesaw of left- to right-handed starting pitchers in the team's rotation.
Sabathia, Nova, Hamels, Kuroda and Pettitte marching toward the 2012 postseason.
Now this is what I call an imposing rotation.
Related Articles: 
Tracking 4 Under the Radar Hitting Prospects for the Yankees
Tracking Progress of Top 5 Yankees Draft Picks from Last Year
Join us on the Basebook Baseball Network!