FC Barcelona Interested in Signing Former Real Madrid Target Sergio Araujo
May 12, 2012
A new young striker may be coming to FC Barcelona.
FC Barcelona is interested in signing young Boca Juniors striker Sergio Araujo. Boca club president Daniel Angellici confirmed this after having lunch with FC Barcelona club vice president Josep Maria Bartomeu at the International Federation of Football History and Statistics (IFFHS) Gala held in the Catalan capital this past Monday.
The meeting between the two club officials was to further discuss the young player development collaboration both teams agreed to in March of this year. Part of the agreement is that Barcelona gets first choice in selecting young players from Boca's youth system.
So who exactly is this Sergio Araujo?
Sergio Araujo is a 20-year-old striker born and raised in Buenos Aires. Sergio is a product of the Boca youth system and made his first-team debut three years ago at the age of 17.
Araujo is a speedy kid and has quality ball-controlling skills. He's also an excellent finisher and is capable of making a goal out of nothing. Many have compared him to a Samuel Eto'o/Diego Forlan type of striker.
Some of Araujo's weaknesses include heading and crossing. One concern scouts in South America have said about Sergio is that he tends to be selfish.
But what striker isn't selfish, right?
Two years ago, Barcelona's arch nemesis Real Madrid had openly acknowledged they were interested in signing the striker. Real had first refusal rights (the option to sign him before any other team) as it was part of Real's agreement with Boca Juniors in the Fernando Gago deal in 2007.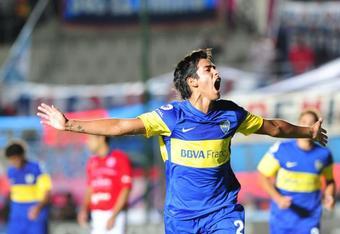 Araujo commented on potentially signing with Real and said at the time, "It is true that they have that option and I'm flattered, but first I want to show with Boca that I have the ability to play for Madrid."
For whatever reason, the deal never went through. Rumors of Sergio's move to Madrid heated up again last summer. Once again, Real Madrid didn't pull the trigger on a deal.
With Barça's deal with Boca now in play, Sandro Rosell and the rest of the club will have an easier time acquiring the services of Araujo if they choose.
If Araujo is signed, don't expect him to team up with fellow Argentine Lionel Messi anytime soon. Sergio would be developed further with the B squad for the future; not to mention, this team still has David Villa.
XOEL'S COMMENTARY
While I do think this kid has the potential to be a great striker, I just don't see the need to bring him to Barcelona or even Barcelona B. I understand not all strikers are going to be like David Villa or Didier Drogba or Robin van Persie, but if FC Barcelona is looking for a young striker for the future, I say they should pass on Araujo and focus on another striker from La Masia.
Rodri and Gerard Deulofeu are two talented strikers on the B squad and are suitable candidates to become the future striker of El Blaugrana. With the money that could be potentially transferred for Sergio, Barcelona will be somewhat obligated to bring Araujo up to the first squad before another Masia striker.
I say have a little more faith in the current B squad players like Rodri and Deulofeu. La Masia has given us some of the greatest talent the football world has ever seen, and I'm sure it eventually give FC Barcelona a superstar striker.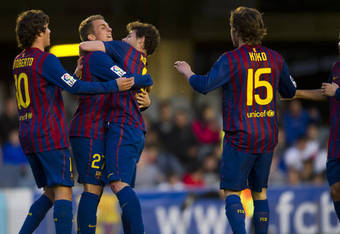 Barcelona has fared terribly in recent years when they signed young South American talent in  Keirrison and Henrique. Keirrison was signed in 2009 and has never touched the Camp Nou grass as a player, being sent out on loan to five different clubs in less than two years.
He is currently on loan at Brazilian squad Coritiba. Henrique never saw a day at the Camp Nou as well as he was loaned to three different teams in four years. Henrique signed with Palmeiras this year and is no longer property of FC Barcelona.
I know I shouldn't judge Sergio based on past experiences. But after the Keirrison and Henrique failures, why would Barcelona want to take another risk?
For me, if I was going to sign a youngster for FC Barcelona, I'd sign River Plate's Lucas Ocampos. In an article that I wrote in April, I mentioned that Barcelona were reportedly interested in signing Ocampos, who has been linked with other big clubs in Europe as well.
Lucas is a very energetic player, he brings height which Barcelona lacks, and his playing style is similar to Cristiano Ronaldo's style. In fact, Ocampos is 6'1" like CR7 and the South American media has dubbed him "New Cristiano Ronaldo."
For me, Ocampos is a safer bet than Araujo.
Click here to read my article on Lucas Ocampos.
If Sandro Rosell and Josep Maria Bartomeu decide to do business with Boca and purchase Sergio Araujo, I won't be mad or upset. As a Culé, I always welcome any new player with open arms. I understand Boca and Barça are business partners now and will look to bring Argentine talent to Catalunya.
I also see that signing Araujo could be a win-win for Barcelona as they would be getting a promising striker for the future, as well as taking away a player that Real Madrid and other clubs have been scouting for years.
Personally, I would pass on Sergio Araujo. But don't be surprised if Araujo is signed and designated to the B squad for further development.
But I will say it again: If Sergio Araujo is signed to Barcelona; I will constantly be worried that this kid will become a bust like Keirrison and Henrique as well as hold back another Masia striker from coming up, not to mention more club money being lost.
I hope I'm wrong.
PS: Don't worry Culés, the No. 1 priority for FC Barcelona this offseason is still the defense and the club still knows this.
It's only a matter of time before that gets fixed.
Xoel, The Voice of FC Barcelona on Bleacher Report and Featured Columnist for Spain for Euro 2012.
Follow me on Twitter:@XoelCardenas
Don't forget to check out my other columns:
Euro 2012: 3 Candidates to Replace Carles Puyol in Spain's Starting XI
Messi Breaks More Records & Deserves Ballon D'Or  

Three Years Later: May 2-6, 2009: The Greatest Week in FC Barcelona History