Will Peterson's Failed PED Test Open the Door for Mayweather vs. Amir Khan?
May 14, 2012

Al Bello/Getty Images
Prior to last weeks events, in which it was reported that Lamont Peterson had failed a drug test and had taken artificial testosterone, I was planning on writing a preview of the matchup between Peterson and Amir Khan. 
However, after what transpired, we as boxing fans must turn our attention to another potential matchup. This one is between Amir "King" Khan and Floyd "Money" Mayweather. 
Peterson's failed drug test could be what ultimately propels Khan to a clash with Mayweather. Khan has expressed in the past that he feels he could beat Mayweather, and honestly with his solid jab and quick hands and feet, he'd stand a good chance. 
Assuming Khan wins his next fight at 140 pounds, which should take place in early July, perhaps a clash with Mayweather could come as soon as the end of the year. Khan wants a couple of tune up fights at 147 to test out the weight class, but if the money is there, he'll take the Mayweather fight. 
It helps that he's legitimately confident in victory, and even more so after Cotto was able to make Floyd look beatable on May 5th. 
Removing Peterson from the picture could end up being a silver lining for Khan. What if Khan (and I don't believe he would've)had lost to Peterson for a second time? 
His career would be in shambles and he'd have to completely rebuild. 
Now, assuming Khan gets his titles back and the Peterson victory over Khan in December is declared a no-contest, which it should be, Khan is back to only having one career defeat and the fight in DC will enter the back of his mind.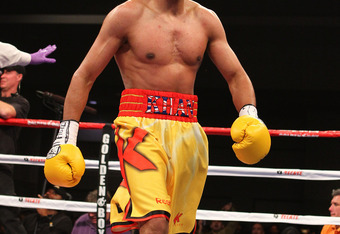 Al Bello/Getty Images
Khan, and the boxing public, already know that he beat Peterson the first time, as he was totally railroaded by the officials in DC, so if it turns out that he doesn't need to go through what would undoubtedly be another taxing, grueling, physical matchup with Peterson, isn't this a good thing in the long run for Khan's career longevity?
Honestly, I feel bad for Khan. He sought out the toughest challenges at 140 pounds, when he could've just taken easy fights to build towards the match with Mayweather. And now Peterson goes and cheats and forces Khan and himself to lose out on a huge payday?
It's just not fair to Amir Khan.
He's had to put his career on hold for 6 months for a guy who is now a proven cheater.
Hopefully, Peterson failing this drug test will allow Khan to move up and finally square off with Floyd Mayweather. If Khan is able to beat Mayweather and ascend to near the top of the p4p list, we'll all totally forget about the debacle that was Amir Khan and Lamont Peterson.
It'll be an afterthought at worst.
Khan has always taken on all comers. He's in the rare group that takes on the hardest fights at all times, making concessions that he doesn't always need to make in order to do so. 
If every fighter in boxing had Khan's mindset, boxing as a whole would be in a much better place. Pacquiao and Mayweather should take notes.
Hopefully, in the long run Amir Khan will be rewarded for taking the road less traveled.
Follow me on Twitter: @rlongo924