Metta World Peace on Punk'd: What to Expect from Lakers Star on MTV Prank Show
May 9, 2012

Stephen Dunn/Getty Images
As if the past few weeks of Metta World Peace's life weren't complicated enough, news that the NBA star will appear on an episode of MTV's hit prank show Punk'd on Thursday, May 10 is just more drama to add to the pile.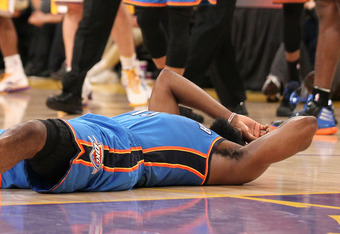 Stephen Dunn/Getty Images
We can't forget, Thursday is the Los Angeles Lakers' sixth game of their first-round NBA playoff series against the Denver Nuggets, and the first game World Peace will be eligible to play.
In what could be the greatest line I've ever typed, World Peace was suspended for elbowing Oklahoma City Thunder guard James Harden in the head at the end of the regular season.
Somewhere, beauty queens are crying over World Peace being suspended.
So, what should fans expect from the chaotic NBA star formerly known as Ron Artest when he appears on Punk'd?
As you can see in MTV's full-lenth preview, this is a typical prank for the show, but World Peace has no idea what is going on. The setup for the gag is that the star is leaving a charity function of some sort before getting Punk'd.
In retrospect, that sounds awful. Instead of being applauded for charity work, his afternoon is ruined.
No wonder people don't help each other anymore!
The prank looks so funny because of all the people trying to get pictures, so I will surely be watching. This is the definition of can't-miss TV.
Poor Metta World Piece.
Wait, World Peace is rich. No sympathy for him!
Check back for more on the National Basketball Association as it comes, and check out Bleacher Report's NBA Page to get your fill of all things basketball.