Michael Phelps Said He Will Retire After 2012 London Olympics, or Did He?
May 7, 2012

Ezra Shaw/Getty Images
Olympic swimming legend Michael Phelps was on CBS' 60 Minutes last night with Anderson Cooper when he dropped this nugget:  I'm retiring.
Well, sort of.
Phelps never said the words outright, though he did offer strong indications that London will be his last Olympics.
Reading through the transcript on the 60 Minutes website, Phelps comes closest to a straightforward declaration in the following bit of banter:
Anderson Cooper: What happens if your mom, you know, after London, after 12 months goes by and says, "You know, I've always wanted to go to Rio?"

Michael Phelps: We'll go watch.

Anderson Cooper: No chance you'd compete?

Michael Phelps: No. Once I retire, I'm retiring. I'm done.
There is it; that little window Phelps can crawl back through if he so chooses.
"Once I retire, I'm retiring."
Translation: I'm not totally retiring right now, but when I do, you'll know it.
As Cooper discusses earlier in the interview, Phelps has a long history of swimming-related burnout. Bob Bowman, Phelps' coach, tells Cooper he wasn't sure Phelps would even return for London.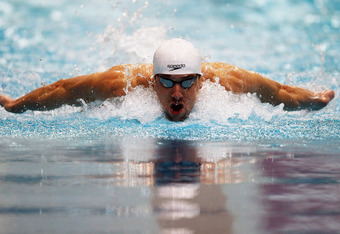 Dilip Vishwanat/Getty Images
So when Phelps says he's done in the pool, let's retain a bit of skepticism. We've seen Phelps on the verge of this abyss before, and he's more Brett Favre than Sandy Koufax on the retirement certainty scale.
Imagine if Phelps falls short of the three medals he needs to become the most decorated Olympian ever. Would he really call it quits then?
Imagine if 2015 comes around and Phelps gets restless, stoked by the confidence of knowing he can go from couch potato to world class faster than anyone who has ever donned a Speedo.
Would he really fly to Rio just to play spectator?
I'm not so sure, and I'm not sure Michael Phelps is either.