Arsenal Given a Lifeline as Both Tottenham Hotspur and Newcastle United Stumble
May 6, 2012

Bryn Lennon/Getty Images
After an atrocious showing against Norwich City, Arsenal must have slowly felt their Champions League's hopes slip away. Granted that they could have still qualified if they finished fourth, but Chelsea's threat would have been looming in the background. 
Before the game against Norwich, Arsenal found themselves ensconced comfortably in third position. Automatic qualification to the Champions League looked a hair length's away. Three goals and one broken leg thereafter, Arsenal's prospect looked terrifying. 
Both Tottenham Hotspur and Newcastle United had a game in hand, both only two points away. A win for each would've knocked Arsenal to a lowly fifth position. On paper, Newcastle United obviously had the tougher fixture—playing against mighty Manchester City in the penultimate game and then traveling to Goodison Park to face David Moyes' resilient Everton.
But Tottenham had two comfortable fixtures, one against struggling Aston Villa and one slightly tougher fixture against Fulham. However, both were matches that could be laid to rest easily by Spurs.
No wonder there was such a high level of anguish amongst the Arsenal faithful.
Could you imagine it—bitter rivals Tottenham finishing ahead of you on third and hopes of Champions League football resting on the hands of Chelsea?
One commentator in my previous article even commented, "[c]an't believe what has happened. Arsenal messed up big time. Now our season lies in the hands of Emile Heskey."
However, the gods of football must have heard the pleas of Gooners worldwide, as both of their rivals failed to win.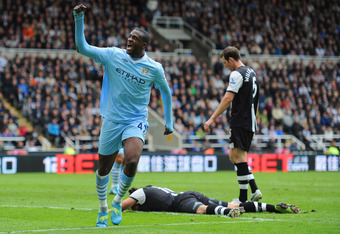 Michael Regan/Getty Images
First, Newcastle United were defeated by Manchester City with two braces from steamroller Yaya Toure. The match was an entertaining one, and though City did dictate the play at times, the game could've swung either way. Newcastle also had a host of chances and played beautiful counter-attacking football.
But as expected, City did defeat the Toon Army.
In the other game, Tottenham travelled to Aston Villa, which should have been an easy victory for Spurs given their back-to-back wins.
Alas, fate dealt another crucial blow to Tottenham.
They failed to move into third place, as they were held by the Villains. Despite dominating proceedings, Aston Villa went up, as Ciaran Clark's deflected strike found the back of the net.
Tottenham did claw their way back through an Emmanuel Adebayor penalty goal.
Though Spurs enjoyed an overwhelming percentage of possession and a total of 20 shots, the game finished at 1-1.
Tottenham are in quite a predicament now. Even if they do take the fourth place, Champions League football is not a guarantee, as they would have to make way for Chelsea if the latter wins at Munich. A failure to qualify for Europe might see a mass exodus from White Hart Lane, as prized players such as Luka Modric and Gareth Bale might force a transfer.
I digress.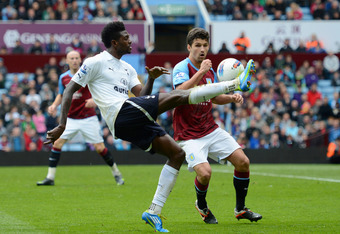 Shaun Botterill/Getty Images
Coming back to Arsenal, the Gunners' fate is in their own hands—if they manage to win against West Brom, third place will be theirs for the taking. I do predict a win for Arsenal, but given the absence of both Mikel Arteta and Bacary Sagna, the task might be easier said than done.
Nevertheless, at least for today, Arsenal fans can breathe a sigh of relief and can revel in the misfortune of their rivals.
Follow me on Twitter: @BrenGoetze