Floyd Mayweather vs. Miguel Cotto Results: Round-by-Round Highlights and Recap
May 6, 2012
Al Bello/Getty Images
Floyd Mayweather Jr. won a world title in his fifth weight class tonight at the MGM Grand in Las Vegas, defeating Miguel Cotto for the WBA world light middleweight title by unanimous decision.
The judges' scores were 117-111 twice and 118-110, but nearly every round of the fight was hard-fought and competitive. 
This was the toughest fight Floyd Mayweather Jr. has had since he fought Jose Luis Castillo for the first time, over 10 years ago in April 2002. The scores on the card were actually closer when he beat Oscar De La Hoya by split decision exactly five years ago in 2007, but that was nowhere near the kind of battle this fight was.
Though clearly victorious, the No. 1-ranked pound-for-pound boxer in the world was also bloodied. Cotto came to the fight with a solid game plan, one that forced Mayweather to adjust and become more aggressive than he has been in years.
The reigning No. 1-ranked junior middleweight in the world left everything he had in the ring, reminding everybody why he is a future Hall of Famer and one of the most popular fighters of his generation.
It was a gutsy performance but Mayweather was simply too quick and too slick.
Cotto came out for the first round pressing, but remaining patient. Mayweather had no trouble controlling distance and clearly out-landed Cotto. It was definitely Mayweather's round.
Mayweather spent a lot of time on the ropes in the second round and looked extremely comfortable there. Cotto landed a shot to his body, but when he opened up with a flurry Mayweather was easily able to finesse him with shoulder rolls and blocking, then fire back and connect.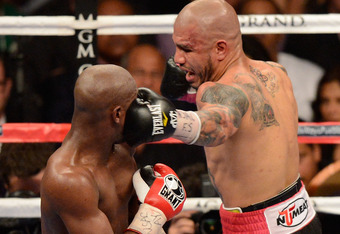 Ethan Miller/Getty Images
This was a very difficult reality for Cotto.
To beat Mayweather, who is quicker and has a five-inch reach advantage, it was essential that he trap him on the ropes and cut off his movement. But Mayweather is extremely good at fighting with his back on the ropes. 
The fight really started to open up in the third round. Cotto connected well in the middle of the round, but overall Mayweather out-landed him once more. 
In the fourth Mayweather looked like he might be getting ready to take the fight over.
He spent a lot of time in the middle of the ring and sat down on his punches, lancing Cotto's guard with straight punches and crashing from around the outside with hooks. But Cotto took the punishment and kept coming, even bloodying Mayweather's nose near the end of the round.
Cotto rallied strong in the fifth.
He managed to push Mayweather back into the ropes and bloodied him up again. Most of his punches did not land, but I felt he did the more significant work and I had him winning that round on my card, which at 116-112 was closer than any of the judges.
The sixth round was another competitive and exciting round, with Cotto fighting hard again and Mayweather once more bloodied. It was a very close round that I scored for Mayweather.
Round 7 was again competitive, but Mayweather really re-asserted himself here. This was a familiar pattern in the fight. Whenever Cotto would make a move and win a round or two, Mayweather would answer strong. Round 7 was close, but in my opinion clearly belonged to Mayweather.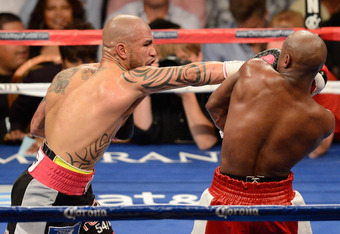 Ethan Miller/Getty Images
But Cotto was not going away and he demonstrated that with an exclamation point in the eighth. It was possibly the fight's most thrilling round. Mayweather landed early but Cotto muscled him into the corner and started to pound combinations to the body and head.
Mayweather stayed cool and began to time some nasty uppercuts up the middle on Cotto, but Cotto remained dogged, letting his hands go. He stayed right on Mayweather's chest for most of the round, pushing him along the ropes and out-landing him.
I would rank it as the toughest round Mayweather has endured in at least a decade, if not his entire career. Once more he returned to the corner bloodied. 
So after the first two-thirds of the fight, Mayweather seemed comfortably ahead, but with the gaps closing and the action heating up.
It would be inaccurate to say that it felt like an upset was brewing, but it was also obvious that this was exactly the world-class prizefight that boxing fans had been hoping for. 
Cotto was going for broke at this point and Mayweather was not backing off him. I gave Cotto Rounds 9 and 10. That gave him four rounds on my card, more than any judge gave him, and he entered the last two rounds obviously needing a knockout. 
In Round 11 Mayweather looked as weary and beat up as I have ever seen him.
This was the moment the legions of Mayweather haters have been longing for, to see Mayweather physically pushed hard late in a fight. This was the moment he was supposed to fold, according the those who have evaluated him based purely on animosity.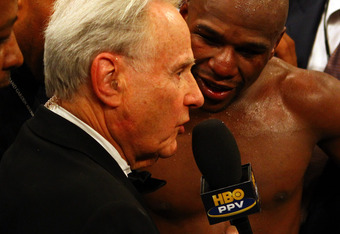 Al Bello/Getty Images
Instead he landed the better punches and put the fight back in the bag. He clearly won the round. It was obvious that Cotto needed a KO going into the last round.
When I think about Mayweather and how great he was 20 or 50 years from now, I will remember Round 12 against Cotto.
Instead of simply staying safe and on the defensive, he landed probably his best punch of the fight, a vicious uppercut that truly rocked Cotto, causing him to buckle forward a split second.
Mayweather won his toughest fight in at least a decade going away.
Overall, it was a terrific night of boxing. The fact that Mayweather's victory over Cotto was far less decisive than Manny Pacquiao's will fuel yet another new round of Pacquiao-Mayweather debates as we head into Pacman's showdown with the undefeated Timothy Bradley .