What to Expect from Patriots 2012 First-Round Pick Chandler Jones
May 4, 2012

Otto Greule Jr/Getty Images
Drafting a pass-rusher in the first round was a move many thought Bill Belichick would never make, but the New England Patriots may have finally found the heir to Willie McGinest at the defensive end/outside linebacker/"elephant" position in their defense.
How early, though, can the Patriots expect to reap the rewards of Jones in their defense?
Using past performances from similarly-drafted players, and by examining the way in which each team develops certain positions, I will create a realistic baseline by which to judge Jones' performance. To get a gauge for just what to expect, take a look at some of the other defensive ends drafted between the 11th and 32nd overall picks in the draft since 2003.
Even after paring the list down to just the "rush" defensive ends and taking out the five-techniques, we still have a list of 24 players to work with, a respectable sample size. The list includes perennial powerhouses such as Jason Pierre-Paul, Tamba Hali, Calvin Pace and Will Smith, and some—such as Anthony Spencer, Kamerion Wimbley, Aaron Maybin and Robert Ayers—excel in their own specific roles. Others still, however, have yet to live up to the hype that had them taken so high in the draft.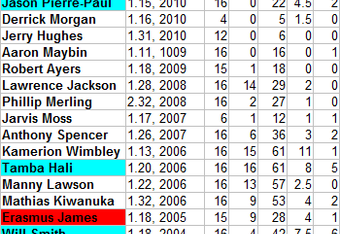 The early success has been limited. As a group, the average stat line was 14.3 games, 7.3 starts, 32.1 tackles, 3.2 sacks, 1.3 forced fumbles.
Only one player, Kamerion Wimbley, recorded double-digit sacks in his rookie season. Six of the 24 (25 percent) had five or more sacks in their rookie season.
Being that Chandler Jones is something of a work in progress and that he's learning a new position at outside linebacker, early returns should not be expected.
He has, however, drawn comparison to Jason Pierre-Paul in that he is a physical specimen, but a raw one at that. JPP logged just 4.5 sacks in his rookie season before putting together a Pro Bowl/All-Pro performance in 2011 and helping the Giants to a Super Bowl win.
The Patriots need to bolster their pass rush, but the pressure won't be on Jones to carry the burden for the defense as a rookie; the team brought in Trevor Scott as a free agent, who figures to play largely the same role as Jones. Likewise, the first-round pick figures to develop alongside fellow rookie defensive end Jake Bequette, who is also seen as an "elephant" in the Patriots defense.
The one important note among these defensive ends is that many of them were not asked to transition to the outside linebacker spot. The most notable names among those who have made such a transition are Calvin Pace, Tamba Hali, Kamerion Wimbley, Anthony Spencer and Ryan Kerrigan.
It's hard to ignore the list of those who have failed to live up to the hype. Derrick Morgan, Jerry Hughes, Robert Ayers, Phillip Merling, Manny Lawson, Erasmus James, Kenechi Udeze, Michael Haynes and Jerome McDougle are just the most notable names. 
Summary
The long-term hit or miss of these rush defensive ends gives some insight as to why Bill Belichick may have been so reluctant to draft a pass-rusher in that range over the past decade.
With that said, it's not all doom and gloom, and there are enough good to moderate success stories to come out of the group to make one feel confident in Jones' ability to produce over the course of his career.
While the comparison and the upside are drawn to Jason Pierre-Paul, let's not expect him to be a sack machine in his second year; after all, the outside linebackers for the Patriots are responsible for doing everything from rushing the passer to setting the edge and dropping into coverage.
Look for Jones to eventually become an eight-to-10 sack guy with a similar role to Calvin Pace, just with more upside as a pass-rusher.