2012 NFL Draft Recap: How McClellin Will Make a Great Bears' Defense Devastating
May 4, 2012

As we head into Bear Day here, we're going to take a final look at all the draft picks Chicago made in the 2012 NFL Draft. There were fewer picks than the other teams in the NFC North but GM Philip Emery made them count.
First we're going to take a look at a guy who I think makes this defense something that every NFL team should be feared and awed by: first round pick Shea McClellin.
Don't get me wrong, McClellin isn't Superman or even Captain Marvel. He's not a player who, understandingly, will turn a franchise around.
What he is would be the final piece to take this already fantastic defense and push it over the edge into just plain ridiculous.
How, you might ask, is McClellin the tipping point here?
Let's take a closer look at the Bears' first round selection and how he makes this defense that much better.
It's hard to improve a front seven which contains Julius Peppers, Israel Idonije, Lance Briggs, Brian Urlacher, Nick Roach and tackles Matt Toeaina and Henry Melton.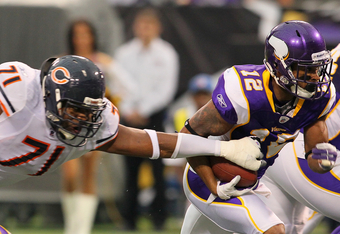 Adam Bettcher/Getty Images
Yet that's just what they did. The thing is, I think Idonije is a fantastic player, one who has so far surpassed his draft slot (he didn't have one) that it makes you wonder what the scouts were looking at.
Some of his success certainly comes from having Julius Peppers next to him, but he's played very well.
McClellin has the ability to take it to another level though. He's a freakish athlete who combines size and speed into a high motor, pass rushing package which should keep Aaron Rodgers, Matt Stafford and Christian Ponder awake at night.
Actually, if my 10-year-old son lined up across the Vikings line, Ponder might be worried.
The former Boise State lineman has a large toolbox of pass rushing techniques and a ridiculously fast first step which leaves tackles and guards on their heels at the snap. McClellin can play with his hand on the ground or in a two point stance and played all over the Boise State defense.
It actually gave me chills to think of him next to Peppers.
If Idonije can be as successful as he is next to Peppers, McClellin could be a force of nature, which in turn causes an offensive line to account for him and frees up Peppers or Urlacher or Briggs.
The attention that McClellin could attract will make it hard to stop this defense.
Who do you focus on? The rookie? If you do, you allow Peppers to take on a single blocker. Then you double Peppers and get a face full of McClellin as well as a Briggs in your backfield. Is that better?
Pick your poison if you want, either way you end up dead.
The most amazing thing to me is that the Bears grabbed a guy in the first round who not only can dominate at defensive end, but line up at linebacker in a pinch if need be.
It's not his natural position, but it's already something teams were thinking about—in fact he was already looked at as a first round linebacker. At his natural defensive end position, his value is just silly.
Again though, he could step into a linebacker spot if need be. The versatility isn't the main strength of the rookie—it's just the hot fudge on the sundae.
This was already a dominating defense and one opponents had to be very careful when game planning for.
McClellin is the pebble which will cause an avalanche of pain on offenses around the league.