Terrell Suggs: Top Free-Agent Replacements for Baltimore Ravens Linebacker
May 4, 2012

Chris Trotman/Getty Images
The Baltimore Ravens' Super Bowl hopes were dealt a crushing blow on Thursday with the news that defensive end/linebacker Terrell Suggs could miss the entire 2012 season due to an Achilles injury, as first tweeted by Glenn Younes of 105.7 The Fan in Baltimore, who credited Vinny Cerrato with the report.
The 29-year-old Suggs, who racked up 70 tackles, 14 sacks, seven forced fumbles and two interceptions in 2011, reportedly sustained the injury while working out in Arizona. leaving the team scrambling to find a replacement for the 2011 NFL Defensive Player of the Year.
The severity of Suggs' injury won't be fully known until next week, and although a complete tear would all but certainly end Suggs' season, the ninth-year pro told The Baltimore Sun that he remains intent on playing this season.
'It's amazing people are starting to write me off already, the entire season,' said Suggs, who has missed only three games in his nine-year NFL career, all coming in 2009 due to a knee injury. 'It will take three or four months to heal. Well, it's still three months before training camp, and then another month of training camp. At the minimum, I'll be back in October, and at the maximum, most definitely back in November.'
Suggs' optimism aside, there's a better-than-even chance that his 2012 season is over before it started, which leaves the Ravens with the not-insignificant problem of replacing one of their best defensive players.
Baltimore has a couple of potential in-house replacements in fourth-year pro Paul Kruger, who tallied 5.5 sacks last year, and rookie Courtney Upshaw. But Kruger has played sparingly to this point in his career, and Upshaw has yet to take a snap in the NFL.
The Ravens might also look to swing a trade for some defensive help, with the likes of Indianapolis Colts defensive end Dwight Freeney and New York Giants defensive end Osi Umenyiora possibly available.
However, both of those players would likely carry hefty price tags both financially and in terms of compensation to their old teams, and Ravens general manager Ozzie Newsome has never been the break-the-bank type.
That leaves free agency as the best remaining avenue with which the Ravens could add a player to replace Suggs, and although the pool of available talent has been thinned quite a bit, there are still a couple of options available who could make a significant contribution for the Ravens in 2012.
Defensive end Andre Carter experienced a career resurgence in his 11th season in the National Football League, tallying 52 tackles, 10 sacks, and two forced fumbles for the New England Patriots last year before a quadriceps injury ended his season after 14 games.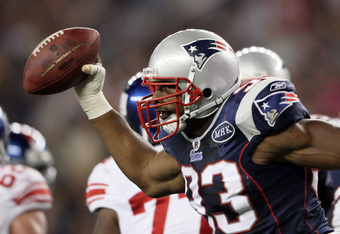 Elsa/Getty Images
Carter's age (32) and injury late last season are question marks, and a large part of the reason why the veteran hasn't already latched onto a team.
However, if Carter can show that he's healthy, he has experience in both the 3-4 and 4-3 defensive fronts and could provide Baltimore with an experienced pass-rusher with four career double-digit sack campaigns.
Matt Roth doesn't possess the track record of success in getting after the quarterback that Carter has, having never topped five sacks in a single season.
However, the 29-year-old, eight-year veteran—who had 24 tackles and 3.5 sacks in nine games for the Jacksonville Jaguars last season—has shown the ability to be a capable two-way defender who could, at the very least, offer some much-needed depth if he can show the Ravens that he's completely recovered from the concussion that ended his 2011 season.
The Baltimore Ravens aren't going to be able to just plug another player into Terrell Suggs' spot and go on without missing a beat, and there's no denying that the loss of Suggs was a huge blow to a team that has legitimate aspirations of reaching Super Bowl XLVII.
However, there are options available that could at least soften the impact of Suggs' injury a bit, and you can rest assured that the Baltimore Ravens are investigating those options as we speak.