Último Dragón: A Tribute to Masked Wrestlers Pt. 1
May 3, 2012

The quintessential photo of Último Dragón is of him smiling in front of a blue background, his arms and torso draped in championship gold.
No wrestler has held as many titles at once. 
No wrestler has been as acrobatic and as dizzying to watch as him.
In any promotion for which he wrestled, Último Dragón (real name: Yoshihiro Asai) was a wizard in the ring.  
The quiet, humble star has served as a bridge between two worlds. 
Asai incorporated elements of the Japanese style of wrestling and the high-flying style of Lucha Libre he learned during his time in Mexico. 
He introduced and endeared many American fans to both styles as one of the greatest cruiserweights in WCW history.    
Beginnings
Asai first used the Último Dragón name when given the idea by booker Antonio Pena. His gimmick was that he was Bruce Lee's final student, the last (ultimo) Dragon. 
He initially treaded water with New Japan Pro Wrestling in the late '80s. 
His decision to give Mexican promotion Universal Wrestling Association a try turned out to be a brilliant one. His career would have been far different had it not worked with and learned from the luchadors. 
For the first half of the '90s, the Último Dragón wrestled for AAA and CMLL in Mexico, as well as WAR and New Japan Pro Wrestling on the other side of the world. 
His matches were fast-paced displays of his extreme athleticism. 
Fans fell in love with the blue blur that is Último Dragón in matches against fellow masked wrestler Jushin Liger, Great Sasuke and Chris Jericho.
Asai earned great respect from Jericho after their many battles.    
Último Dragón shows up 10 times on the favorite matches section of Jericho's website.    
In their battle in 1995, Jericho and Último Dragón strung together several chains of gutsy, athletic spots that wowed the fans.
Majestic Moves
Asai not only perfected a litany of thrilling moves, he crafted a few of his own. 
Most famously, Último Dragón brought us the Asai Moonsault, a springboard moonsault utilized by Shawn Michaels, Rey Mysterio, Chris Jericho and Manami Toyota, among others. 
Few wrestling moves are as graceful as Último Dragón gliding, rotating in the air. 
Asai also brought us the Asai DDT, a standing shiranui. 
The Último Dragón's toolbox is brimming with perfect versions of the tiger feint kick, the Dragonsteiner and the corkscrew moonsault. 
His Dragon Bomb (aka Liger Bomb) earned him Best Wrestling Maneuver honors from Wrestling Observer Newsletter in '96. 
WCW
WCW's Cruiserweight division was already stacked with talent in the late '90s before Último Dragón arrived. 
He elevated it with his presence. 
Fans were treated to fast-paced, well-worked matches night in and night out with Asai battling Dean Malenko, Juventud Guerrera, Rey Mysterio and Eddie Guerrero.   
Asai won the WCW World Cruiserweight Championship and World Television Championship twice each.
His feud with Malenko featured a fantastic match at Starrcade '96, where the Cruiserweight Title and J Crown Championship were to be unified. 
This is where Asai picked up his 10th concurrent title.
As one might expect, he and Jericho rekindled their feud and put on a number of classics together.  Their gorgeous match at Bash of the Beach '97 is one of their best. 
In 1998, Último Dragón injured his arm. It was the surgery to repair it that did the most damage, though, as complications in surgery led to nerve damage in the arm and Asai's retirement at age 32.
Luckily for fans, the retirement didn't last. Asai eventually recovered and began wrestling again in 2002. 
WWE
Why Asai only spent one year with the WWE is a perplexing question. 
Is the reason that they couldn't find a permanent place on the roster for him because of his lack of size, or that WWE historically doesn't promote Japanese talent well? 
Rey Mysterio was a big hit with fans. Último Dragón didn't do as well. 
He spent one year with WWE that featured few highlights.
Asai slipped on his way to the ring for the Cruiserweight Open at WrestleMania XX. He spent time looking on from the locker room during several months of SmackDown episodes in 2003.
Eventually Último Dragón left to return to Japan.   
Legacy
With both his own promotion in Mexico, Grupo Revolucion and Toryumon, which operates in both Japan and Mexico, Asai passed down his knowledge to a new generation of wrestlers.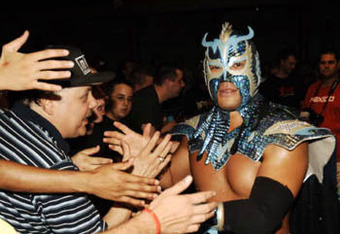 Taiji Ishimori, Kazuchika Okada and Dragon Kid are among his most talented students. 
Asai has not only bettered the careers of those he instructed, but those he inspired and those he faced in the ring. 
The Japanese, Mexican and American wrestling landscape was changed forever by the man in the blue mask. 
In 2004, Asai earned a spot in the Wrestling Observer Newsletter Hall of Fame.
They also named Último Dragón the most underrated wrestler of 2003. 
Asai has to be in the conversation for most underrated wrestlers of all time. The gap between his immense talent and his moderate renown is strange.
One would think Asai's talents and performances would outweigh any language barriers, that the staggering beauty of his ring work would make him a transcending star. 
The man under the mask, the dynamo, the warrior may remain a stranger to some, but to his fans, he is still holding those gold belts, a champion forever.