World Football Strange but True: Liam Gallagher Crashes Man City News Conference
May 1, 2012

As someone who has been there, trust me when I say this: Postgame press conferences usually aren't any fun.
Sure, famous sportsmen make appearances. But mostly it's just a bunch of pasty white journos cracking bad jokes and complaining about how their deadlines "used to be so much later before these clueless punks took over and ruined everything."
But then there was Monday night.
On Monday night, in the aftermath of the biggest Manchester Derby in the history of eternity itself, Beatles wannabe/former Oasis frontman/Man City supporter Liam Gallagher crashed the post-match press conference at Man City's Etihad Stadium.
Depending on which account you read, Gallagher had a few different, but equally crazed, things to say in light of City's potentially landmark 1-0 victory.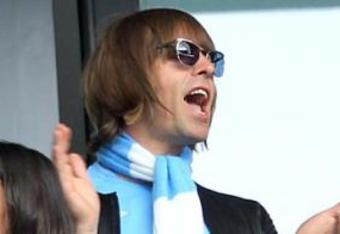 "I love him. He's so cool. He's almost as cool as me," Gallagher said of Man City manager Roberto Mancini, according to the Daily Telegraph.
And, uh, Who Ate All The Pies reports—jokingly, perhaps?—that Gallagher said "Fergie's been on the whiskey," in reference to United manager Sir Alex Ferguson.
That second one is, admittedly, possible in light of a certain late-game incident along the touchline. But that's beside the point.
The point is that Liam Gallagher is mad. Completely, entirely unhinged.
Remember when Oasis was the biggest band in the world? I do. I was in middle school and they were what we used to call "the bomb."
My friends and I geeked out over that Union Jack Epiphone Sheraton played by Noel Gallagher (Leemur's brother), and I got in trouble for playing (badly) a few chords of "Champagne Supernova" on a school trip (yeah, there's that whole part in the lyrics about getting high).
Since then, Oasis has broken up, and the Bros. Gallagher have disappeared somewhat from the American pop-culture consciousness. But they still pop up all the time in England, mainly in relation to their beloved Man City.
So, then. If a Man City title means an Oasis reunion tour in America, I'm all-in.