Kansas City Chiefs 2012 Draft Class: Grades Are Useless at This Point
April 30, 2012

Al Bello/Getty Images
With the 2012 NFL draft now complete, it is time to reflect on how teams handled this particular phase in preparation leading up to the 2012 season.
Immediately after players are chosen, grades and analysis are given in respect to how they will fit in with their new team and the league. Players chosen early in the draft are typically evaluated on instant impact, while those in later rounds are viewed on a more long-term outlook or if they have "sleeper" potential.
However, each player is different in how their talent and results at the college level will translate over to the pro game. So does grading on an individual level actually serve any purpose other than to fill time or provide more water cooler jargon?
Evaluation is never the same from person to person, so it is difficult to establish exactly where Scott Pioli saw the roster in terms of deficiencies. But across the board, it was perceived that the Kansas City Chiefs needed help in the trenches across both the offensive and defensive lines, at the middle linebacker position, safety, pass-rusher, depth at wide receiver and there was some talk they would even look at quarterback.
Having drafted two defensive tackles, two offensive linemen, two wide receivers, one running back and one cornerback means there is still work to be done and that a lot of the new faces could get lost in the shuffle early.
At face value, it is difficult to see just how everything will shake out. However, with Jamaal Charles coming off of injury and Peyton Hillis signed to only a one-year deal, rookie running back and sixth round pick Cryus Gray could be groomed into a larger role. Same goes for fourth-round pick Devon Wylie and seventh-round pick Junior Hemingway with Dwayne Bowe's contract situation still not solved.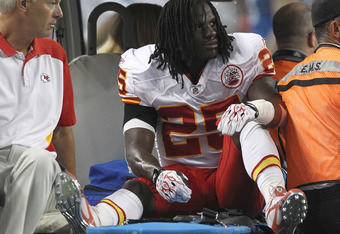 Dave Reginek/Getty Images
Furthermore, with left tackle Branden Albert in the final year of his contract—and no deal in sight—tackles Jeff Allen and Donald Stephenson (although both could play at guard) could be utilized as potential replacements to protect Matt Cassel's blind side as well.
Nevertheless, the Chiefs currently seem to have everything in place on their depth chart, and this year's draft honestly didn't provide much to alter that landscape for the immediate future.
Scott Pioli and Co. came into the draft with a mysterious plan that few have been able to figure out yet. But with only one or two players (defensive tackle Dontari Poe and Allen) expected to make an immediate impact for the Chiefs, the only thing that fans and pundits can do is take the wait and see approach on how this draft class will perform in the NFL.
Contact Jeremy at jeremy@popflyboys.com, on Twitter @KCPopFlyBoy and read more at popflyboys.com.