Chelsea vs Liverpool: Preview, Live Stream, Start Time and More for FA Cup Final
April 30, 2012

Jamie McDonald/Getty Images
The FA Cup used to matter. It was the perfect bookend to the season.
Now, not so much.
The Premier League and Champions League have taken over, leaving the FA Cup as more of an afterthought. It is baffling that the final is taking place on the first weekend in May.
The over usage of the phrase, "magic of the cup," is indicative of how unimportant the competition has become. Commentators look for anything they can to paper over the cracks that have besieged the prestige of the competition. 
This brings us to Sunday's meeting between Chelsea and Liverpool in the 131st FA Cup Final. The rivals both have hopes of securing multiple trophies this season.
Liverpool already secured the League Cup earlier in the season, knocking off Chelsea along their way. Chelsea, meanwhile, have made an improbable run to the Champions League final and have their sights firmly focused on success in Europe.
The real shame in all this is that the meeting of Joe Cole's former employers and his current employers will not feature Cole at all. He is one player who would have certainly brought some extra excitement to the match.
Where: Wembley Stadium, London, England
When: Saturday, May 5, 12:15 p.m. EST
Watch: Fox Soccer Channel
Liverpool's Road to the Final:
SF: Everton (Wembley) 2-1
QF: Stoke (H) 2-1
R5: Brighton (H) 6-1
R4: Manchester United (H) 2-1
R3: Oldham (H) 5-1
Prior to the semifinal, all of Liverpool's FA Cup matches had been home ties. Knocking out Manchester United was a coup for Kenny Dalglish and no one will forget Brighton's self destruction at Anfield anytime soon.  
Chelsea's Road to the Final:
SF: Tottenham (Wembley) 5-1
QF: Leicester City (H) 5-2
R5 Replay: Brimingham (A) 2-0
R5: Birmingham (H) 1-1
R4: QPR (A) 1-0
R3: Portsmouth (H) 4-0
Chelsea had a relatively easy path to the FA Cup final with a hiccup at home against Birmingham being the team's only real test. Spurs fans are still bitter over Juan Mata's alleged ghost goal, but that does not account for Chelsea's other four goals.
If Liverpool Win...
Kenny Dalglish will fall on his sword with two trophies won and a sense his time at Liverpool was not a complete failure. 
Dalglish's position at Liverpool is untenable even if he does pick up the domestic brace as the club continues to flounder in the league.
There is no need for a messy end to the reunion like that which blighted Kevin Keegan's Newcastle return. Dalglish was an able caretaker during a tumultuous time, but Liverpool need a new vision, or perhaps a Spanish blast from the past, to guide the team starting next season.
If Chelsea Win...
Roberto Di Matteo should not be given the job full-time just yet.
The Italian has done a nice job, but in reality, he just seems like a popular version of Avram Grant. There is still a ton of work to be done at Stamford Bridge and keeping Di Matteo would stunt this transition.  
Chelsea have to find a manager who can placate the old guard where rejuvenating the squad. Di Matteo is not the man capable of this task.
Players Who Should NOT Start:
Steven Gerrard may have returned to full fitness just in time for the FA Cup Final but Dalglish needs to resist the temptation to start him. 
The team have not looked particularly good the few times he has been fit enough to play. It makes more sense to have him come off the bench.
Fernando Torres bagged a hat trick against QPR but that is not enough warrant a place in Chelsea's starting XI on Sunday.
FA Cup Pedigree: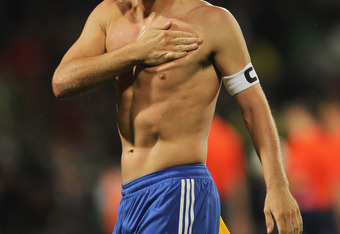 Hamish Blair/Getty Images
Both teams have participated in their fair share of FA Cup Finals.  
Chelsea have been in ten, winning six, and losing four. They last won the Cup in 2010 with a rather dull victory of Portsmouth 1-0.
Liverpool have partaken in 13 FA Cup finals, winning seven and losing six times. The Reds last FA Cup triumph was the thrilling 2006 comeback against West Ham.
For Neutral Fans:
If you have no allegiance to either club you would be better off passing on the FA Cup and watching the Premier League clash between Arsenal and Norwich later in the day.
There will be plenty of pomp and circumstance at Wembley but neither side has been setting the world alight with their football as of late.
Unless you are a fan of spectacles or route one football, the FA Cup is not worth the trouble.
Prediction: 
John Terry will walk around with his shirt off but still have the captain's armband on after the final whistle blows, Ashley Cole and Luis Suarez will get into a spat and Liverpool will parade around Merseyside on an open-top bus after a 1-0 victory.
Only a fool would predict against Liverpool in a cup match. They already knocked Chelsea out of the Carling Cup this season and have enough to see off Di Matteo's side on Saturday.
Liverpool may be terrible in the league but they will end the season unbeaten in domestic cups in what should be Dalglish's last meaningful game in charge.