2012 NFL Draft Results: Kansas City Chiefs Hit a Grand Slam with Jeff Allen
April 30, 2012

The Kansas City Chiefs were searching for depth and flexibility during the offseason, and that is why second-round offensive lineman Jeff Allen was their best pick of the entire 2012 NFL draft.
He might not have came out and said it directly, but Scott Pioli's biggest task as general manager seems to have been to completely overhaul the offensive line, and he has done a remarkable job. 
When he first arrived on the scene, Pioli signed veterans like Ryan Lilja and Casey Wiegmann to help stabilize the front five while he was using early draft picks to build depth and create competition.
The work that Pioli has done is starting to pay dividends and picking Jeff Allen is the latest example of the massive transformation the Kansas City line has been under recently.
Allen played at left tackle during his time at Illinois but looks to kick inside and compete for playing time at guard immediately.
He should give incumbent Ryan Lilja a hard-fought training camp battle and don't be surprised to see Allen starting sooner rather than later.
Allen starred at Illinois during all four of his seasons and was an anchor on the offensive line.
He played at right tackle during his freshman year and when he moved over to the left side for his sophomore campaign, he was even better. Allen ended up starting 47 consecutive games for the Fighting Illini while being selected as a team captain in his junior season. 
Scouts say Allen may not look the part physically, but he is a very gifted pass protector. He plays well in close areas and can play four spots on the offensive line adequately.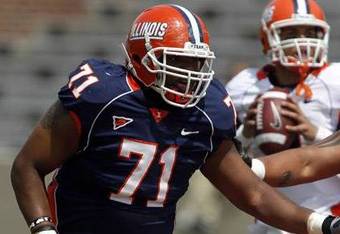 A veteran presence like Lilja should provide a smoother transition to the NFL for Allen, and hopefully do wonders for his conditioning issues.
Another positive for the Chiefs is the versatility of Allen. He likely projects as a better guard at the NFL level, and with Brandon Albert's contract expiring after this season, having a potential replacement at tackle on hand is smart business.
The premium that Kansas City has placed on the offensive line was evident in Round 3 as well when the Chiefs selected Oklahoma tackle Donald Stephenson.
Stephenson is more of a pure tackle than Allen and even though he is raw, his upside is through the roof.
Stephenson could also eventually replace Albert if he decides to test free agency next season, and his selection is a prime example of the quality depth that Pioli has implanted in Kansas City.
One glaring weakness that has not been solidified is the quarterback position. Matt Cassel has not convinced anyone outside of Scott Pioli that he is the long-term answer.
Cassel has played well in only a few spots, while looking lost for most of his tenure as a Chief.
In an attempt to protect and aid his investment, Pioli has placed a wealth of offensive talent around Cassel with hopes that the skill players will help him elevate his game.
Most of the offensive pieces are in place for the Chiefs, outside of quarterback. Allen will not have to start the season opener to make an impact.
He provides great depth and a long-term fix for a number of positions in the future, which easily makes Jeff Allen the best pick that Kansas City had in this draft.