WBA Title: Paulie Malignaggi Wins Against Vyacheslav Senchenko
April 29, 2012

Chris Trotman/Getty Images
Paulie Malignaggi (31-4, seven KOs) was a man on a mission when he went to Ukraine to fight against undefeated WBA welterweight titlist Vyacheslav Senchenko (32-1, 21 KOs) in the champion's backyard.
Senchenko, a fighter of Freddie Roach, was thought to be the favorite in this fight because of his trainer and undefeated record. Roach commented on how Senchenko's jab would be too much for Paulie and he would win this Saturday.
That wasn't the case though, and a new champion was crowned in Ukraine as Paulie TKO'd Senchenko in the ninth round. Paulie only had six KO's leading up to the fight and was thought to be feather-fisted, but by the end of the night, Senchenko's eye was shut and looking worse each round.
Paulie put on a masterclass against Senchenko and schooled him for nine rounds. Before the stoppage, I had Paulie winning seven of the eight rounds, only giving the fourth to Senchenko because he put together some good punches and he was at home.
Paulie was just the better man that night. His punches were faster and came in more of a variety than Senchenko's. He out-jabbed the jabber, the jab being Senchenko's strongest weapon in the fight. He slipped and ducked a lot of Senchenko's punches, making him miss at will a lot during the fight. Finally, he was putting his punches in combinations while attacking at angles, flustering the champion.
Afraid of being robbed leading up to the fight, Paulie was able to do what a lot of boxing fans didn't think he could and knocked out the champion. The ref, Smoger, stopped the fight as the left side of Senchenko's face looked like tenderized meat. There was a cut under his left eye, and it was swelling to the point that his eye was shut. It was a good stoppage, as it would have only gotten worse had the fight continued.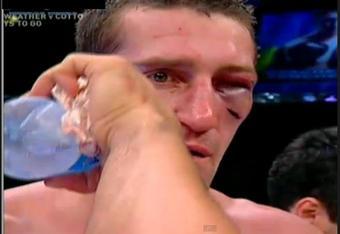 In addition to his latest accomplishment of being world champion, Malignaggi also accomplished another feat in the world of Twitter. He became the first fighter to live tweet in between rounds of a fight:
He obviously didn't type those messages out with his hands because of the gloves but most likely had somebody tweet it after saying it in the corner.
So congratulations to the new WBA welterweight and two-weightclass-champion Malignaggi. This is sure to revitalize his career and open the door to bigger fights. Matchups between the Ortiz/Berto winner, Devon Alexander and even a rematch with Amir Khan are now possible.
Hopefully he can get his much-desired bout in the new Barclay's arena in Brooklyn.