Chelsea vs. QPR: What Roberto Di Matteo Should Make of the London Derby
April 29, 2012

Ian Walton/Getty Images
Coming off perhaps the biggest win in Chelsea's century-old history, upsetting Barcelona at Camp Nou with a 2-2 draw advancing them to their second Champions League final, you have to wonder, where the heck is the team going to get the motivation to play lowly QPR?
The last two weeks of the footballing season have had enough excitement to last a whole year for the fans at Stamford Bridge. The peaks and valleys of emotion have had us all age a little faster than we ever planned, giving us heart palpitations one game and then lulling us to sleep the next.
But in the end it all worked out in Chelsea's favor as they are in that final on May 19, the FA Cup final on May 5 and somehow still able to secure a spot in Europe's top competition with a fourth-place finish in the league (thanks Wigan, you're the best!).
However, all of this prospect and hope could actually be clouding the vision of Roberto Di Matteo in trying to find his way to what the best possible route is for the club to take to both salvage their season and hopefully retain him as the full-time manager.
The schedule itself is relatively open for the reminder of the season.
Chelsea hosts QPR Sunday in the league, then Newcastle midweek, followed by the FA Cup final against Liverpool on the weekend. They play the Reds again three days later at Anfield in league play and finish the EPL season on May 13 hosting Blackburn. Then of course they meet Bayern Munich at Allianz Arena in the Champions League final on the 19th to conclude their campaign.
Six games in 20 days may seem like a daunting task, but considering they played seven over the last 20—four of which were on the road against some of the very best teams in the world—it will be like a nice little holiday to have QPR and Blackburn come for a short visit.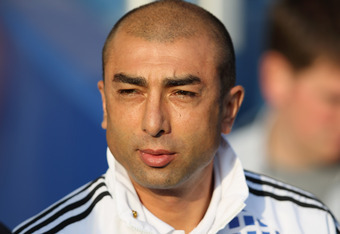 Dean Mouhtaropoulos/Getty Images
But despite the more favorable calendar, navigation of it is still difficult. Before the players set out to try and make their way through this jumble of fixtures, they need to figure out what the ultimate goal is.
Think of it like this: when you are handed a maze, you don't find the starting point first and then just make turns hoping to arrive at the end. You identify where that end is, then make choices based on what gets you there, always keeping an eye toward that end point. But for Chelsea, there are three different end points for them to work toward and they must decide which to go for—right now.
A fourth-place finish, an FA Cup and Champions League title—those are what is at the end of the maze for the Blues. All have their benefits and all have their hidden traps, but only one holds the key to saving their season—European glory.
It is what Roman Abramovich holds coveted above any other prize, the one trophy that his many millions of rubles have yet been able to buy.
It also serves as the key to Di Matteo having any chance of hanging on to his job. It ends the worries of not being in the competition next season and for a majority of fans. It's the one trophy that would make everything that happened this season seem like nothing more than a bad dream.
It is the only fixture Di Matteo needs to work his rotation around because it is the only one that really matters.
I know it seems like a bit of an overly optimistic outlook, putting all your chips on beating Bayern Munich in Munich without half the starting 11, but when your primary goal remaining is to secure a Champions League spot next season, then it is really the best possible option.
Newcastle's dropped points today were was nothing more than a mirage for fans who think Chelsea are really chasing them. With a head-to-head meeting left against Newcastle, all it does is give them the chance to take fifth.
The Blues are really after Tottenham, who are only one point better than Chelsea and level on games, but they do not meet again this season. That means Chelsea could easily beat every team they play by five goals, but find themselves still out Europe's top competition next season should Tottenham also win out.
So as odd as it may sound, their path to the Champions League for the 2012-13 season is not by beating QPR, Newcastle, Liverpool and Blackburn. It is done by beating Bayern Munich because it is the only way that they hold their own destiny in their own hands.
So what then is the QPR match for? Whatever Di Matteo wants it to be.
He could use it to try out different formations. Play Drogba and Torres up top. See how three in the back works. Why not five? Go back to the diamond. Play indirect instead of direct. David Luiz in the midfield. Jon Obi Mikel as center-back. Torres in the middle and Drogba on the wing. No wings. Only wings. Set pieces. Different combinations. Whatever the heck he wants.
QPR and every team they play before the final needs to be used as a glorified scrimmage, whereas Chelsea go out there trying to do their very best to win, but know the real time to show is not until they get to Germany.
As long as they are behind Tottenham on points, this must be the philosophy they use. But if they should get above them at any point, well then everything just got a bit more complicated.
For all my articles, follow me on Twitter: @thecriterionman