NHL Playoffs 2012: 3 Stars from the Capitals vs. Rangers Game 1
April 28, 2012

Bruce Bennett/Getty Images
2012 NHL Playoffs: Washington Capitals at New York Rangers Game 1

Introduction
The New York Rangers broke a 1-1 tie with two third period goals to defeat the Washington Capitals, 3-1 in Game 1 of their Eastern Conference semifinals series on Saturday afternoon at Madison Square Garden.
Here are the three players—all Rangers— I believe are the big reason the Blueshirts hold a 1-0 lead heading into Monday night's Game 2 (NBCSN, 7:30 p.m. ET/4:30 p.m. PT).
Rangers goaltender Henrik Lundqvist may not have had to face an overwhelming number of shots (18) in Game 1, but the likely Vezina Trophy winner was effective enough and kept New York in the game against Alexander Ovechkin and the Capitals respectable offense.
Lundqvist allowed just one goal in this crucial opener where the home-ice advantage could have been lost with a simple mistake and was his usual solid self on home ice registering a .944 save percentage.
New York's netminder also shut out Washington on four power plays and maybe more importantly, gained some valuable confidence heading into the remainder of this likely very tight series.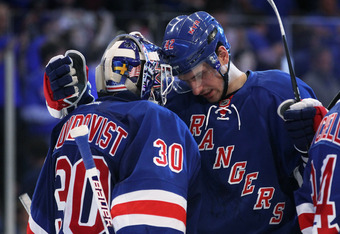 Bruce Bennett/Getty Images
Ryan McDonagh
Rangers defenseman Ryan McDonagh showed why the future is bright for New York fans as he had an assist on Artem Anisimov's first period goal and spent more time on the ice (25:04) than any other Rangers player in Game 1 in his 22 shifts.
McDonagh, who attended the University of Wisconsin-Madison had four shots on goal, may be a versatile player in the mold of legend Bobby Orr—a guy who can not only help his team on the defensive end of the ice, but contribute offensively with a bunch of points every season.
NHL on NBC color analyst Eddie Olczyk had some extremely high praise for McDonagh—whose uncle is former NFL quarterback Steve Walsh—during the telecast of Saturday's opener.
"I think he has the ability really with more power play time, his points will come," Olczyk said. "I think he has an opportunity to be a 50-point guy every single year."
That's a defender he's talking about folks.
McDonagh had his coming out party for the Rangers a year ago when he scored his first NHL goal, the game-winner, against the New Jersey Devils to give New York the eighth and final playoff spot in the Eastern Conference.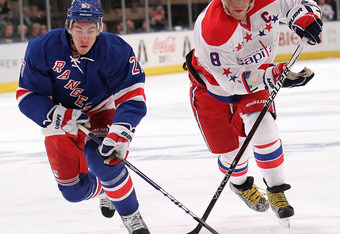 Nick Laham/Getty Images
If you don't know about McDonagh yet, don't worry, you will.
Chris Kreider
Another young Rangers player who has future star written all over him is Chris Kreider.
To me, Kreider was the game-breaker for New York as he had the goal that gave the Rangers the lead and an assist in a 90-second span of the third period to break a 1-1 tie.
Kreider, a member of Boston College's 2010-11 NCAA championship team and the Rangers first pick (19th overall) in the 2009 NHL Entry Draft, spent 15:53 on the ice and showed why he's one to watch with his clutch production in Game 1.
The 6-foot-3, 230-pound center became the youngest Rangers player with two points in a playoff game since 1996 and the first New York player with two game-winning goals in one-playoff year since 1981 after notching the game-winner in Game 4 vs. the Ottawa Senators in the opening round.
Making it all more amazing is the fact that Kreider, who turns 21 on Monday, was playing in just his sixth game as a professional hockey player—all in the playoffs.
Kreider could be a perennial All-Star and his performance on Saturday showed why his name will be one to remember.
And with McDonagh and Kreider, the East's top-seeded Rangers and their fans can feel pretty good about their future.
Follow me on Twitter: @KevinStott11