San Francisco 49ers Draft Grades: What the Team Earned After 3 Rounds
April 28, 2012

At the conclusion of Day 1 and 2 of the 2012 NFL Draft, the San Francisco 49ers stand equipped with two new draftees, two fourth-round selections and an extra draft pick in 2013.
With the No. 30 overall selection in Round 1, the 49ers drafted wide receiver A.J. Jenkins out of Illinois.
In Round 2, selecting with the No. 61 overall pick, they landed the former Oregon running back, LaMichael James.
Moments before the team was to draft in Round 3, Trent Baalke orchestrated a trade with the Indianapolis Colts, moving down five spots to No. 97 in the beginning of Round 4. Baalke also acquired an extra fifth-round pick in the 2013 draft.
So, how should we grade the 49ers' 2012 draft based on their acquisition of players and picks?
Let's begin with Baalke's Operation Mock Draft Killer with the selection of A.J. Jenkins in the first.
Not a single fan, draft pundit or analyst predicted this move. I can say this with utter certainty.
Twitter experienced an explosion of tweets not unlike the "Tebow Time" phenomenon of 2011. Facebook's "Live Feed" lost all functionality. After a flood of "Huh?!" texts, my iPhone displayed a defeated sad face and refused to turn on.
Silliness aside, many were shocked by the 49ers grabbing Jenkins so early. He was widely regarded as a mid- to late-second round draft choice. Such players as Stephen Hill, Coby Fleener, Cordy Glen, Janoris Jenkins and a host of seemingly higher-rated offensive and defensive prospects were still available.
But Trent Baalke and Jim Harbaugh had a plan. They got their guy.
"We were glad we're able to get somebody as explosive and talented, a tough guy, smart guy like A.J." Harbaugh said. "We [took] the best player on our board."
Added Baalke: "We feel this is a multi-align guy. A guy who can line up [in] any of those three spots [split end, flanker, slot] and have success in our system."
So despite all our potential misgivings regarding Jenkins, who are we to say otherwise?
Mock drafts are informative, entertaining and (mostly) intelligent exercises; rarely do they ever reflect the type of due diligence and scouting performed by personnel executives on the inside of an organization.
For the point of this article, however, I give the Jenkins pick a solid B. He is an intelligent, fast, sure-handed and multidimensional receiver. If not now, he certainly could develop into a deep threat on the outside for if and when the rocket-armed Colin Kaepernick assumes the starting quarterback duties.
Moving on, the selection of LaMichael James, in my opinion, was a no-brainer. He is an explosive back that can hit the home run as both a runner and a pass-catcher.
He fulfills a distinct role as a change-of-pace, third-down RB alongside Kendall Hunter. James is much faster, more dynamic and an underrated inside runner, but both will enter games as the outside speed threat after Frank Gore wears down the opposing defense.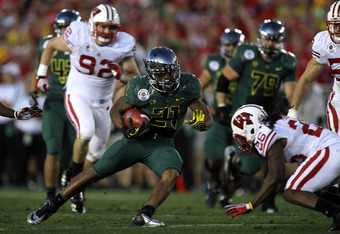 Stephen Dunn/Getty Images
Furthermore, his greatest asset is functioning so that the coaching staff can diversify the offensive playbook. Tedd Ginn and special teams coach Brad Seely will also appreciate his services in time.
James was clearly the best player available; Baalke said so himself.
Harbaugh was quite effusive when discussing James' talents.
"Change of direction, speed, playmaking ability, durability, number of carries, number yards, number of touchdowns," Harbaugh said.
Works for me. I give this selection a resounding A.
Finally, the 49ers traded back in the third round and acquired an additional pick for the third consecutive year.
With the phenomenal production from the past two draft picks acquired in the third round in mind (NaVorro Bowman in 2010; Chris Culliver in 2011), I'll go out on the proverbial limb and endorse this draft-day dealing. It's fairly apparent that Baalke felt he wouldn't secure adequate value at pick No. 92 overall, and in turn moved down into the early fourth.
Players like DE Jared Crick, DT Alameda Ta'amu, CB Brandon Boykin and TE Orson Charles would all be fine steals in the fourth round.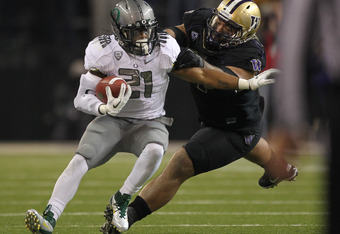 Otto Greule Jr/Getty Images
It also affords him more maneuverability in regards to other potential trades.
"We have multiple guys on the board that we feel very comfortable with, so we have an opportunity early tomorrow to add someone to the 49ers," Baalke said. "It's a quality pick. It's the second pick on the third day, which could carry some more trade back value."
There you have it—from the words of the man himself.
In short, a right guard, defensive lineman or cornerback would have seemed like logical additions in the early rounds. What actually transpired was a draft strategy predicated on BPA, or best player available. The organization said all along that this wasn't a need-based draft.
Player always trumps need.
I'll believe it.
Grade: A