Pittsburgh Steelers 2012 Draft: Steelers Continue Strong Draft on Day 2
April 28, 2012

Although the Pittsburgh Steelers got the steal of the first round in Stanford guard David DeCastro, they still have nine more picks in the 2012 draft and more holes to fill on the roster.
On Day 2 Friday evening, the Steelers had two picks and most thought they would use one of those picks on a future replacement for Casey Hampton at the nose tackle position.
In the second round, the team chose Ohio State OT Mike Adams, and in Round 3 they took Miami (FL) LB Sean Spence.
Even though I was initially disappointed that the team did not select either Washington's Alameda Ta'amu or Alabama's Josh Chapman with their third-round selection, I am very happy with each of their Day 2 selections.
Mike Adams was once thought of as a definite first-rounder and, at worst, a high second-rounder. However, his inconsistency and off-field troubles—including a five-game suspension in 2011 and a positive drug test at the combine—led to a fall to the Steelers at No. 56 overall.
At one point I thought Adams was a strong possibility for the Steelers in the Round 1, although I was never really sold on him that early.
That being said, I think getting him in the second round is great value and he could end up being a great pick down the road long term for GM Kevin Colbert and Co.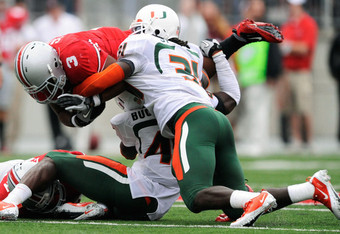 As things stand on the Steelers offensive line, Marcus Gilbert is making the switch to LT in his second year, and Willie Colon is coming off his second straight season-ending injury at RT.
Unless Adams comes into camp and just blows the coaching staff away, I think the plan will be to have him back up both Gilbert and Colon in his rookie season.
That would give the Steelers the chance to see how Gilbert responds at LT, and if Willie Colon can actually stay healthy for a full season.
If either of them struggle, then Adams would have the ability to fill in either side and, honestly, I would not be surprised to see the team move Adams to Ben Roethlisberger's blind side, and Gilbert back to RT after the 2012-13 season.
Even if Marcus Gilbert proves to be the future at LT this season, which I am rooting for, the Steelers have at worst the right tackle of the future on the roster now.
This gives the Steelers the opportunity to either try Willie Colon at guard—like us fans have been talking about for it seems like years—or, more likely, they will cut Colon after this season to save some cap room.
As I stated earlier, I did not think there was any way that the Steelers were going to pass on Alameda Ta'amu or Josh Chapman with both of them still on the board in the third round.
I had nothing against Sean Spence, it is just a fact that the Steelers' No. 1 need at this point is NT, and Ta'amu has been my favorite prospect at the position since season's end.
Spence will probably only see the field on special teams as a rookie, however, and he makes the ILB position interesting to watch going forward.
Larry Foote is going to start the season as the starter opposite Lawrence Timmons, but we all know that Foote is not the future and is probably in his last year with the team.
I really like Stevenson Sylvester and have been rooting for him to get more playing time, and now it will be up to him to decide if Spence becomes a really good backup, or if Spence becomes his eventual replacement on the roster.
We have all thought that the future at the position was going to be Sylvester, but if he falters this season, I could see him being overtaken by Spence.
Although neither Mike Adams nor Sean Spence are going to see the field much as rookies (unlike the first-round selection DeCastro), the team drafted two future, major contributors.
The Steelers have had a great draft to this point with seven picks left in Rounds 4-7, and here's hoping that they are able to get either Ta'amu or Chapman in the fourth round.