2012 NFL Draft: 4 Bold Predictions for Saturday
April 28, 2012

Handout/Getty Images
Days 1 and 2, comprising the first three rounds of the 2012 NFL draft, are now complete and we have seen a total of 95 selections made.  This is one less than expected due to the forfeiture of their second-round pick by the New Orleans Saints as a sanction in Bountygate.
Following a fast and furious Round 1, and a little bit wacky too from an analytical standpoint, last night served as the buffet a lot of us expected in terms of tremendous value picks.  So many reaches and likely poor choices were made in the first that a slew of high-end talent availed itself to begin the second.
I personally had nine prospects with first-round grades that were still on the board when Round 2 began, starting with Courtney Upshaw, who did not have to wait long on Friday night before the Baltimore Ravens snatched him up with the 35th overall choice.
One of those nine is astonishingly still available as we commence with Day 3 at noon Eastern on Saturday: University of Georgia cornerback/return specialist Brandon Boykin.  He should have expected some depression to his draft stock because of a slow recovery to a foot injury.  But at the current point in the process, Boykin has become a legitimate miss by NFL teams.
One of the huge Day 2 shockers was delivered courtesy of the annual circus that is put on by the Jacksonville Jaguars' draft-day execution.  With the 70th overall pick in the third round, Gene Smith pulled the trigger on a punter. 
This is an absolutely inexcusable pick in general and under all circumstances, but especially so given the very challenged state of the Jags' roster.  This is even with allowing that Bryan Anger is my top-rated punter in this class.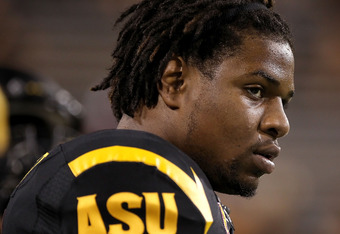 Christian Petersen/Getty Images
With your Saturday morning coffee and croissant, dig into my four bold predictions for Saturday's NFL draft action, which will traverse rounds four through seven in completing the 2012 player lottery.
1. The First Pick of Day 3 Will Be:
Vontaze Burfict, LB, Arizona State University
This would be an upset; but it certainly qualifies as bold and I will defend it by extending the overriding philosophy employed thus far in the draft by the St. Louis Rams, who hold this 96th overall selection.
Burfict is an early-entry junior in the 2012 draft class after receiving bad advice about his projection and/or just completely overestimating how NFL teams would evaluate him.  Coming into the 2011 college football season, there was a lot of hype surrounding him as a potential first-round talent and impact inside linebacker prospect.
At different points during his career he has flashed big-play ability and highlight-reel hits.  But the more teams and analysts dug into his tape, it became increasingly obvious that Burfict is an undisciplined player who often guesses and hunts for the big play and is not as physically gifted or instinctive as originally thought or hoped.
The football analysis aside, Burfict then completely tanked the postseason evaluation process by showing up out of shape and disinterested at the NFL combine, not erasing any of those concerns at his pro day, capitulated this past week by the release of a positive marijuana result from the drug test administered at the combine.
While it is statistically unlikely that the Rams go down this rabbit hole, their entire draft haul to this point is loaded with prospects checkered by one question or another, whether on the field, off or both.  Burfict could fit in with this method of madness if head coach Jeff Fisher believes he and his staff can yoke the best out of Burfict.  For me...no thanks.
2. The First Quarterback Selected on Day 3 Will Be:
Ryan Lindley, San Diego State University
The first three rounds of the 2012 draft have seen seven signal-callers come off the board including two of my favorites, Russell Wilson and Nick Foles, to round out this septet. 
There was some consternation over this order, similar to my calling for Lindley with this prediction, because rumors swirled with varying support from some draftniks that Kirk Cousins (Michigan State University) could/should/would be an early/mid-second-rounder.
Cousins' fall, and also part of why I am calling for Lindley to also leapfrog him tomorrow, is partly predicated on the developed consensus that he does not offer starter upside in the NFL.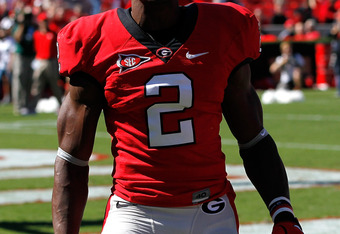 Kevin C. Cox/Getty Images
Lindley, on the other hand, while concurrently acknowledging his warts, the biggest of which is accuracy, has the size (6'4" 230 lbs.) and arm strength (best in the class) that at least allows an organization to dream on as a developmental upside move.
The earliest plausible destination I see for Lindley would be 10 picks into the fourth round, 105th overall, to the Buffalo Bills. 
With Ryan Fitzpatrick and Tyler Thigpen, two veterans firmly entrenched at Nos. 1 and 2 on the depth chart, there would not be any immediate pressure for Lindley to compete for playing time and get on the field in 2012. 
But offensive-minded tinker man Chan Gailey (the Bills' head coach) could be drawn to his throwing talent.
3. The Day 3 Player Who Will Make the Biggest Impact:
Brandon Boykin, CB/RS, University of Georgia
I have to go with Boykin, as I alluded to above, who is currently my highest-rated player on the board and carries a first-round grade from me.  This is a guy that despite his diminutive size (5'9.5" 185 lbs.), plays with incredible tenacity and toughness along with some of the best feet, change-of-direction and acceleration in the class.
His movement skills all translate at an impact level, both defensively at corner, as well as in both phases of the return game and as a gunner.  Because of his physical makeup, a lot of projections have him limited to a slot corner role, something he will likely excel at.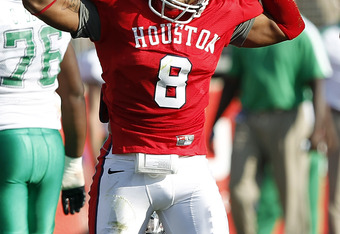 Bob Levey/Getty Images
But I also think that he has what it takes to be a quality starter on the perimeter, despite his size limitations, in the mold of an Antoine Winfield or Tim Jennings.
Enjoy some of this highlight video to get a better idea of just how dynamic Boykin can be in all phases, including as a gimmick player on offense.
4. Mr. Irrelevant (the media moniker for the last player drafted) Will Be:
Sammy Brown, OLB, University of Houston
Fittingly, since they also had the very first pick overall this year, the Indianapolis Colts hold the 253rd and final turn in the 2012 Draft.  I actually have a higher grade on Brown than to fall this far but it is such a difficult thing to predict, I am taking this opportunity to highlight him.
After pouring many of its early draft resources into the offense to support new savior quarterback Andrew Luck, rookie head coach Chuck Pagano should have his way with the latter picks on defense for Indianapolis.
Brown somewhat fits the profile for a Mr. Irrelevant pick because he played in a mid-major Football Bowl Subdivision conference (Conference USA) but was very productive in college and also posted impressive workout metrics at this pro day.
He led the nation in tackles for loss (30) in 2011 after putting up 20 such plays in 2010 at Houston following his transfer in from Mississippi Gulf Coast Community College.  He was not invited to the combine; but at his pro day, he checked in at 6'2" 245 lbs. and ran a 4.63-40 with an impressive 1.57 10-yard split, 20 repetitions of 225 lbs. on the bench press, a 37-inch vertical leap and 10'3" in the broad jump.
These results all back up the explosion that shows up on tape in Brown's pursuit closure to the football.  His profile should lend itself to a special teams role, backup duty and a potential situational niche on obvious passing downs early in his career.
The Mr. Irrelevant designation may have a keener following this year than usual after this video went viral on Twitter earlier this week (PG-rated).  It hints at the honoree receiving a lot more than a trip to Disney World and was a clever "15 minutes of fame" gadget.
As always, I look forward to your comments below, and you may follow me on Twitter at @JeffRoemer.