Rafael Nadal Confident for the Mutua Madrid Open: Will He Keep Winning Titles?
May 8, 2012

Manuel Queimadelos Alonso/Getty Images
The Rafael Nadal vs. Novak Djokovic rivalry has suddenly changed flavor following the Monte Carlo Rolex Masters final.
It wasn't just that Nadal had finally beaten his No. 1 nemesis for the first time in eight tries. It was a restoration of his swaggering play.
There was Nadal on his clay-court kingdom, swatting topspin with his maniacal frenzy and cannonading selected shots against his besieged opponent. He scampered with that extra energy that's often a split-second difference between defense and offense.
Most of all, he played with the controlled fury that made him the best player in the history of clay-court tennis.
Nadal's transformation is curious. His skill set has not improved, but he played differently. He took more chances, varied his patterns and bolstered his serve.
Will Nadal continue to build on this newfound momentum? How did he recapture his fiery spirit and bludgeoning execution?
The Natural
Rafael Nadal is strikingly similar to the mythic baseball hero Roy Hobbs, a character from Bernard Malamud's novel, The Natural (played by Robert Redford in its movie adaptation).
Both were phenomenal 18-year-old left-handers who beat the reigning superstar of their time, and announced their potential in their own defiant ways.  "...someday, I'm going to break every record in the book," Hobbs told acquaintances.
Nadal and Hobbs then found their careers at a standstill, unable to complete their marches through the record books.
Hobbs suffered physical tragedy that kept him from baseball for several years. When he finally put his life and career back together and became the most sensational ballplayer the game had ever seen, he explained to his former girlfriend the real reason his career took so long to recover: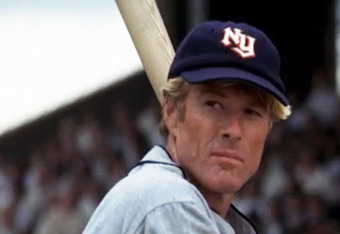 "I lost my confidence. Then there was just no going back."
But Hobbs did find his confidence, and so did Nadal. And both of them were suddenly swinging the fearsome left-handed swings that took over their sport.
Confidence is often explained as a mental belief and attitude of overcoming adversity. While true, it's an incomplete answer.
Confidence may start with belief, but it is very much a physical condition that allows an athlete to execute his fundamental and ideal habits at its highest level. It's when an athlete is "in the zone," and unleashes his physical skills without limitations or fear.
Like Hobbs, Nadal is now reacting to his competition by executing his powers. His years of training and experience are coming together again. He has entered the zone.
The Comeback

In 1984, (the same year The Natural was playing in theaters), left-hander John McEnroe had his career year, finishing 82-3 and winning Wimbledon and the U.S. Open. He was almost unbeatable, save for his famous meltdown at the French Open versus Ivan Lendl.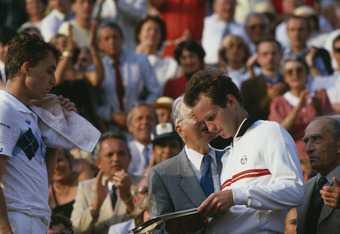 Steve Powell/Getty Images
A year later, it was a late-blooming Lendl who suddenly took over tennis with his booming groundstrokes. He swept McEnroe at the U.S. Open, and sent him into hiatus.
McEnroe returned from personal issues, but was never the same player. He never made it back to a Grand Slam final, and finished out his career sparking and blazing but never burning with his former glory.
Nadal seemed to be in the same predicament against upstart champion Djokovic.
He lost seven straight times in a year, including the last three Grand Slam finals. He fought hard, but seemed tempered by his rival. He was fighting, but not executing his strokes at his highest level. There was clearly a crisis of confidence.
It's premature to call Nadal's Monte Carlo victory a complete comeback. This will be tested through more matches and proof of time. Nadal's comeback will also be examined during the grass and hard-court season in order to render a more accurate judgment.
The Fighter
Nadal swept through a relatively thin field at Barcelona for his second title in a week, after nearly a year of winning only one title.
He is digging in, crushing forehands, lining backhands and serving bigger. He has a commanding presence with every grunt, and with each walk to his seat on a changeover.
He's like John Travolta in Saturday Night Fever walking through the streets of Brooklyn. He's got the look that says, "I own this place."
Nadal has much bigger tournaments ahead. Madrid features a deep field with Djokovic, Roger Federer, Juan Martin del Potro and other clay-court players.
There is also the matter of Madrid's new blue clay, something the top players oppose. The consensus is that the blue clay plays faster and slicker, and the ball stays lower. This figures to dampen Nadal's coordinated attack, but it remains to be seen how much.
Rome will feature its traditionally slow red clay, and will be another opportunity to measure Nadal's progress and confidence against a deep field.
And Nadal must go through Djokovic, who is the No. 1 player and has every ambition to win his Novak Slam. Djokovic will look to raise his own confidence by reclaiming his recent dominance of Nadal. It's important for both players, each looking to gain an edge and conquer his rival.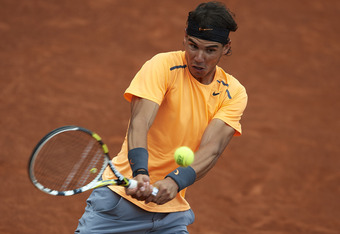 Manuel Queimadelos Alonso/Getty Images
How would Nadal or Djokovic react if the other were to blitz him? Confidence is static, tenuous and must be renewed with each point, game, set and match.
Nadal is confident. His body language shows he can win. He believes in his strategy and game plan. He is physically directing his shots and imposing his will.
Maybe Nadal has re-crossed the Rubicon, something most athletes are unable to do. Maybe he has regained his No. 1 form and fight.
Roy Hobbs was a myth, but Nadal is a legend.
CLICK HERE for Madrid preview piece and which rock song best represents Rafa Nadal