NASCAR: Travis Pastrana Makes Few Mistakes in Nationwide Series Debut
April 28, 2012

Drew Hallowell/Getty Images
Before tonight's Virginia 529 College Savings 250 at Richmond International Raceway, Travis Pastrana made sure to thank his RAB Racing crew for what he called the "opportunity of a lifetime."
He also thanked them by bringing his car home in one piece. Pastrana finished a respectable 22nd, two laps down, in his Nationwide Series debut.
Pastrana managed to run on the lead lap for the majority of the race, only falling prey to eventual race winner Kurt Busch for the first time with less than 70 laps to go. Beyond that, he remained remarkably consistent on the track, staying out of trouble and not taking any significant damage to his Toyota Camry.
The only mistakes that Pastrana made were on pit road. During the first caution of the race, he accidentally pit, knocking him back from his 25th starting position to 31st. Then, in the first green flag pit stop of his entire racing career, he was caught speeding off of pit road and had to serve a drive-thru penalty.
But for most of the race, Pastrana patiently worked his way through the field, exhibiting none of the fearlessness of a 17-time X Games medalist and all of the patience of a seasoned NASCAR veteran. Despite only having raced a stock car seven times before, each time in one of the K&N-sponsored regional series, Pastrana watched Busch from behind and began to use his line to pass other lapped cars.
Pastrana also managed to pass two of Nationwide's most prominent drivers for position at different times in the race. Early on, he passed a struggling Danica Patrick (leading to a celebratory shout over the radio), and towards the middle of the race, he got by Brad Keselowski and held him off for an extended period.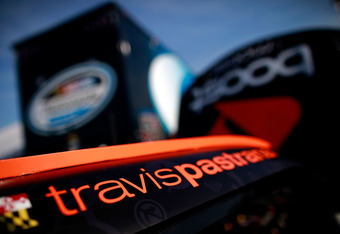 Tom Pennington/Getty Images
This start was a long time coming for Pastrana. The 28-year-old Maryland native had originally planned to make his Nationwide debut with Michael Waltrip Racing last July, running at Lucas Oil Raceway at Indianapolis during X Games weekend. But after suffering an injury in his farewell Moto X Best Trick competition, his debut was postponed until this year.
With MWR's Nationwide program no longer active, the team allied with RAB Racing to put Pastrana in their car for seven races. Pastrana will share the car with Kenny Wallace, who finished seventh in Nationwide points last year, and Ryan Truex, younger brother of MWR Sprint Cup driver Martin Truex Jr.
The event was a cause for celebration, as Pastrana jokingly cut his hair into a mullet to celebrate his debut. He also ran in Thursday's K&N Pro Series East race at Richmond, qualifying fourth and running towards the front until a late-race spin limited him to a 23rd place finish.
Pastrana's next Nationwide Series appearance will be two weeks from now, in the VFW Sport Clips Help A Hero 200 at Darlington Raceway. His remaining five races will come at Charlotte in May, New Hampshire, Chicago, and Indianapolis in July, and Atlanta in September, as he attempts to build a sponsorship base to run full-time next year. In the meantime, Pastrana will contest the Global Rallycross Championship, which will include his only scheduled event in this year's X Games.