NBA Playoffs 2012: Previewing Game 1 of Chicago Bulls-Philadelphia 76ers Series
April 28, 2012

Jonathan Daniel/Getty Images
Looks like Evan Turner got the matchup he wanted.
The Chicago Bulls and Philadelphia 76ers kick off their first-round series Saturday afternoon in Chicago. The Bulls took the season series 2-1, winning the lone game in Chicago and winning one in Philadelphia.
Chicago finished tied for the best record in the league and clinched the top seed in the Eastern Conference with a record of 50-16.
Philadelphia, which was one the hottest teams earlier in the season, finished with a record of 35-31 and clinched the eighth seed in the East. After the two teams met in early February, the 76ers were 16-6 but went 19-24 the rest of the season.
Even though they have played three times, the 76ers have yet to see the current Bulls lineup.
That is because really for the first time all season the Bulls are finally healthy. Both Derrick Rose and Richard Hamilton have returned from the various injuries that have plagued them all season.
The 76ers, besides some minor injuries that have a few of their players listed a day-to-day, are also healthy. The only player who missed significant time for them this season was starting center Spencer Hawes.
If you are a betting person I might recommend taking the under. The Bulls allowed the fewest points in the league and the 76ers were third, so don't expect to see either team scoring in triple digits much.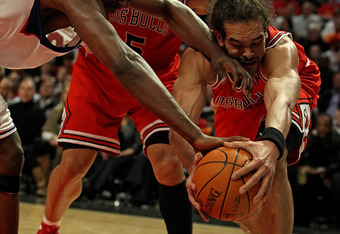 Jonathan Daniel/Getty Images
Offensively neither team comes from the run-and-gun philosophy, but while the Bulls are middle of the pack the 76ers are the second-lowest-scoring team to make the playoffs.
The lowest-scoring team was the Boston Celtics.
The most interesting matchups come in the frontcourt. Joakim Noah was drafted one pick ahead of Hawes. Carlos Boozer followed Elton Brand at Duke and don't forget Brand was at one time a Bull.
The premier matchup comes at small forward, where there is a pair of All-Stars who both made their first appearance this season.
Both Luol Deng and Andre Iguodola were members of the 2004 draft class. Deng was the seventh pick and Iguodola was selected ninth.
Also don't forget that the 76ers' coach, Doug Collins, once coached the Bulls and was actually in the running for the job back in 2008.
Can the 76ers ignore how they ended the season? Can Rose shake off the rust?
We'll find out at noon CT in Chicago on Saturday.
Make sure to follow me on Twitter @dachicagofan, and check out my weekly Bulls podcast every Wednesday on my site, The MG Experience.