NFL Draft 2012 Results: 1st-Round Picks with 2nd-Round Talent
April 28, 2012

Doug Pensinger/Getty Images
The 2012 NFL draft's first round has come and gone. Most players who came off the board were worthy of their first-round status. However, there are a few players who should still be on the board.
These players were taken in the first round, but play like second-round talents. 
Brandon Weeden
Weeden did not warrant a first-round selection. He is a second-round talent at best. 
If Weeden did not play the most important position in the game he would still be available. However, quarterbacks are frequently taken well ahead of where they should be.
Weeden took advantage of weak Big 12 defenses in Oklahoma State's pass-happy attack. Weeden will not enjoy those advantages in the NFL, and his lack of pro-style experience will hurt his ability to perform. 
Countless quarterbacks have tried and failed in the NFL. Weeden's gaudy college stats make him look better than he is, and that will be evident very early on. 
Weeden is a first-round pick with backup ability. 
Whitney Mercilus
Raw pass rushers are trending in today's NFL draft strategies. Aldon Smith and Jason Pierre-Paul have panned out thus far, but Mercilus will not.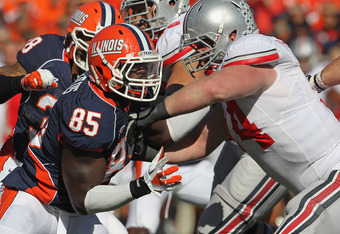 Jonathan Daniel/Getty Images
Mercilus enjoyed an outstanding junior season at Illinois. One season does not make a player good, but it did earn Mercilus the No. 26 overall pick.
Not only does Mercilus not fill a glaring hole in Houston's depth chart, but he is better suited for a second-round selection. 
Mercilus has the length and quickness to be a formidable pass rusher at the next level. However, he has not shown that ability consistently over the course of his college career. 
The Texans would have been better served taking a wide receiver at No. 26 and letting Mercilus fall to the second day of selections. 
A.J. Jenkins
The 49ers' selection of Jenkins was surprising to say the least. Jenkins was projected to fall in the draft's second or third round. 
Jenkins will benefit from a solid supporting cast in San Francisco, but he is not first-round material. He does not possess any elite strengths and is not a go-to target. 
Granted, the 49ers were in a luxurious position. They are arguably the best team in the NFC and do not have any pressing needs. But that still does not justify this pick. 
Jenkins has a fair amount of upside but his current skill set is not first-round material. He is not overly athletic and is likely to work underneath in San Francisco's offense. 
Bruce Irvin
Irvin was an absolutely shocking first-round selection. He does not have first-round talent, and should have lasted much longer. 
Irvin's only asset is his pass-rushing ability. He is long and athletic but does not have the strength to beat professional offensive tackles. Without racking up sacks, Irvin becomes dead weight defensively. 
The Seahawks fell in love with Irvin's raw potential. Raw potential does not justify a No. 15 pick, especially with several proven pass-rushers still on the board. 
Irvin presents a ton of concerns. His ability to adapt to the NFL, remain focused and stay out of trouble will be questioned from day one. 
He will provide more headaches than sacks in the NFL.