Manchester United: Current Transfer Speculation Suggests Shift in Tactics
May 7, 2012
Mike Hewitt/Getty Images
Manchester United supporters and players alike will no doubt be distraught approaching the final game of the season as bitter rivals Manchester City look set to claim the Premier League title, and now may be the time for Sir Alex Ferguson to rethink his strategy ahead of the 2012-13 season
With the noisy neighbors having announced themselves as a serious threat to United's long reign over the Premier League, this summer is an ideal time to tinker with the current formation and tactics, and current transfer speculation suggests this may indeed be the case.
Ferguson has long been faithful to the 4-4-2 during his 25-year reign at United, but the players linked with summer moves to Old Trafford seem indicative of a transition to a new formation for the upcoming season.
Eden Hazard, Nicolás Gaitán and Shinji Kagawa are the three midfielders closely linked with United ahead of the transfer window, yet all three are attacking midfielders that would appear unsuited for the 4-4-2 that has so long been the standard at Old Trafford.
Hazard and Gaitán are both of the winger-cum-attacking midfielder mold while Kagawa is an outright attacking midfielder. All have been excellent for their respective clubs this season, contributing both goals and assists, yet none are the central midfielder required for a 4-4-2.
This suggests that Ferguson may be considering the transition to the more modern three-man midfield for next season. The 4-2-3-1 has become increasingly popular, and adopting this formation could be the key to both English and European success.
United have already experimented with the 4-2-3-1 to some extent. Michael Carrick and Paul Scholes have been deployed in the the two deep-lying midfield roles this season, while the Wayne Rooney has played in the trequartista role behind the striker.
In using these tactics, Rooney has been tasked not only with scoring goals, but also operating as the creative force in the team. United's star man has held up his end of the bargain this season, but he cannot drive this team to success alone, nor should he be expected too.
Rooney has become shackled in a deeper role for the good of team, simply because Ferguson currently lacks the personnel necessary to fill this role and allow Rooney to play as an outright striker. His passing has also been cause for concern this season, and with only four assists this season, it seems he may not be best suited as the creative force.
Beyond just filling the attacking midfielder role, United would benefit greatly from another world-class attacking talent to take the load off Rooney. Too often when Rooney's form dips, so too does United's. Having a player capable of picking up that slack is crucial as well.
Ultimately, the game is moving toward the 4-2-3-1, and United will need to evolve with the trend to stay competitive. An attacking midfielder is currently the only missing piece in transitioning to these new tactics, and it seems the club plan to address that in the summer.
Consider for a moment what David Silva offers to City. He operates in that roaming, attacking midfielder role that has become one of the most coveted positions in the modern game. He is an all-around threat, capable of creating along with contributing goals from the midfield. Juan Mata plays a similar role for Chelsea.
Ferguson has no doubt recognized this new tactical threat among the club's rivals and is looking to add a similar threat of his own to the squad this summer. Hazard, Gaitán and Kagawa would all be suitable candidates to fill the role, each proving this season that they are of superb quality.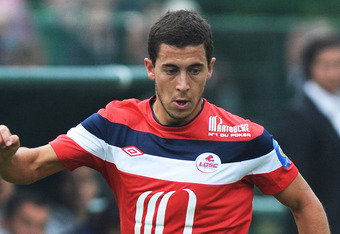 Valerio Pennicino/Getty Images
Hazard is hyped as one of the brightest talents in Europe, and he seems destined to be one of the game's biggest stars. With 17 goals and 16 assists this season for Lille, it's hard to argue against his growing talent.
Gaitán demonstrated his ability to United in the Champions League already this season, and he too has received overwhelming praise this season with four goals and 17 assists for Benfica in 2011-12.
Kagawa is perhaps the most realistic signing of the trio. The Japan international has been one of the key players in Borussia Dortmund's second consecutive Bundesliga title, contributing 13 goals and eight assists in their league triumph. Now in the final year of his contract and reportedly refusing to sign another, Dortmund may sell cheaply this summer to avoid losing him on a free in 2013. This certainly fits in with the "Glazernomics" strategy.
Of course, United might not be interested in any of the aforementioned three, but rarely is there smoke without fire. The club was heavily linked with Wesley Sneijder and Samir Nasri last summer, and to have three more attacking midfielders linked to the club as the summer transfer window approaches likely indicates a new tactical mindset for the club.
Ferguson has already confirmed that he is looking to add two or three players this summer, and at least one of these players is likely to arrive at Old Trafford. An attacking midfielder is not the only necessity for United in the upcoming transfer window, but signing one would serve as the catalyst for adopting the 4-2-3-1 next season.
As always, it is hard to judge which pieces of transfer speculation are true, but all the signs would suggest a 4-2-3-1 formation is on the horizon at Old Trafford.