Manchester City vs. Manchester United: Predicting Starting Lineups for the Derby
April 27, 2012

Alex Livesey/Getty Images
Manchester City welcome Manchester United to the Etihad stadium on Monday for a match that either makes no difference at all or is the most important derby ever played.
Those are the public approaches being taken by City manager Roberto Mancini and United boss Sir Alex Ferguson.
Mancini is on record as saying even if his side win Monday's derby, United will still win the title.
For his part, Ferguson called the match "the most important derby in [his time at United]."
But public posture aside, each manager will send a squad out on Monday aimed at winning the completely irrelevant/world-changing fixture.
Here's how I predict the two sides will take the field.
Manchester United
(GK) David De Gea - Since getting off to a shaky Premier League start, De Gea has been one of the best goalkeepers in the league in recent weeks.
(LB) Patrice Evra - The French defender has played well this season for United plus there's really no other option at the position right now in Ferguson's stable.
(CB) Jonny Evans - With Nemanja Vidic out for the season, Evans has stepped in and played well for United. No reason to change a winning formula for the big game.
(CB) Rio Ferdinand - The talisman in United's defense. When he's healthy, he plays.
(RB) Phil Jones - Rafael was getting a good run of games in the starting line-up, but that has to come to an end after he got torched against Everton. Welcome to the starting XI, Phil.
(LM) Nani - He's newly engaged and, more importantly, he's scored in the last two matches. With MIcah Richards just recovered from injury, the battle on this side of the field could get very interesting.
(CM) Michael Carrick - I've overcome my historic distaste for watching Carrick this season. It took lots of effort and some forced immersion, but he's the best midfield player United have at the moment. So in he goes.
(CM) Paul Scholes - You can't beat City without "Sat Nav" picking out those long cross-field balls. I picked up a stat yesterday that says United have only lost once in the Premier League this season when Scholes has started. You can bet Ferguson knows that as well.
(RM) Antonio Valencia - For my money, the best United player this season. He's automatic as far as I'm concerned.
(F) Wayne Rooney - No explanation needed
(F) Danny Welbeck - Welbeck has two goals in the last two games and he was simply fabulous against Everton last weekend.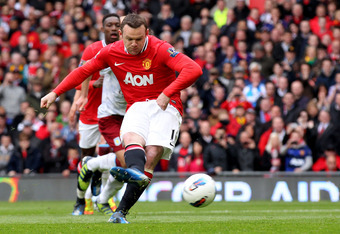 Alex Livesey/Getty Images
Manchester City
(GK) Joe Hart - Does City even carry a back-up keeper?
(LB) Gael Clichy - He's been great this season. Plus, City will need his speed to keep up with Valencia down the sideline. Kolarov is a fine player, but the United winger would run past him all day.
(CB) Joleon Lescott - Barring injury, death or the rapture, City's central defensive pairing for a big game will always be the same.
(CB) Vincent Kompany - The best defender in the Premier League this season. He's not going anywhere.
(RB) Micah Richards - Just recovering from injury or not, I believe Micah Richards will start. City need his pace to counter Nani. If Zabaleta or Kolarov start on the outside, look for United to target them all day. Plus Richards has been at City since he was 14. No other City player will want this match more than him.
(LM) Samir Nasri - Nasri says he'll win a title before Arsenal. This match could go a long way toward making that happen. So far this season he's been very very hot at times and exceedingly average at others. City will roll the dice and hope for the best from their Jekyll-and-Hyde Frenchman.
(CM) Nigel De Jong - As strong as Kompany and Lescott have looked this season, City will need De Jong's mean streak to keep Rooney and Welbeck off the scorer's sheet as well as boss the midfield.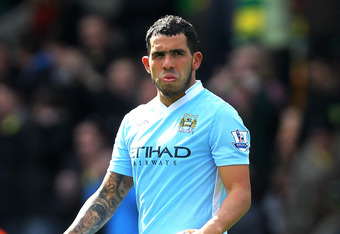 Matthew Lewis/Getty Images
(CM) Yaya Toure - The medical staff have cleared him, so the big Ivorian will be central to City's hopes on Monday.
(RM) David Silva - Quite simply the best creative playmaker in the Premier League. He writes his own name on the team sheet.
(F) Sergio Aguero - See Rooney explanation
(F) Carlos Tevez - The two Argentinian's have struck up a sweet partnership since Tevez' return from... well, whatever that was in the middle of the season. Mancini mentioned Balotelli this week, but he's not going with anyone but Carlos at the opening whistle.
So Who's Going to Win?
The match depends on three things. Can Carrick and Scholes prevent themselves being overrun in the center of the field? Can United's back four deal effectively with Tevez and Aguero? And can City's outside backs prevent Nani and Valencia from causing havoc?
I think the answer to the first two questions is probably not. And the answer to the third question is maybe.
In the end, I think United will get some joy down the flanks. But City's attackers will prove far too mobile and creative for United's defense.
Prediction: 3-2 Manchester City.