Shea McClellin to Bears: Does His Selection Put Lovie on the Hot Seat?
April 27, 2012

Al Bello/Getty Images
"With the 19th pick of the 2012 NFL draft, the Chicago Bears select Shea McClellin, defensive end, Boise State."
After commissioner Roger Goodell said those words, the city of Chicago and Bears fans around the world said, "Who?"
McClellin, who spent time at defensive end, outside linebacker, and also played a bit of defensive tackle at times for Boise State, was not viewed as a potential pick for the Bears leading up to the draft.
After a solid senior season at Boise State (12.5 tackles for loss and seven sacks) many viewed his size (6'3" 260 pounds) as a big reason why he would be best suited to play outside linebacker in a 3-4 defense.
After only bench-pressing 225 pounds 18 times at the NFL Combine, this view became common in NFL circles. In comparison, USC defensive end (and first round pick of the Packers) bench pressed 225 pounds 35 times.
NFL scouts felt that McClellin was best suited to move to the outside and be used as a pass-rushing specialist in a 3-4 defense, because he is not viewed as being strong enough to face NFL left tackles at the point of contact.
So why would the Bears take the chance on a guy who does not necessarily fit their defense?
After receiving a two-year extension following the 2010 season that will cover him through the 2013 season, Lovie Smith will undoubtedly be fighting for his job again this season.
When a new general manager like Phil Emery is hired, teams are ready to build for their future, and often times do so with a brand new coaching staff that is put in place by its new general manger.  Emery was not given the luxury to find his new coach and was forced to keep Lovie in charge.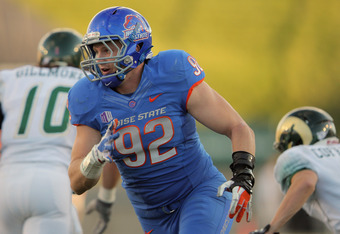 Doug Pensinger/Getty Images
It is unknown whether or not Emery truly believes that Lovie is his guy, but the drafting of McClellin, who clearly is better suited to be an outside linebacker, makes me believe that Emery feels if Lovie cannot get it done, he'll be willing to bring in a new coach, preferably one who runs the 3-4 defense.
Teams all over the NFL have moved to the 3-4, and many of the best teams in the league run it: Green Bay, New England, Houston, and Pittsburgh. The 3-4 seems to be taking over the league much like the Tampa-2 did a few years ago. Lovie Smith is still a very good coach, but there comes a time when a good coach needs to make that next step to great coach.
McClellin is not the ultimate writing on the wall for Lovie Smith, and maybe Rod Marinelli can work his magic and they can help develop him into a productive defensive end.
But in the end, Phil Emery's choice to select a guy better-suited to play a position that his coach's defense doesn't even employ, shows that he is not afraid of possibly having to let Smith go in the future and, if the team struggles, Lovie's seat will continue to get hotter and hotter.