2012 NFL Draft: A Plea for the End of Draft Grades
April 26, 2012

Chris Trotman/Getty Images
Later tonight, we will be on our way to finding out which players NFL teams will be bringing into their programs this offseason in an attempt to improve their ball clubs. 
Unfortunately, we will also be well on our way to being bludgeoned to death by "Draft Grades" on Sunday morning after the conclusion of the draft early in the evening on Saturday.  
I can't express my loathing for draft grades strongly enough. 
Why is it that people feel compelled to "grade" the draft less than 24 hours after its completion? It is such an amazing exercise in futility, I simply can't believe people A) Write them and B) Read them.
My favorite thing is the "I don't like to give out grades, but if I HAD to...," which is truly the worst of the whole grading phenomenon. Look—you're wasting time as it is, but at least grab the bull by the horns and declare "THESE ARE MY GRADES FOR THE NFL DRAFT!"
The counter to my hatred of draft grades is always, "Readers gobble them up. Fans love them!"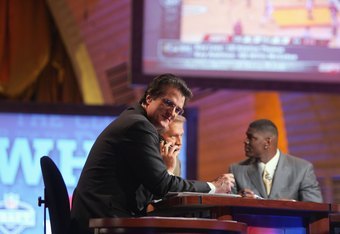 Chris McGrath/Getty Images
This is truly baffling to me. Every person compelled to follow a professional football team to the point where they check multiple websites about their team is well aware of the tried and true axiom of needing to wait AT LEAST three years before they can truly begin to take stock of what transpired on draft day.
I can almost understand critiquing individual picks. Almost.
But to try and give a group of players one unifying "grade," which attempts to encapsulate how the entire crop of selections has helped or hindered the fate of their respective franchises, when they haven't so much as attended a minicamp, is patently absurd. The grading of drafts as they happen in real time is a crystallization of the Great Dumb Down that has held our country in a death grip and that shows no sign of stopping any time soon. 
Come on, people. We're smarter than this. It's time to evolve...