Brooklyn Nets Logo: Leaked Photo Reveals Possible New Identity for Team
April 26, 2012

The New Jersey Nets are keeping their nickname but switching up the logo and colors when they move to Brooklyn this summer.
How do we know that when the team isn't officially announcing the branding switch until Monday?
Deadspin reported that an anonymous IT worker at the Barclays Center (where the Nets are preparing to move in Brooklyn) snapped a photo of a finished logo hanging in the arena.
This person uploaded it to Twitter and it was quickly disseminated across the Internet once it became public. It seems extremely plausible that this will be the new logo for a number of reasons.
For one, the franchise began the #HELLOBROOKLYN advertising campaign a few days ago with an image of a black shield with a white outline. The leaked photo has the team name across the top of the shield and a basketball with the letter "B" (for Brooklyn) inside of it.
Another reason why this is likely the new identity of the team is because we live in the information age. There is no way that every single person working inside of the massive Barclays Center would have been able to keep that logo a secret with so many different and interested outlets to leak a snapshot to.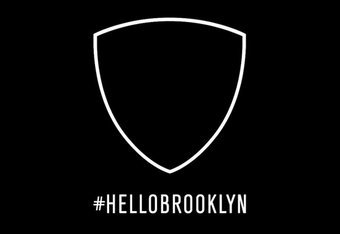 As for the changes themselves, they aren't a huge departure from the old ways. But, just as Newark to Brooklyn isn't a big move but rather an upgrade, the franchise rebranding is a positive thing.
It's definitely a great update and it looks a lot cleaner, while the color scheme change has been sorely needed.
We won't be 100 percent sure until Monday if this is the exact new logo and team color, but expect it to be the same or damn close.
*Earlier inserted Jay-Z image removed as it was fake.